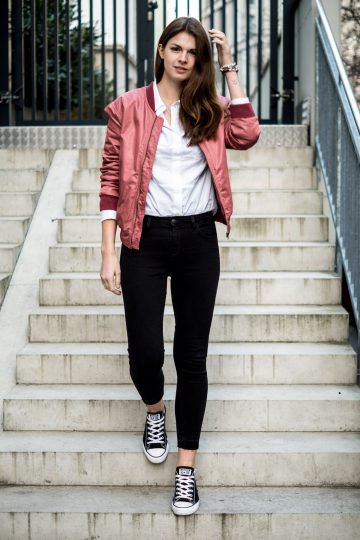 Time to share one last outfit this week AND this year! I just realised that this will be the last outfit and post, in general, I'm sharing this year. I won't share my favourite moments, your favourite posts and looks or something like that this year and just continue the way I used to do everything the past weeks. 😉 So today is only another outfit post and not a special post talking about the best moments of 2016 or the things that will come in 2017, I hope you don't mind. If you feel like talking about these topics, you can leave me a comment and tell me your favourite moments of the past year and what are your plans for the next one! But for now I'm leaving you with a new outfit we just took pictures of yesterday:
Colour for a change: pink bomber jacket
The last two outfits I shared on the blog were very simple and black was the dominating colour. Of course, I could wear this kind of outfit every single day, but I didn't want to bore you with the same kind of outfit every day. That's why I opted for a touch of colour yesterday and didn't wear a black coat in combination with this black and white outfit. I added some colour for a change and decided to wear my pink bomber jacket again. It's been a while since I last wore it, but I still like it a lot.

I was wearing a pair of black jeans and a white shirt as well as my black Converse shoes yesterday. I didn't have to wear chic outfits; that's why I opted for the black sneakers instead of a pair of black boots. I wanted to keep it very simple and comfortable, and this outfit combination definitely serves the purpose. We spent most of the day at home, were working and planning the second half or our trip to Sri Lanka. We only booked the hotels for the first seven days so far, but I hope today we'll finally book the rest and complete everything 😉 We're leaving on Monday, so it's high time that we finally book the last hotels. If you've ever been to Sri Lanka, I would appreciate your recommendations a lot. What are the most beautiful beaches? Where should we eat and what should we do? Where's the best spot to surf? What other activities should we do? You see, there's a lot I want to know! 🙂 I can't wait for Monday and want this trip to become one of the most amazing ones we've done in a long time.
Enjoy your Friday, make the best of the last two days in 2016 and have a great time tomorrow. I'll see you next year. xx