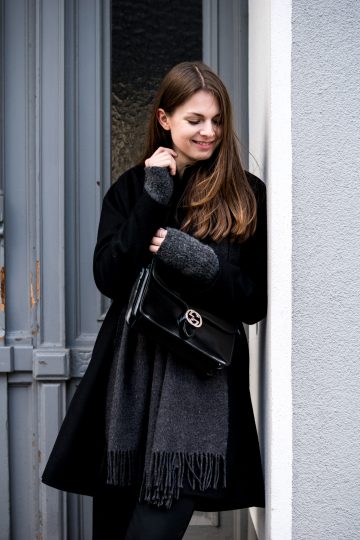 I wanted to share this post yesterday, but unfortunately, we just took these outfit pictures yesterday, and I didn't want to share a post without pictures 😉 The weather was everything but ideally to take new outfit pictures, it was rainy and super windy (almost stormy). It was still rainy and windy yesterday, but luckily not all day, so we finally managed to take pictures of this outfit.
Christmas is over and the year is coming to an end
Christmas is officially over, and I hope you had some great days with your beloved ones. I spent the 24th of December with the family of my boyfriend at his mother's place where we ate Christmas goose. On the 25th of December, we were at my grandmother's place with my family. My grandmother prepared a Christmas goose as well, and it's still the best I've ever eaten! No Christmas goose is better than the one my grandmother makes. 😉
These two days were quite busy, and we were happy to spend the day at home on Monday, the 26th of December. We worked a little bit, cleaned our flat and watched a couple of movies. Our Christmas holidays were very calm but nice, and we really enjoyed it. What about your Christmas holidays? What did you do? Did you spend it with your beloved ones?
Now that Christmas is over the year is coming to an end, we have only four days of 2016 left (today included). We still don't know what to do on NYE, do you? x) I can't believe the year is almost over, didn't it just start? As sad as I am that the year is over, I can't wait to plan 2017 and to go further. I'm sure it'll be an awesome year with lots of travels, great projects and so much more. I can't wait to see what the year has in petto.
Almost all black outfit
Before I leave you alone with the outfit pictures we took yesterday; I would like to talk a little bit about it. You know how much I like wearing all black outfits and so did I yesterday. I just added a grey scarf and white sneakers and, oh, I was also wearing a dark grey sweater, but the rest of the outfit is black. I was dressed in a new pair of pants I got at the RESERVED Sample Sale the other day and being honest, I've been wearing it quite often since then. I was wearing it in Madrid, and on Christmas and yesterday, I was wearing it again. 🙂 It's super comfortable, and I really like the style. It's the perfect piece for an everyday outfit, but you can combine it with a chic outfit as well. Yesterday I combined it with a casual outfit, but I added a couple of chic pieces such as the black coat and my Gucci bag. The rest of the outfit was very comfortable and casual: oversized sweater and white sneakers. What do you think about this look?