When I shared the first Fashion Week Outfit from Berlin last week, I said that it was the most casual look I was wearing. But while I am preparing all the other outfit posts for the blog, I am realising, that all my fashion week outfits were quite casual. I am always trying to plan my outfits in advance and create looks, that are a bit fancier than what I am wearing in my everyday life, but I tent to create the kind of outfits I am actually wearing a lot on my everyday life. I think that's because in the end, it is most important to me to feel comfortable in what I am wearing and even though I get outfit options from brands and designers sometimes, I usually choose what I would wear on a daily basis or at least I choose what I feel comfortable in. I hope what I just tried to say makes any sense haha.
With that said, let's go straight to the outfit details of the look I want to share with you today. As you already know by now, it is one of my fashion week outfits, but at the same time, it is an outfit I would wear in my everyday life as well.
How to combine camouflage pants
Do you remember when I used to wear a lot of camouflage? I had a camouflage jacket, a t-shirt and many more clothes with this print. Then I kind of stopped wearing it, I found other prints to wear, and the camouflage pieces got fewer. Last year in summer, I got a pair of camouflage pants, and I was wearing them a few times, but I think I never took outfit photos for the blog. Maybe that's something I could do soon because at the moment it's all gloomy and quite cold in Berlin and putting together summer outfits isn't an option.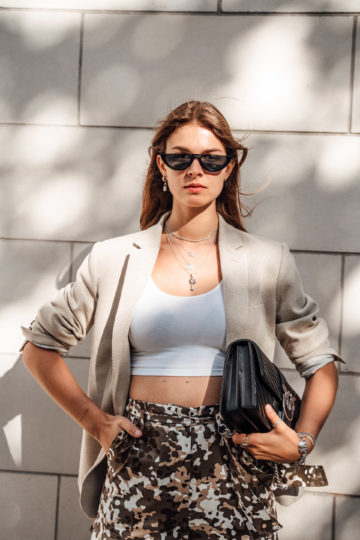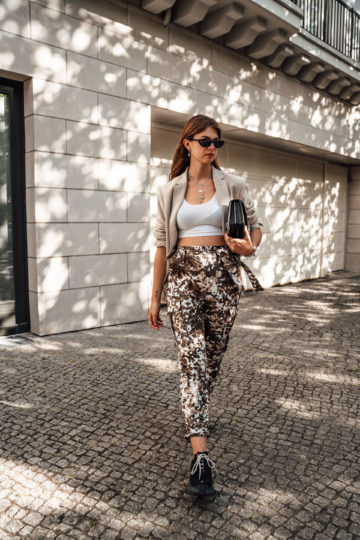 But back to the outfit, I am sharing with you today. After a while of not wearing any camouflage clothes, I got a pair of camouflage pants for Fashion Week in Berlin. I actually chose it myself as I thought it was time to wear camouflage again. I do like the shades of brown of the print and that it is not too colourful. Sometimes, camouflage can look a bit too much when it is a mix of green, brown and maybe some other colours.
In regards on how to combine camouflage pants, I would always suggest to keep it simple. The print itself is very eyecatching, and you don't need to add more prints or colours. I opted for the combination with a white crop top, a beige boyfriend blazer, a pair of black sneakers and a black bag. This is an outfit combination you can definitely not only wear for Fashion Week. Actually, if you want to style a pair of camouflage pants for fashion week, you might want to style it with some colours or even another brand to create a bolder and fancier look. Or you can simply add a pair of colourful sunglasses as well as other bright accessories.
*Ad, brands named – Gant Blazer || American Apparel Top || Pinko Pants || Balenciaga Sneakers || Pinko Bag || Pilgrim Sunglasses