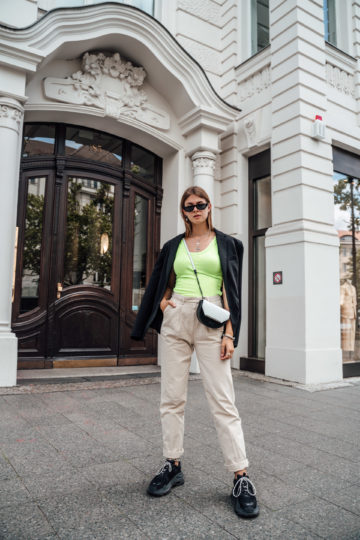 Let's continue with what we ended last with: lots of Fashion Week outfits. I already shared two of the outfits I was wearing during Berlin Fashion Week last week and I still have six outfits left I want to share within the next two or three weeks. I also might share some more up-to-date content in between as I am currently working on an interior post as well as a skincare post and as soon as they are finished, I don't want to keep them back for any longer. But that won't happen before next week, so this week will be all about Berlin Fashion Week and today I am sharing an outfit I was wearing for a couple of events. I had to walk to different locations that morning and needed a comfortable outfit. Continue reading, if you want to know everything about the outfit I ended up wearing:
Combining a neon top with beige pants
When you follow me on Instagram you might have recognized that I have a thing for neon at the moment. I never was the person who wore a lot of neon-coloured clothes or bright, colourful clothes in general. I always kept it simple and stuck to black, white, grey and denim. That changed last year (or maybe even a bit earlier) and I got more used to wearing colours and started liking it a lot. I still enjoy wearing some more simple looks as well, but sometimes it's just more fun to add some colours to an outfit.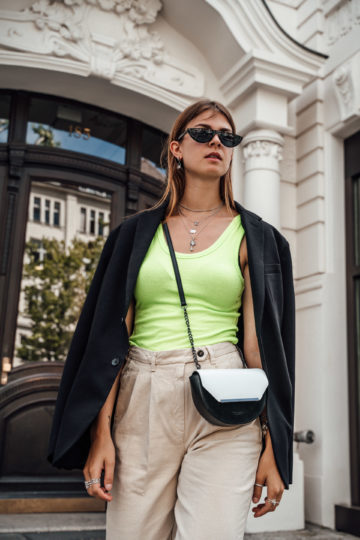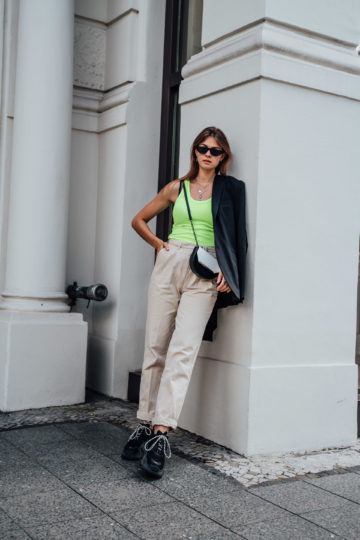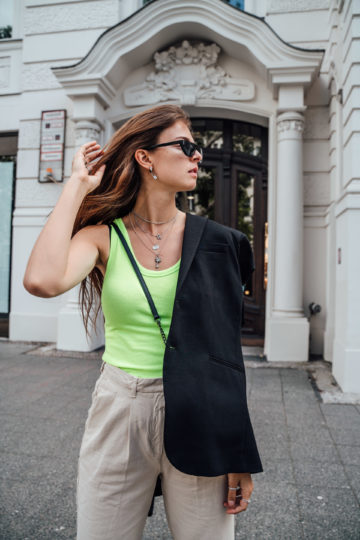 I had this outfit in mind for a while and actually wanted to wear it before Fashion Week, but the weather was too good, it was too warm the days before Fashion Week and I didn't have the chance to wear this outfit. Then one of the mornings during BFW I couldn't think of what to wear, then I saw this outfit and just decided to wear it. I didn't care about whether it's fashionable enough for Fashion Week or not.
I have to admit, that even though I had this outfit in mind for quite a while, I wasn't a hundred per cent sure whether I would feel comfortable wearing it. The other times I was wearing neon coloured clothes, I combined them with black or denim. I wasn't quite sure whether neon green really looks well in combination with beige. But guess what? I love the combination and I will definitely wear it more often. If I didn't have had shows to attend I had outfits for, I would have been wearing this outfit the whole day.
Neon green and beige is such a lovely combination for summer days. You don't have to add black clothes such as I did that day, but when it's too cold outside to just wear the top and pants, adding black definitely is an option. I opted for a boyfriend blazer in black as well as my black Balenciaga sneakers. Regarding the bag I went for a black and white bag and to finalise the outfit, I simply added a pair of black sunglasses and my everyday jewellery. How do you like this outfit combination?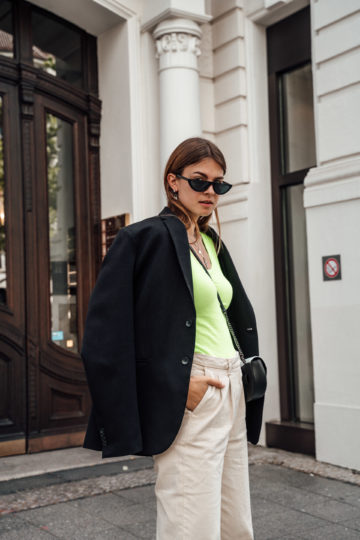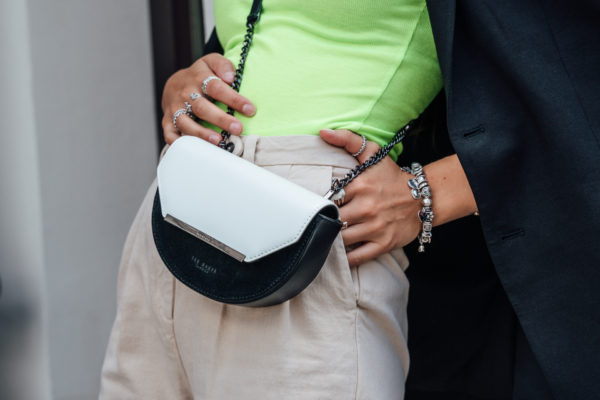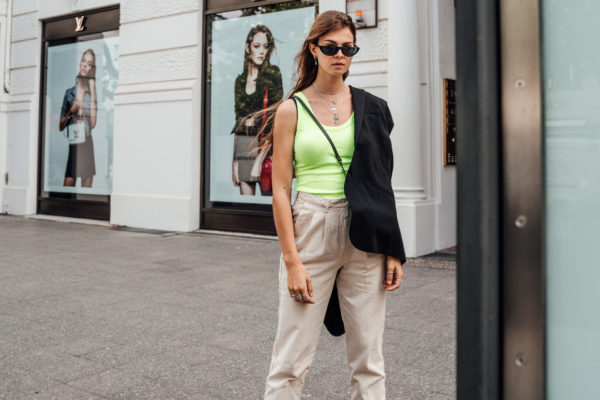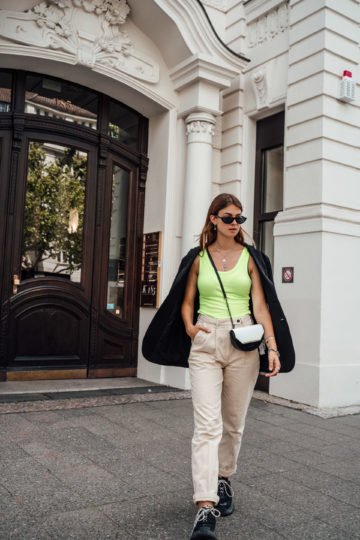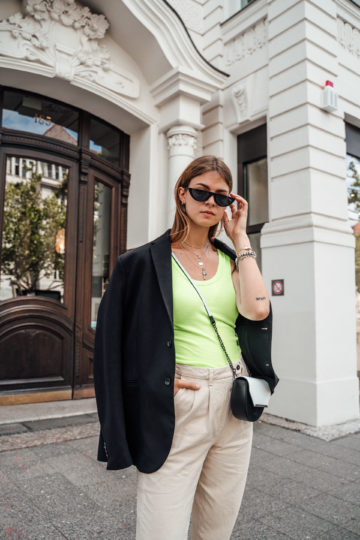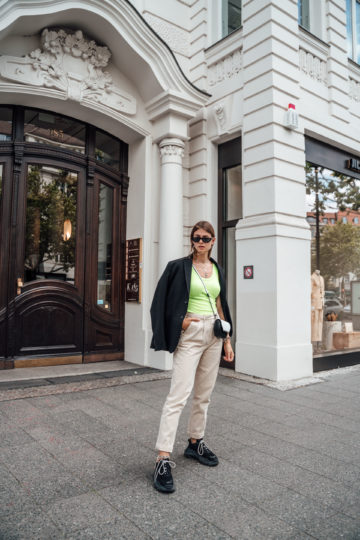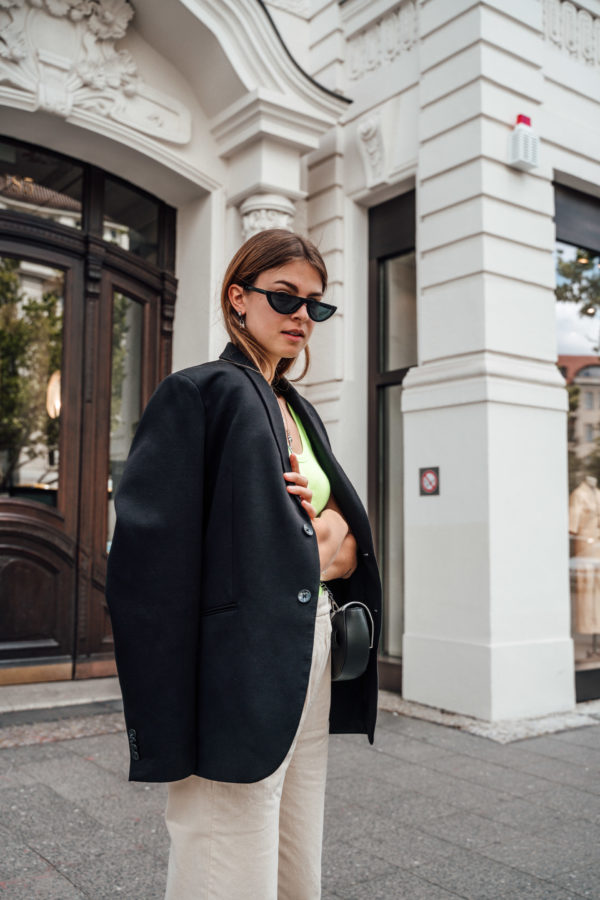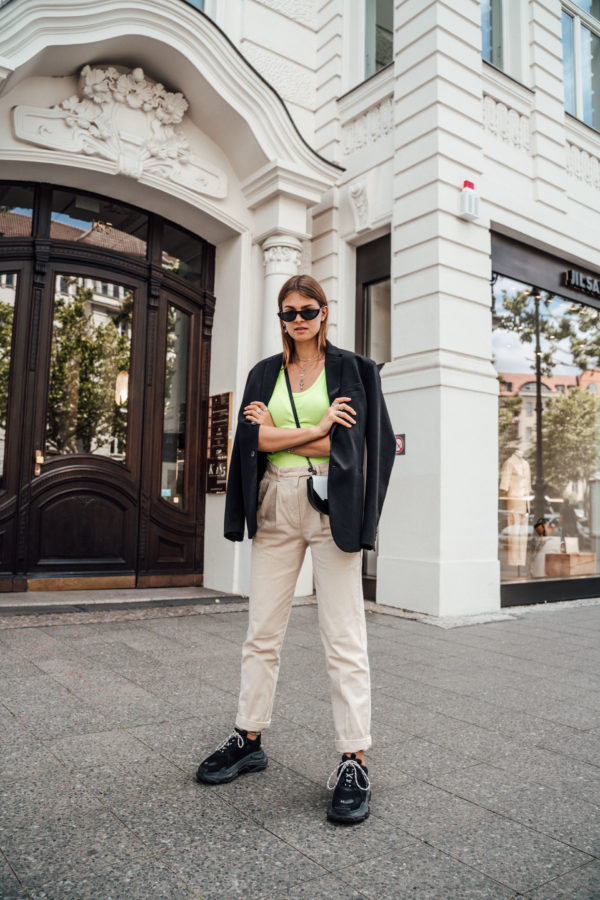 *Ad, brands named – Zara Blazer || Minimum Top || American Vintage Pants || Balenciaga Sneakers || Ted Baker Bag || Pilgrim Sunglasses