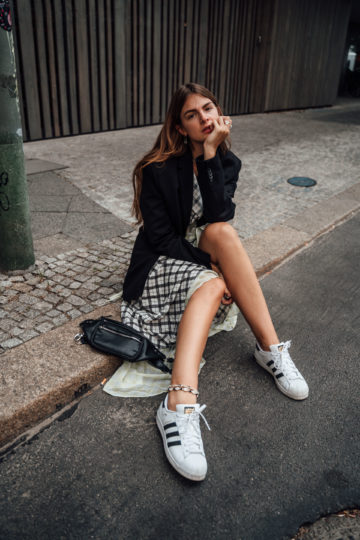 Time to share one more fashion week outfit this week before it's time to start the weekend and enjoy some free time. I was wearing this outfit on one of the last Fashion Week Berlin days and I only had two events to attend as well as a meeting in the morning. I opted for a casual outfit. It is an outfit you could also wear this weekend in case you still need an outfit idea. If you want it a bit more summery and casual, you can easily transform this outfit just by changing a few pieces. In the following, I will not only share more details about the look I was wearing but also tell you how you can transform it into an easy summer outfit.
How to put together a casual chic outfit with a midi dress
Yes, I am still into midi dresses and I am still not bored of talking about them and creating more outfits. I feel like there are still so many outfit options I haven't tried yet, it will take a bit longer for me to be bored of midi dresses. For Fashion Week I tried to put together an outfit, that's comfortable, but doesn't look like it.
The dress itself is a really nice summer dress, but as I wasn't wearing it on a simple summer day, I needed to style it a bit more fashionable. I could have styled it with a pair of high heels or heeled black boots, but it was one of the last days of Berlin Fashion Week and I didn't feel like wearing heeled shoes anymore.
Instead, I opted for a pair of sneakers for more comfort. I also like to combine midi dresses with sneakers and knew that I would feel comfortable in this look and it's always a good idea to wear what you feel comfortable in. 🙂
Of course, the combination of a midi dress and sneakers isn't the chicest one, but that's why I added a black boyfriend blazer for a chic touch. I do love the oversized blazer in combination with the flowy dress. What do you think?
How to transform this outfit into an easy summer look
When you want to wear this outfit on a summer day, it's super easy to transform it into an easy summer look. You probably won't need the blazer when it's a warm summer day and you can easily change the sneakers into a pair of flats. This midi dress has a lot of details itself such as the print, the different colours and the cut. So you won't have to add more accessories for an interesting outfit. Just put on a pair of flats, add a nice bag and you are good to go.
*Ad, brands named – Zara Blazer || Asos Dress || Adidas Sneakers || Bershka Bag