Blog Posts and Youtube Videos of the Week
After posting nothing for two weeks, I finally had the time to catch up on it as soon as we arrived in Bali. I did not only publish a small travel diary for Shanghai and Hongkong, but I also published two new outfit posts in the blog. The first one was all about a GANT outfit I was wearing in Shanghai. GANT is celebrating 70 years this year, and every month, they are focusing on one of their seven icons. This month it's all about cable knit, and that's what the post is about. In the second outfit post, I shared an outfit I was wearing in Paris. I first hadn't planned to take any outfit photos for the blog when I was there end of September, but Hannah and I took so many nice ones that I had enough for a post, and I didn't want to keep this denim on denim outfit from you. Make sure to check out all the posts, and don't forget to leave me your feedback in the comments.
On YouTube, I didn't share anything new. I am pausing a little bit at the moment and focus more on Instagram stories and might create some IG TV videos, so if you want to see more from our time in Bali, make sure to follow me on Instagram.
Looks of the Week
Since we are in Bali, I am wearing swimwear most time of the day and didn't photograph a lot of outfits. You can find everything we took photos of in the following 🙂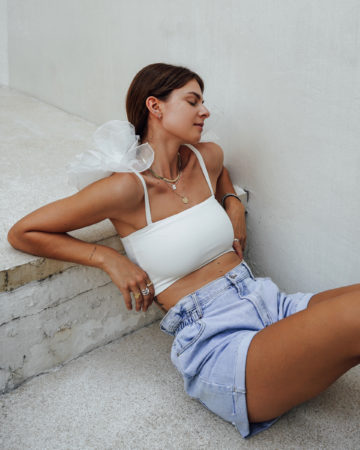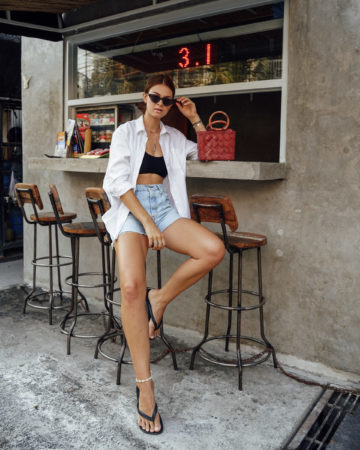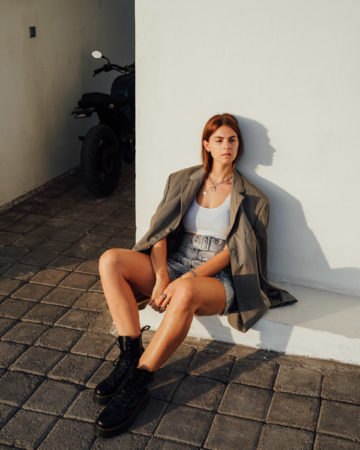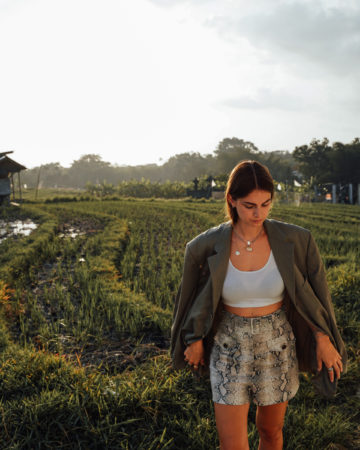 What happened the past week
We spent the last week in Bali in one of our favorite villas there. We had booked it for the third time and would always come back. We were even thinking about booking it for the last two weeks as well but ended up going for another one.
This first week in Bali, we didn't do a lot. We either spent some time by the pool, were at one of the cafés and restaurants for coffee or food or we worked. After some days in Shanghai and Hongkong, we had to catch up on some things. Our days usually looked like this:
We woke up between 7 and 8 am, I did a quick workout, we went to a café for breakfast, went back to the villa to work a little bit followed by one or two hours by the pool in the early afternoon. Around 3 pm, we usually left the villa for coffee and a small lunch before taking some photos and working a bit more. And we ended the day with dinner at the villa or a restaurant in Canggu.
Later that week, we also met up with René and Lennart a couple of times who also happen to be in Canggu at the moment. We usually met at a café or restaurant and spent some time there eating and just talking about stuff. 🙂
So yes, that's what our first week in Bali was all about. There's nothing more interesting I could share with you at this point. We didn't do any day trips or explored things we hadn't seen before.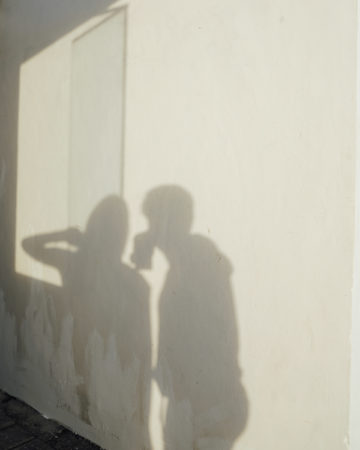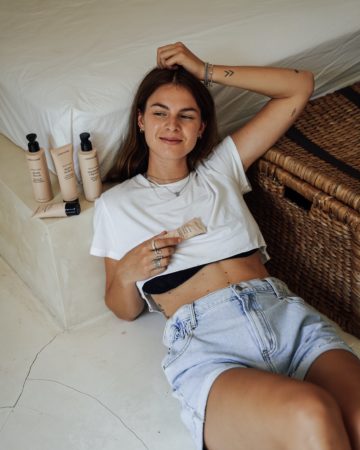 This months beauty favourites
As you might know, I've been using Löwengrip products for a couple of months now. There are a few products that I am using every single day, such as the facial care series I talked about a few weeks ago. But every month, I am also trying some other products depending on what my skin needs.
This month it's all about the Healthy Glow line, and it suits my skins needs perfectly. Due to the flights and the changing climate, my skin is very dry. The Healthy Glow line rehydrates my skin and gives it a natural glow – exactly what I need right now. My skin isn't always perfect, but I actually don't mind these "imperfections" as long as I am feeling good in my skin.
Currently, I am not only using the facial care line every day, but I am also using the shower cream, the body balm as well as the hand balm and deodorant every day here in Bali. I've actually been using the deodorant for a few months already as I love the smell, and it really lasts all long. And what do you want more than a deo that actually works?
But the Healthy Glow line is not only perfect for me at the moment. It might be an option for you as well if your skin needs something different due to the season's change. The products of the Healthy Glow line are great for all skin types, and even if you have sensitive skin, you can use them. If you want to know more, you can visit their website or go to Douglas.de to get them online.