Guys, I am so sorry for the lack of posts. Due to our travel to Shanghai and Hongkong, I didn't have time to work on the blog. I didn't share any new outfit posts, and not even my weekly recaps went online. That's why I decided to change things a little bit for the past two weeks. Instead of sharing the 24/7 post you are used to, I will share one Shanghai edition as well as a Hongkong edition.
The first one I am sharing with you is the Shanghai edition as we were there first. So in the following, I will tell you more about what we were doing, what I liked, and what I didn't like as well as share some snapshots from our days there.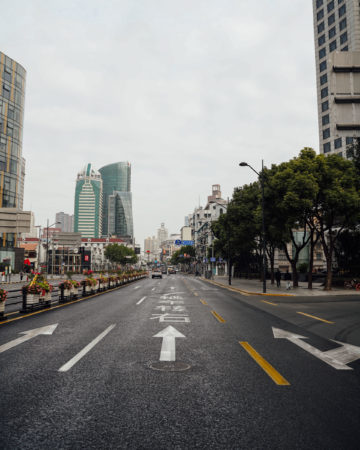 What we did in Shanghai
The main reason for our trip to Shanghai was an exhibition, so we spent 50 percent of the trip there and did only a little bit of sightseeing 🙂 We had a hotel close to People's Square in the Huangpu District, but were also close to Waitan area, where you can find The Bund and many shopping centres. Well, we didn't go shopping at all, but we went to The Bund to see the skyline of Shanghai, including the light show they have every afternoon around 6 pm.
We didn't check out a lot of tourists hotspots in Shanghai and stayed in the area of the hotel most of the time. We mostly walked around, created some content and just enjoyed being in a city we haven't been to before. I must say that Shanghai was nice, but I like Hongkong better. I just didn't get very excited about being there; the city didn't really catch me. But I am happy we decided to travel to Shanghai as I always wanted to see China.
What you might want to know before travelling to Shanghai
Let me share a few things; I experienced in Shanghai as they might be interesting for you in case you are also planning on travelling there:
– Not everyone speaks English! Actually, I felt like most people don't speak English and it sometimes was a bit hard to get needed information or to order food. But in the end, everything worked out 😉
– If you don't like Chinese food, it might be difficult for you to find something to eat as most restaurants only serve Chinese dishes.
– You will need to bring cash as you barely can pay with Visa (or other credit cards) in Shanghai.
– Oh, and Google Mail, Instagram, WhatsApp and all other networks that belong to Facebook aren't working in China. You will need a good VPN service if you want to use these apps.
There's not much more to add. As we had only two full days in Shanghai and spent 50 percent of the days at the exhibition, we didn't do that much. But Shanghai definitely was a nice experience, and it's for sure worth a visit if you want to see China.
Have you ever been to Shanghai? If so, I would love to read more about your thoughts and experiences in the comments.