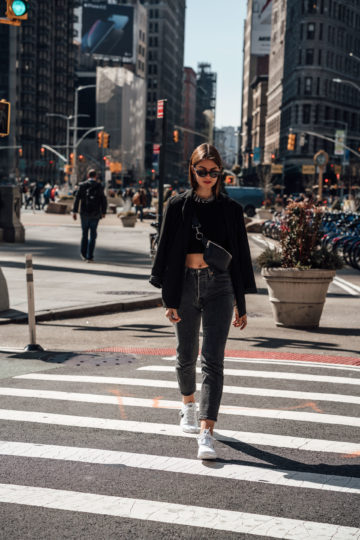 Today I am already sharing the last New York outfit with you guys. The next post will be a guide for things you could to in New York during winter, and afterwards, I will start sharing more about our time in Costa Rica. So much about what's coming up next. Back to today's outfit post and one last outfit I was wearing in New York.
Have you already seen the other two outfits from New York? As we were in Costa Rica after a few days in New York, I had to pack for both a city trip with quite cold temperatures and beach vacation with summery temperatures. I have to admit, it was quite a challenge, but I managed it. If you've seen the other two outfit posts, you will see that I was wearing some clothes multiple times, but still, the outfits look all different. I also packed a few things I could wear in New York and Costa Rica. Everything I packed for Costa Rica was summer clothes, but by bringing a few long sleeves, I was able to layer them for the colder temperatures in New York, and that's what I did for the outfit I am sharing with you today.
How to layer summer clothes for winter temperatures in New York
I didn't bring a lot of bottoms I could layer for New York, but I packed two pairs of jeans and cycling shorts I could wear underneath just in case the jeans themselves wouldn't keep me warm enough. It was easier to pack tops I could layer in New York. The other days I simply put on a few more layers underneath the shirts I was wearing. Those layers weren't visible, but they kept me warm.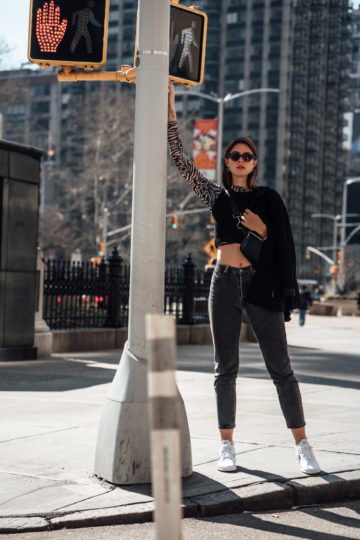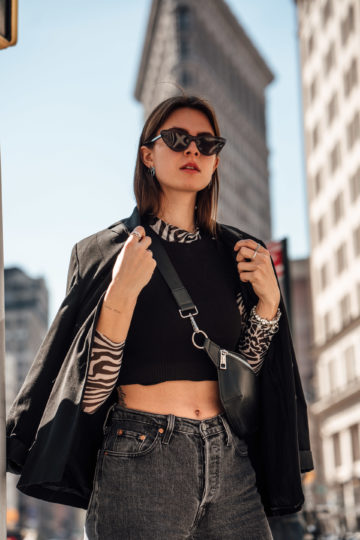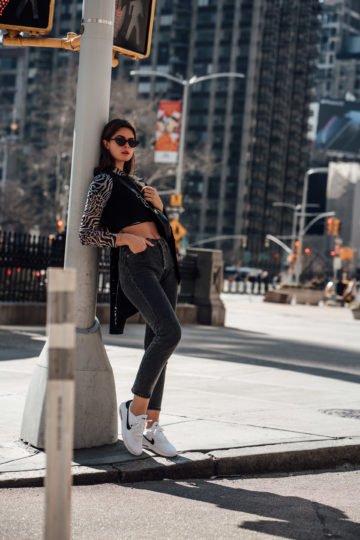 In this outfit, they are visible, and I wanted to use the layers to create a more interesting outfit. I brought this transparent zebra print shirt; I would usually wear on a warm spring day or in summer. The reason I packed it is, that it's very thin and doesn't need a lot of space in my suitcase. Since it is that thin, I can also easily wear it underneath something else such as this cropped top. I have to admit, wearing a crop top wasn't the best idea that day and it didn't help to keep me warm haha. It would be smarter to layer with pieces that actually cover most parts of your body if you want to layer to stay warm. But I had this outfit idea in mind, and nothing could bring me from wearing it – not even the quite cold wind!
The zebra print top obviously isn't cropped, so I had to tuck it away underneath the crop top. But I think that worked quite well and I liked the zebra detail too much not to wear it in combination with the black crop top.
To finalise the outfit, I put on a pair of grey jeans, white sneakers, a blazer and a belt bag. I was also wearing a long grey coat, but I took it off while taking the photos because I wouldn't wear the coat in spring and these outfit photos are supposed to give you inspiration for a spring outfit.
Now that you've seen all three New York outfits we photographed for you let me know which one you like best. I would love to get your feedback. xx
*Ad, brands named – Minimum Shirt || Noisy May Crop Top || Levi's Jeans || Nike Shoes || Bershka Belt Bag || Chimi Sunglasses