I didn't plan on sharing another outfit from New York, but when I checked all the photos I had lest one last time I stumbled upon those, and I actually like them a lot as well as the casual outfit I was wearing on that day in Brooklyn, and that's why I decided to share them as well.
I actually wanted to have every New York related post shared by now, but due to all the travels, I didn't have the time to update the blog even though most of the posts were almost ready to be shared. Today I am sharing this one additional post I first hadn't planned on sharing, and next week I finally want to share the New York City guide for things you can do in winter or just when the weather isn't the best. After that, I will finally start sharing my posts from Costa Rica followed by a few posts from Los Angeles. You see, I do have a lot of content left, I just haven't found the time to prepare everything yet.
With this short update shared, it's time to talk about the casual travel outfit I was wearing on a day in Brooklyn back in March when we were in New York.
Long Coat, Mom Jeans and a cosy sweater
The outfit I was wearing that day isn't the fanciest one from all my New York outfits; it just had to serve the purpose of keeping me warm as it wasn't as warm as expected. But as I know, that you guys don't always feel like dressing up and appreciate a very simple and casual outfit from time to time, I wanted to share it with you. A few things about this look make it everything but boring and that's what I want to share with you today.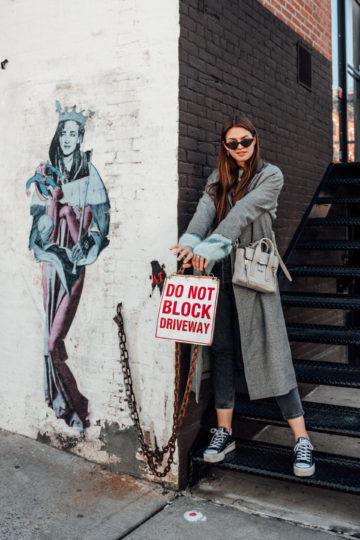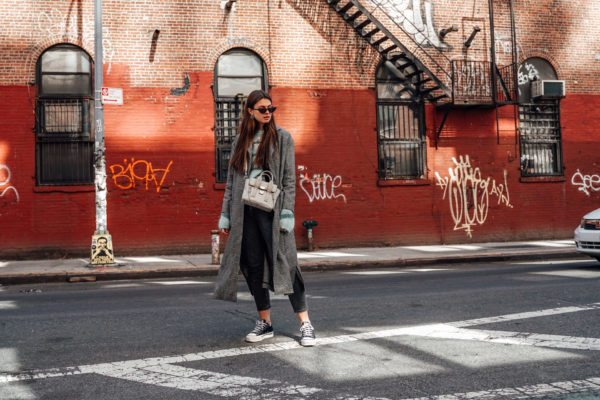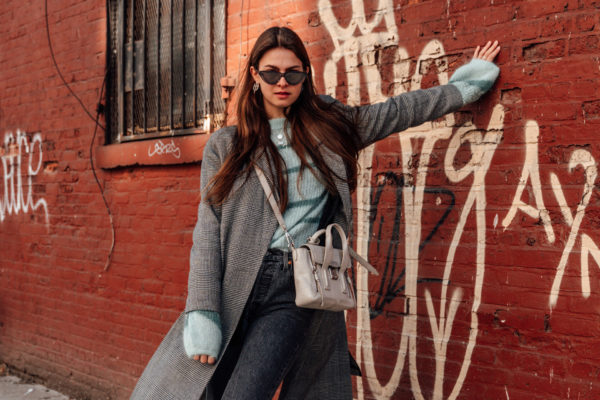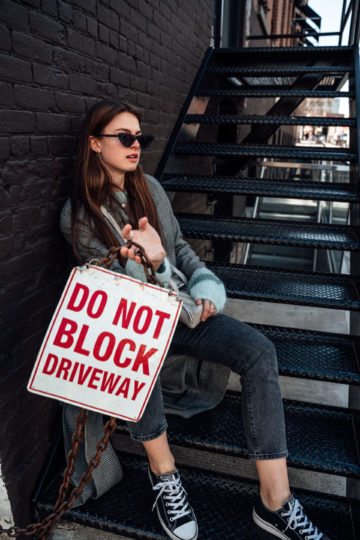 Whenever I travel and have a full day of exploring the city on my agenda for the day, I focus on wearing something casual and comfortable and not on putting together a fashionable look I could take photos of for Instagram and the blog. So that day in New York I was wearing the warmest clothes I had with me: a pair of mom jeans, a blue sweater, my black blazer as well as my favourite long coat. For comfort, I also put on a pair of sneakers as well as a small cross-body bag.
What makes this outfit everything but boring are the pieces of jewellery, the sunglasses, the bag as well as the platform sneakers and the colourful sweater, I aso think, that the long coat definitely is an eye-catcher that makes every outfit look not only chicer but also a little bit more interesting. What do you think?
You know, that I usually opt for very simple clothes and I don't wear a lot of colours, but that has changed lately. I really enjoy colours and love to add them to some of my most simple outfits. I think it's super easy to make a simple outfit more interesting by just adding one or a few colourfu pieces of clothing, don't you agree? Let me know how you like this casual travel outfit I was wearing for a day in Brooklyn.
*Ad, brands named – Weill Coat || Gestuz sweater || Levi's Jeans || Converse Sneakers || Phillip Lim Bag || Chimi Sunglasses