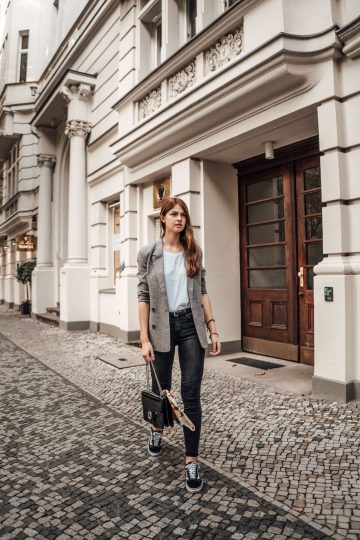 We actually didn't plan to take any outfit pictures that day. All I asked my boyfriend was to take one picture for Instagram, but he had so much fun taking the pictures and testing several locations, that I decided to use these pictures not only for Instagram but also for the blog. It won't be a usual outfit post; I will also tell you more about what is planned for the upcoming weeks and give you a little life update. I hope you will like it. 🙂
Office Wear: casual chic outfits for the win
The outfit I was wearing that day is a very casual yet kind of chic outfit, and I was wearing it at the office. I had lots of work to get done, so we wanted to focus on work at the office that day and don't spend time driving around Berlin to find a location to take outfit pictures. That's the reason why I was wearing super comfortable pieces of clothing topped off with a gray blazer. Well, I only added the blazer as well as my Gucci bag, because we wanted to go out for dinner that day, and I didn't want to drive home and get changed 😉 So yep, here you can see what I am usually wearing when sitting at the office and don't plan on taking outfit pictures.
Let's keep a long story short: I was dressed in a pair of black jeans, black Vans sneakers, a white t-shirt, my beloved Gucci bag and a new blazer from minimum. Most pieces are very casual, but the blazer and bag add a chic touch to the whole look. How do you like it?
Time for a little life update
Since a lot is happening the next time, I thought I would give you a little life update. I will travel a lot these last months of the year, and I am so excited, I can't wait to share everything with you. This week is quite calm, so I will have a bit of time to get work done and prepare a couple of things. Next week I will be in Hamburg for a day to attend an event. I will arrive back in Berlin on Thursday because I have another event here in the evening. The next days I will also attend some events in Berlin, and then the next "big" thing is another trip to Hamburg the week after, the first week of October. We will be in Hamburg together with GANT, and I can't tell you more at this point, but it's going to be a lot of fun.
Next up is a trip to London together with Wella and I am super excited about this trip. I will be there from the 12th until the 15th of October and the program sounds promising 🙂 I will take you along for sure. Not that the first weeks of October weren't busy and exciting enough, we will probably fly to Bali on the 16th of October. So when I come back from London, I will unpack and pack again and get ready for two weeks in Indonesia. This trip will partly work, but mainly holidays. Our last vacation was Sri Lanka in January, and I am in need of some days off!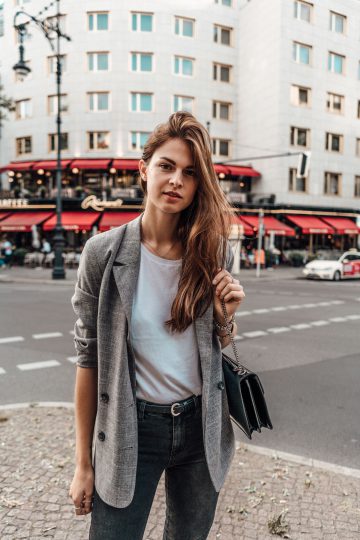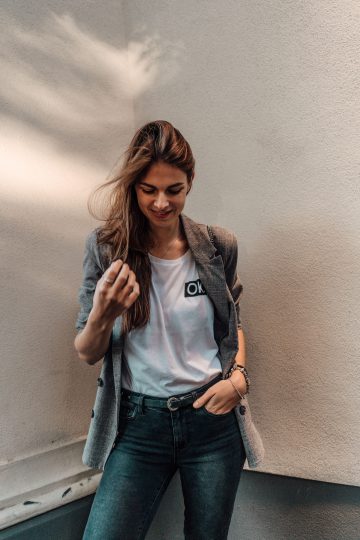 We haven't booked the flights yet, but we have one in mind, that leaves on the 16th of October. And the flight back will be on the 1st of November. Once we are back from our holidays in Bali and Lombok, we have a couple of days to get organized and believe it or not; then we will leave again. At the beginning of November, we will fly to Lisbon to join the Websummit for the very first time. I have no idea what to expect, but I am sure it's going to be amazing! We are traveling with four friends and booked an apartment in the center of Lisbon. After some days in Lisbon, we will head to Cascais and spend some relaxing days by the ocean. Since we all will have to work a little bit, this is going to be a "workation," but we also spend some time surfing, eating out and just enjoying the time in another country. 🙂

So much about what will happen the next weeks. The trip to Lisbon is the last thing we have planned so far, but I am sure there is more to come. It won't get boring these last months of the year, that's for sure.