Last week I was talking about one of the biggest trends in fashion right now: button-down pants. I told you that it wasn't that easy for me to find a pair of button down pants that fit perfectly and here I am showing you a second pair I just received. So sometimes you just have to be patient and just continue looking for something until you finally find it. When it comes to fashion, you shouldn't wait until the trend is over. But when a trend just started, you will probably find more options after a little while when all the brands swing aboard the trend 😉
I received the pair of button down pants you can see here from Vila a couple of days ago. It was love at first sight when I saw it in their lookbook months ago, but once again I thought the pants would be longer so they would actually be floor-length. Well, as you can see they are not, and that was a little issue because I first didn't know how to combine them. I ended up wearing them with a pair of high heels and guess what? I love this combination!
Combining plaid pants in autumn
Did I mention, that these pants combine two trends in only one piece? Oh yes, they do! You already know, that button down pants are in fashion right now and so is plaid. We will see plaid everywhere this season: plaid pants, plaid blazer, plaid shirts, plaid hats, plaid sweaters and so on.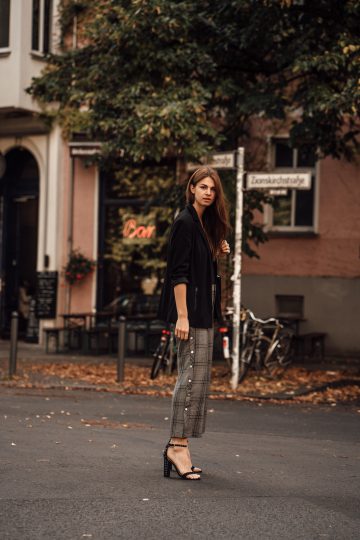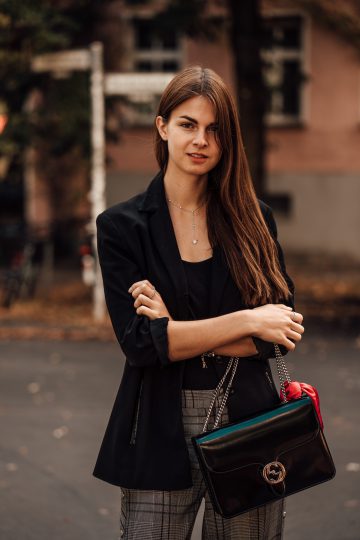 I got a plaid blazer I shared a couple of weeks ago, and now I also have a pair of plaid pants. I always liked plaid, because it is not only a very classy but also a multifarious combinable print. The buttons on the legs add a sporty touch to the pants and create a nice contrast to the plaid print.
I kept it simple the other day and went for a chic outfit combination. I think the high heels were the reason why I decided to style the pants in a chic way. I also thought about combining them with black sneakers and a bomber jacket and tried it on as well, but I didn't feel like wearing it that day. And the high heels just work so much better with the pants than a pair of sneakers. Additionally, it has been quite a while since I was last wearing high heels. It was about time and I know, that you like this kind of outfits a lot. 🙂 But I have to admit, that I wasn't wearing them all day. I would never wear this sort of outfit all day long; they high heels are not comfortable enough. But I think this kind of outfit is perfect for an important meeting, a dinner date or an event.
Since the pants are an absolute eye-catcher, I didn't have to add any more details. That's why I combined them with a black top as well as a black blazer and my black Gucci bag. The only "details" I added were some pieces of jewelry as well as a red neckerchief to add a touch of color – and you know, that I am totally into this trend right now. It's only a small detail that makes a big difference, and that's what I like best about it and why I am adding a neckerchief to my bags pretty often lately. Be prepared; you will see it pretty often the next days and maybe even weeks 😉
How do you like this chic outfit?! And what do you think about my new plaid button down pants? I am looking forward to reading your comments. xx