You might have recognized the change: it is getting more and more autumnal here on the blog. And even though I am one hundred percent summer person, I get used to autumn and enjoy getting dresses and take pictures for the blog at the moment. Well, at least on all the sunny days we had the past week. Of course, rainy days are super depressing, and I don't feel like getting dressed or going outside at all. But fortunately, we rarely had them the past days, and it's supposed to stay sunny until the weekend this week. Therefore I will probably take much more outfit pictures for you guys, so I can keep inspiring you for this new season 😉 I also have to take new pictures, because I will be away a couple of times during the next weeks and probably will barely have time to shoot new outfits. So the plan for the week is to take full advantage of all the sunny days I am in Berlin. 🙂
The outfit I want to share with you was the one I was wearing yesterday. As you can see, it was beautifully sunny, and I decided to go outside without wearing a jacket. I have to admit, is wasn't the best idea, because it was colder than expected, but at least full focus was one my new asymmetric one-shoulder shirt when we were taking the outfit pictures.
Combining an asymmetric one shoulder shirt with an all-black outfit
I have to admit; I first wasn't sure how to combine my new asymmetric one shoulder shirt. Not, that I didn't have enough ideas. It was just that I either didn't feel like wearing the ideas I had in mind or that they weren't adequate to the weather.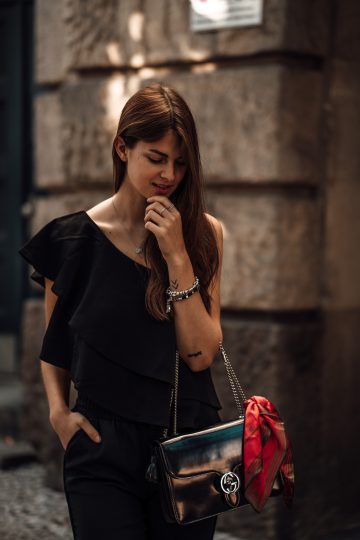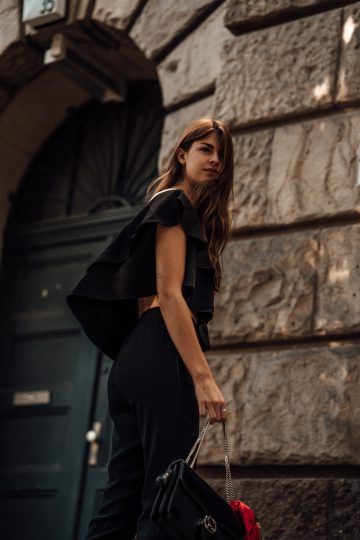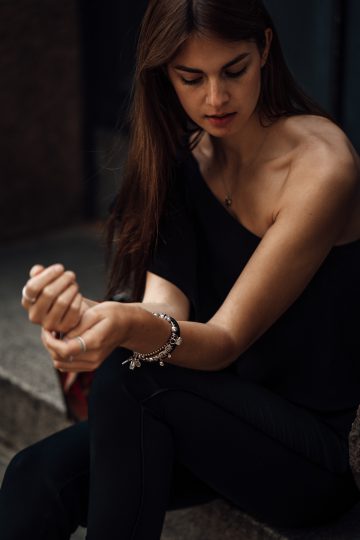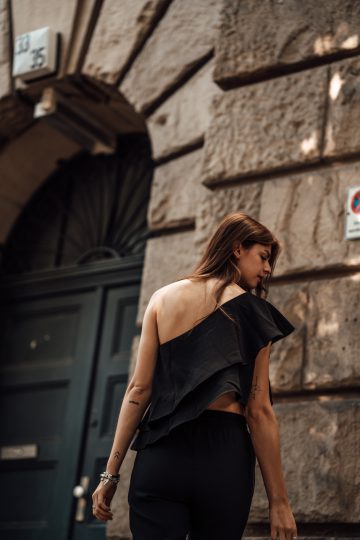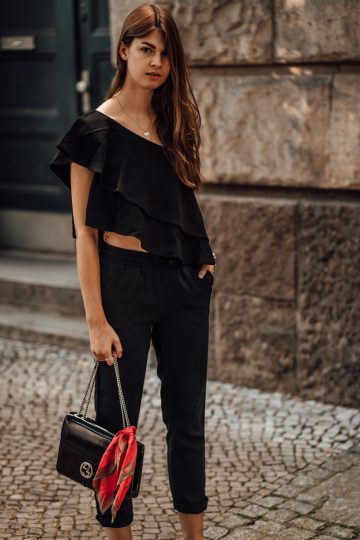 So I ended up combining the shirt with a pair of loose black pants, something I actually thought that wouldn't work. But as you can see, I was quite happy with the result and decided to wear it like this.
I also opted for an all-black outfit; it's been a while since I was wearing all black, hasn't it?! I added my black mule sandals from Marks & Spencer, my beloved black Gucci bag and some pieces of jewelry. And as you can see, I also added a touch of color: a red neckerchief tied around my handbag. Even though I opted for an all-black outfit, something was missing. Without the red detail the outfit looked way more boring, and since I didn't want to wear a jacket or coat, I had to go for a smaller detail such as the neckerchief. How do you like it?
By the way, how do you like the asymmetric cut of the shirt? I think it is super nice. 🙂 And maybe I will take it with me to Bali mid of October… yes, you hear right. We are currently intensifying our plans to travel to Bali. We already talked to a few nice hotels and resorts, and brands we will shoot some really nice pictures for. I am sure it is going to be amazing even though we will travel for two weeks only instead of three and we may have a little bit of rain due to the starting monsoon season in October. But fingers crossed we will luck out with the weather.