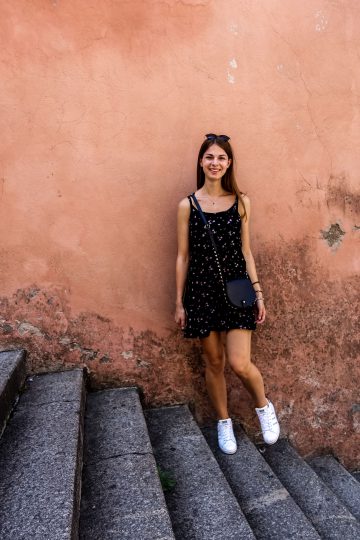 I hope you enjoyed the first Rome vlog and that you can't wait to see the second one because that's what I'll share with you today! It took me quite a while to edit and export it, but now it's finally online! But before I let you watch the video, I want to tell you a little bit more about our second day in Rome.
We started the day with breakfast at the hotel. It's the most important meal of the day, and I can't start the day without having breakfast first, that's why we took full advantage of the hotel's buffet. We also planned our day during breakfast and decided that we would go to the Colosseum first because we expected a long queue. Luckily the queue for everyone who didn't buy a ticket in advance or didn't has the Roma Pass wasn't that long. It took us less than 30 minutes to get in, which is excellent for such a famous sightseeing spot. It was my second time seeing the Colosseum from the outside as well as the inside, but I wasn't less impressed. I always try to imagine what it might have looked like thousand years ago, what the atmosphere was like and how people enjoyed – well, the visitors – the "shows".
After the Colosseum, we wanted to visit the Roman Forum, but the queue was too long, and we were quite exhausted, so we decided to go back to the hotel for a quick break instead. Afterwards, we continued to the Piazza del Popolo, we passed the Trevi Fountain and made a quick stop to eat


pizza – so tasty! When we arrived at Piazza del Popolo, we walked our way up to Passeggiata del Pincio, my favourite viewpoint in Rome. We sat down for a while and just enjoyed the weather and watched people walking past the bench we were sitting on. It was such a good idea just to sit down and relax for a while because we've walked a lot already and my feet hurt a little bit.
The second day in Rome was the day of our anniversary, so we wanted to end the day with dinner at an excellent restaurant. We headed back to the hotel, to refresh and look for a decent dinner spot. It wasn't that easy, and we had some problems finding a restaurant – as always. In the end, we decided to search for the best pizzeria in Rome and ended up at Emma Pizzeria. Of course, there are so much more very good restaurants, but this one wasn't too far, and they have "white pizza" and I just wanted to try one. It was super delicious, and I was very happy with our choice. Eating at Emma Pizzaria was definitely the best way to celebrate our 8th anniversary and to end our second day in Rome.