Happy Fri-YAY! Guys, I read my last post again, and I had to realise, that I was complaining in every single post. I don't want to complain every day, so today I won't do it. I should do it less in general, but the shitty weather really is something that bothers me. Instead of complaining I will bend my thoughts from it and think about summer and everything that may happen from June to August – these are usually the best months in Berlin according to me 😉 While I am dreaming of this time of the year, you can read everything about my very first pair of Vans and, of course, the outfit combination I chose when I was wearing my new shoes for the very first time:
Vans Old Skool
When I was 14 or 15 years old, I wanted a pair of Vans slippers so badly, but I never got a pair. My parents have always known me very well, and they know as much as I wanted them at this age, I wouldn't like them anymore the next year 😉 So they absolutely refuse to see why they should buy them for me. I got a pair of look-alikes instead, and they were right. I wore them during summer, but the next one I didn't like them anymore… I never had a pair of Vans, but the other buy I finally bought my first pair – yep, this is not a sponsored post, I bought those sneakers myself because I think they're pretty cool. I wanted the Old Skool Vans for so long but thought about it for a while to make sure I would wear really wear them. You know, that I love sneakers and I got many pairs. Last year I wore white sneakers almost every day until I bought myself a pair of black sneakers (I got a pair of black Chucks). I love these Chucks, and I am wearing them pretty often, so why not getting another pair of black sneakers to have another option?!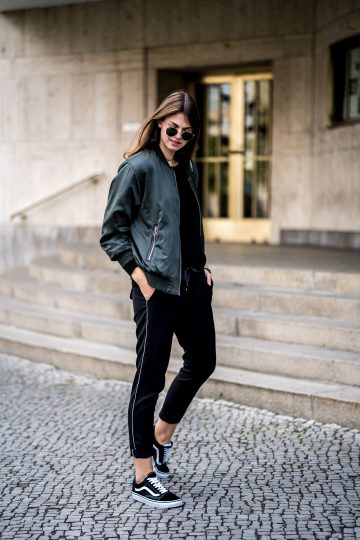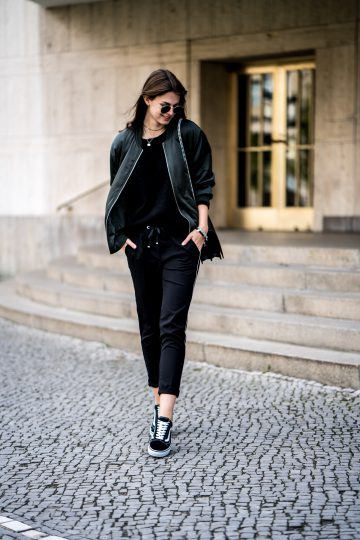 Another Casual Outfit
You're probably slowly getting bored of all the super casual outfits I've been sharing on the blog lately. And believe me, I am getting bored as well. Of course, I really like wearing them and I feel comfortable in this kind of casual outfits, but I can't wait to get more creative and wear all my summer clothes. But for now you have to put up with another casual outfit – and more are probably coming the next days or even weeks.
The day I was wearing my Vans for the first time was a very cold day in Berlin, but I didn't want to wear winter clothes only. I opted for a pair of black pants, a black sweater (that's the only winter piece I was wearing) and an oversized bomber jacket. Since the sun came out in between the rain/snow showers, I was wearing a pair of sunglasses as well. Believe it or not, I actually needed them a couple of times. There's not much more to add; it's a very simple and casual outfit as you already now. It's super comfortable, what makes it perfect for a super busy day on which you have to run errands and go to a couple of meetings and stuff like that. I was wearing it on such a day, and it worked perfectly… 🙂