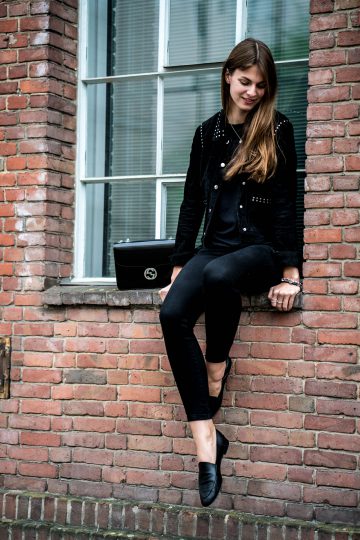 All black is always a good idea, as you should know by now! I mentioned it many, many times before and nothing changed because you still can't go wrong with an all black outfit. And because it has been a while since I last wore an all black outfit, it was about time to change that. But these days all I want to wear is black or other dark colours, because they're matching the current weather in Berlin best. You see, I am still not in a better mood. For those who hasn't read it, I complained about the weather in Berlin yesterday and explained, that it puts me in such a bad mood every single day. But since I already talked about the weather yesterday, I won't do it again today. Instead of talking about the weather, let us speak of this all black outfit and the key-piece: my new Studded Leather Jacket.
Studded Leather Jacket
It was love at first sight when I saw this studded leather jacket online, but the be honest, I expected it to be a little bit longer. Once again I am probably just a little bit too tall for a piece of clothing. Due to the unexpected short length, I first wasn't sure how I should combine it. I can tell you; I tried on many clothes before I was happy with the result. I tried on tops with the same length as the jacket, and I tried on tops in different colours, but nothing worked. I first didn't try on any tops that are longer than the jacket, because I thought that wouldn't work. But since none of the other ones I tried on worked, I grabbed the one you can see in these pictures and just gave it a try.
And yep, that top I first didn't even want to try was the one I went for in the end. Unlike finding the top, it was easy to find a pair of jeans. I knew I wanted to wear a pair of black jeans, so I did. Even choosing a pair of shoes and a bag was super easy that day. I opted for my black shoes from flattered and my favourite Gucci bag.
I think this leather jacket will work very well in summer when I can combine it with cute dresses and shorts. I'm already thinking about all the summer outfits I could wear, and I can't wait for this time of the year to finally begin. Summer, hurry up! I'm waiting for you. 😉
Making travel plans when the weather is shitty in Berlin
Last but not least I would like to talk about some travel plans I made these days in Berlin. Whenever the weather is this shitty, I dream myself away. I dream of warmer places, beaches, the ocean and palm trees. We definitely have a couple of destinations on our list, and this year we want to fly to Amsterdam, Portugal (again) and the west coast of the USA. I wouldn't mind spending five days in Mallorca or Ibiza as well… we will see. I usually love spending spring and summer in Berlin, but right now it is everything but nice. What are your travel plans for the rest of the year?