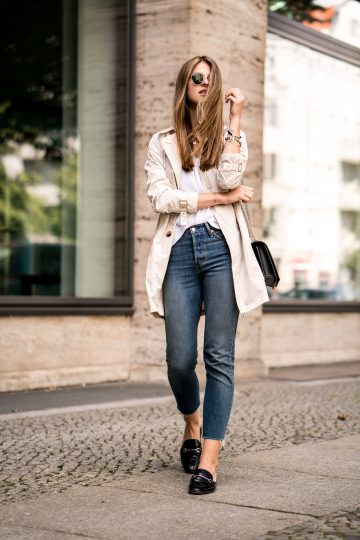 Starting this new day with a new outfit post here on the blog. Unfortunately, it is one of the less summery outfits, but don't worry the rest of the week I will share more summer outfits. Even though we are probably all in the mood for summer and, of course, summer outfits, I wanted to share this outfit. I absolutely love the simple outfit combination, and every summer has it's colder days on which we definitely need this kind of outfit for sure. I was wearing it on one of those colder summer days here in Berlin, last weekend to be exact when we celebrated my dad's birthday. We were running errands all day until it was time to head to my parents' place for the birthday party. And since it was such a busy day, I needed a very comfortable and handy outfit. At the same time, the outfit had to be suitable for the birthday party so that it couldn't look too comfortable. In the following you can now read everything about the outfit I went for and, of course, have a closer look at the pictures we took. 🙂
Trenchcoat and Denim
Blue jeans and white shirt – that is one of those outfit combinations you can never go wrong with. But I admit, these two pieces itself may look a little bit boring if you don't add more details or other clothes. That day I decided to add one of my trenchcoats, the one I got from GANT earlier this year to be exact. All three pieces are essentials every woman should have in her closet.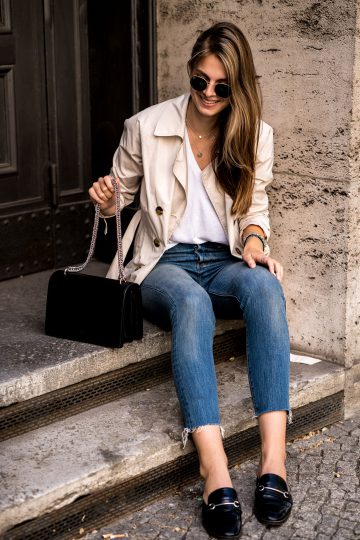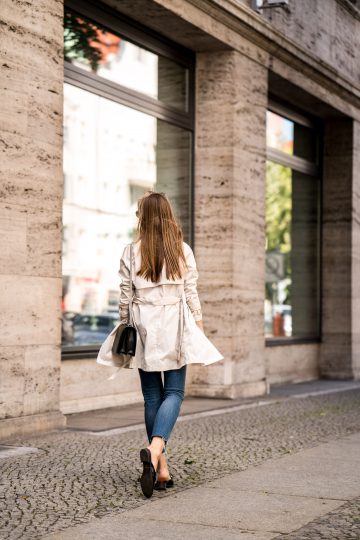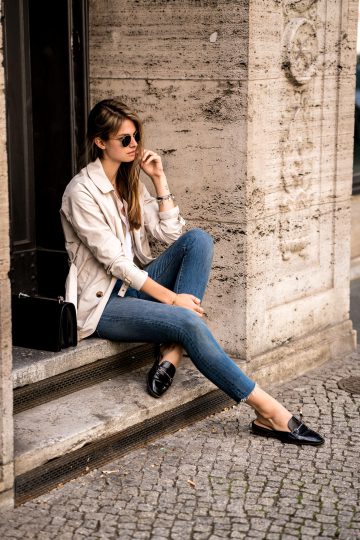 One reason is that you can never go wrong with these pieces neither in combination with each other nor in combination with other pieces of clothing. These essentials are the perfect base when putting together your outfit because they work with almost everything.
Anyways, that day I combined all three pieces with one another to get a comfortable yet chic outfit. I also added my mule sandals from Marks & Spencer (got them last year…), my Agneel bag, a pair of round Ray-Ban sunglasses as well as my everyday jewellery. It is such a simple yet chic outfit combination. Even though it is very comfortable, it doesn't look like it, and that's what I wanted to achieve when I put together my outfit that day. I would say: mission successfully completed. 😉 And yes, I know. I am wearing this pair of round sunglasses again. And I am so sorry, but you will see them very often the next days. But they are my favourites, and I actually don't have another pair of sunglasses that suit me as well as these do.
I don't know why, but it is so much easier to put together spring and autumn looks when it is not the season, isn't it? I mean, it is such a simple outfit, perfect for spring or autumn, but I know that I would not have come up with this one that easy when it actually would have been spring or autumn… do you get what I am trying to say? When I have to come up with some nice outfit ideas for the current season, all that pops up in my head are ideas for the other season. Maybe I should start writing them down… what do you think? Do you have the same "problem"? How do you plan your outfits?