Happy Wednesday y'all! Those who follow me on Instagram might already know that I am travelling to Paris today. I will be in this beautiful city until tomorrow only to join a Havaianas party tonight. And since we are arriving quite early today, I have a full day to stroll around Paris before the party this evening, and I am so looking forward to it! Paris is one of my favourite cities. But I won't tell you more about these two days today, a detailed blog post about it is coming soon. Today I want to share a new summer outfit post, even though the weather isn't that summery right now. But better days are coming for sure, and we need to be prepared 😉 So have a look at the pictures we took, bookmark this post or pin the look to a board on Pinterest. Maybe you are lucky, and the weather is already warm and sunny where you are right now, and you can create a similar outfit like this one in case you like it 🙂
Off Shoulder to One Shoulder
This outfit post is all about the top and how I converted an off shoulder short into a one shoulder shirt. Last year the off shoulder trend was huge, and it still is this year, but another trend, a very similar one popped up as well, and I am sure it will take over the off shoulder trend soon. I still like both trends, but to me wearing one shoulder pieces is a little bit more comfortable than wearing off shoulder pieces. That's the reason why I prefer wearing one shoulder pieces at the moment.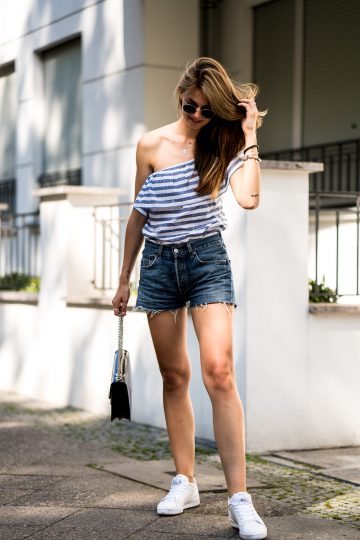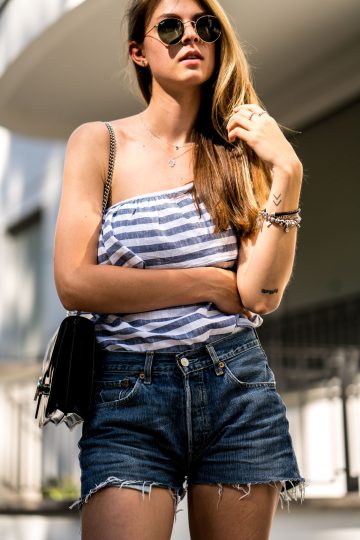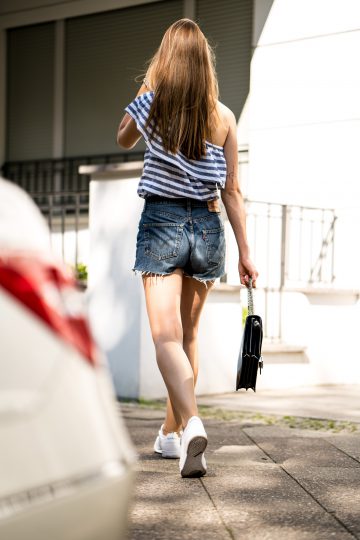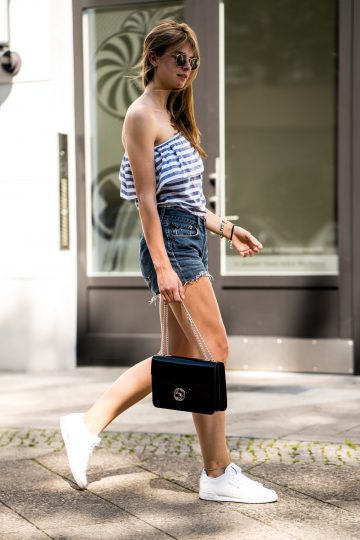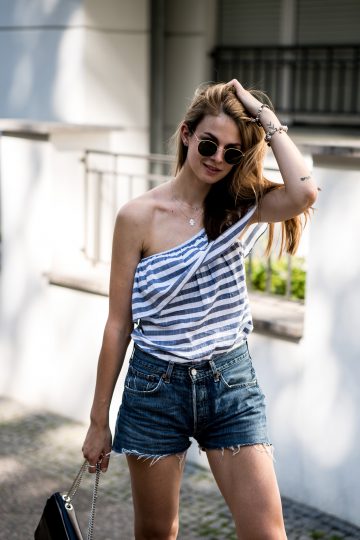 A new trend usually means that we have to buy new clothes, but in this case, we actually don't have to do it. It is quite easy to convert an off-shoulder piece into a one shoulder piece as you can see here. The shirt I was wearing is actually an off shoulder shirt I received a couple of weeks ago. All the time I was thinking about a possible outfit combination, but everything that popped up in my head was quite boring… that's why it took me so long to wear it finally. The other day I was thinking about where to find new one shoulder pieces, and since I couldn't find them online, I was about to give up. But then I had the best idea: why not wearing one of my off shoulder shirts as a one shoulder shirt? Of course, you probably won't be able to do it with every kind of off-shoulder shirt. But it worked very well with this one. I think it won't work with an off shoulder shirt with long sleeves, but every off shoulder shirt with short sleeves probably can be worn as a one-shoulder shirt as well – try it yourself 🙂
And guess what? I even chose one of the outfit combinations I first thought it would be boring. I combined this off shoulder shirt worn as a one-shoulder shirt with the vintage Levi's shorts I bought in Amsterdam, white sneakers, my favourite pair of Ray Ban sunglasses and my black Gucci bag.