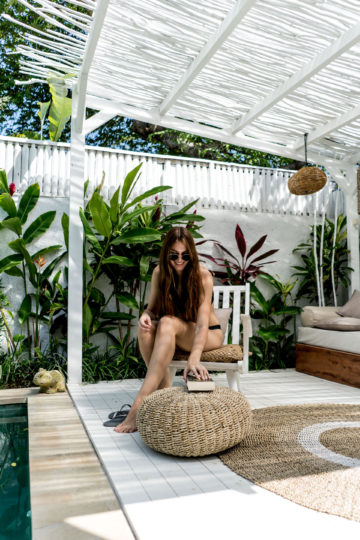 When we planned our trip to Bali, and it came to the point where I searched the web for places to stay at, I didn't look for hotels. I knew that Bali has a lot of private pool villas you can rent and that's what I was most interested in. So I searched the web and guys, there are plenty of private pool villas in Bali. And most of the owners offer the same services as hotels do. So you get daily housekeeping, a scooter rental service as well as breakfast if needed. And it's even better than staying at a hotel because you have your own little villa with a pool. Some of the villas are shared villas, so you get a private room and have to share the kitchen, living room area as well as the pool. But you usually can book the whole place as well for a slightly higher price.
We stayed at four different private pool villas in Bali, and today I want to tell you more about the two places we stayed at in Canggu because they are the ones I liked best:
Our stay at Villa Paz in Canggu
Our first accommodation in Bali was Villa Paz in Canggu, and I couldn't imagine having stayed at a better place for the first three nights. The place is super clean and has a beautiful interior. Seriously, I could have taken pictures EVERYWHERE there haha.
Size of the villa and facilities
Villa Paz is a two bedroom villa, and you either can book one room or the whole villa. We had the whole villa to ourself, which was amazing.
This place has a nice outdoor kitchen and living room area with a big table, a beautiful pool with an outdoor shower and a relaxing area next to the pool. As well as the two bedrooms with an ensuite bathroom each.
The Bedroom
Both bedrooms have the same size; only the interior is slightly different. They are equipped with a double bed with a mosquito net, an AC and an outdoor ensuite bathroom with a shower. There is no TV in the bedrooms or the villa in general, but you truly don't need a TV when in Bali – believe me! If you feel like watching something, take your phone or laptop. The villa does have wifi, and it's one of the best connections we had during our time in Bali.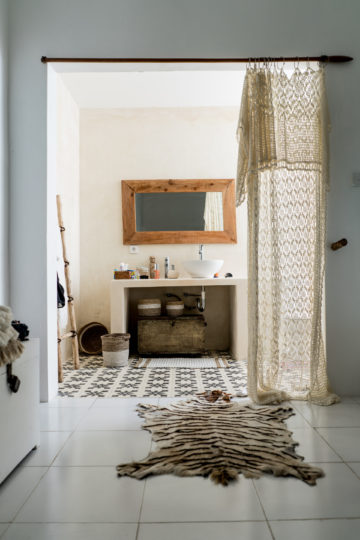 The Service
Nobody but you (and if you booked only one room, the guest of the other room) will be staying at the villa. But you will have a contact person locally, who will provide you with all the information you need. There is also someone coming to the villa every day to clean it and make your bed.
They also offer airport transports, which I would recommend when arriving in Bali. They have a local driver who will pick you up, and you can also book him for day trips. If you want to explore Bali by yourself, you can rent a scooter at Villa Paz. They will bring it to the villa and pick it up there again if you don't need it anymore – it doesn't get easier than this 😉
The Location
Villa Paz is located in Canggu and around 5 minutes away from the beach by scooter. Some restaurants are in walkable distance, but I would recommend renting a scooter because you will get a greater choice the closer you get to the beach. Great restaurants, as well as the bach and a supermarket, are less than five minutes away with a scooter. I would rate the location with five stars.
The Price
The price varies depending on the season. In October the price for one room was around 60 Euro.
Next to Villa Paz is Villa Mar, another place from this owner. It is a three bedroom villa and as nice as Villa Paz. We stayed there for one night when we needed to book a new place very last-minute.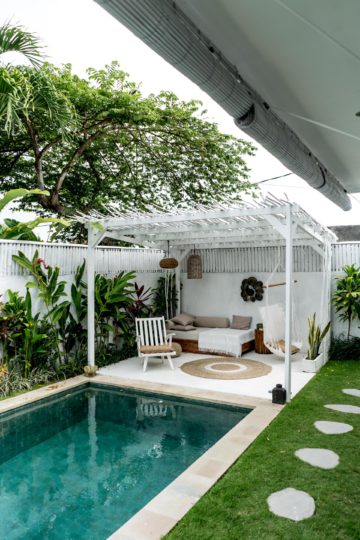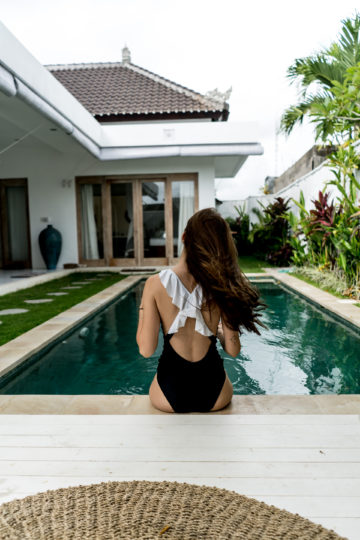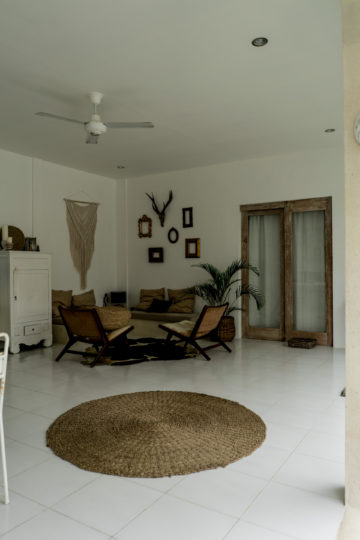 Our stay at Villa Diego by Love is Simple in Canggu
Very close to Villa Paz and Villa Mar, you can find Villa Diego by Love is Simple. This was the last place we stayed at when we were in Canggu, and we booked it quite spontaneous when we came back from Lombok. We wanted to stay in Canggu a little bit longer, and this place seemed to be perfect because it is super close to Villa Paz where we had such an amazing time. We already knew the neighborhood and where we need to go.
Villa Diego is as beautifully decorated as Villa Paz, and we felt at home from the very first minute. The interior is minimalistic with a bohemian touch, put simply: it is beautiful!
Size of the villa and facilities
Villa Diego is a two bedroom villa with lots of space! You enter the villa and the first room you see it the kitchen and living room. Here you will find everything you need including a big table, a fully equipped kitchen, drinking water, and a lounge area. The bedrooms aren't connected to this room. You have to pass the garden and pool as well as the outdoor sitting area to get to the two bedrooms Villa Diego has.
The Bedroom
Both bedrooms have the same size and an ensuite bathroom with a shower. The bedrooms are very minimalistic equipped; they have a double bed as well as a chair and a TV. A small wardrobe can be found in the bathroom. But you actually don't need anything more than that.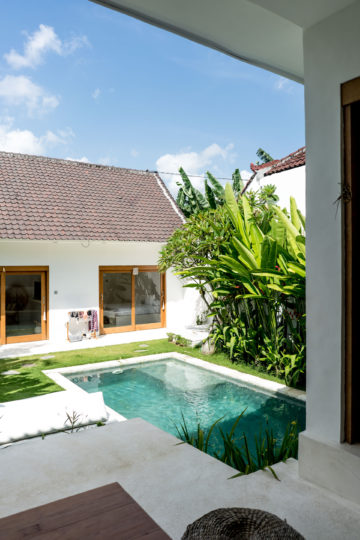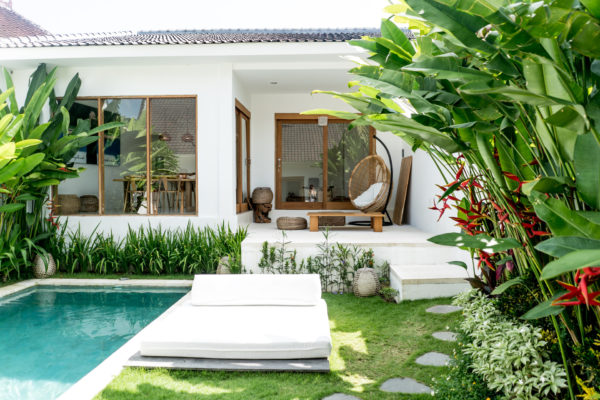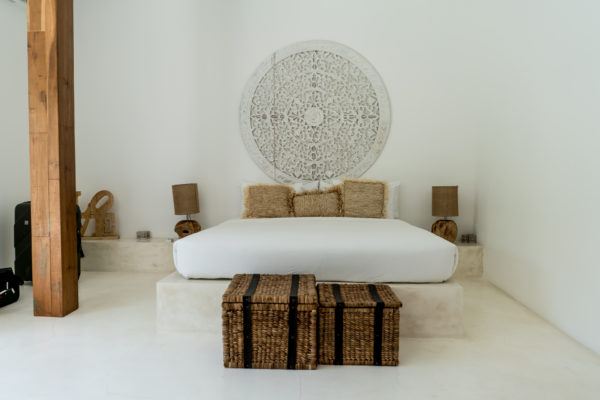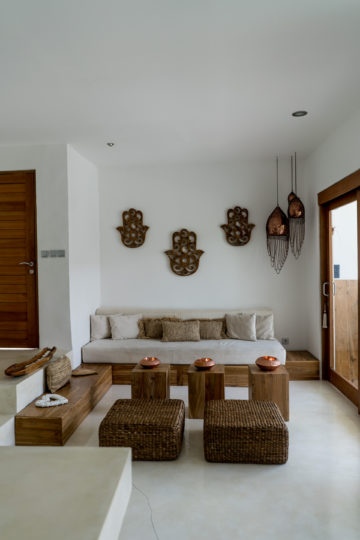 The Service
You will have the whole place for yourself; nobody else will be staying there while you are.
The villa will be cleaned every day, and you will have a contact person locally, who will help you with whatever you need. We didn't need a scooter because we still had one, but if you need one, they will help you to rent it. They can also give you the contact to a local driver if you want to make a day trip or just need a transportation to another place.
At Villa Diego, you can also book a private masseur coming to the villa. You can choose between different massage including the Balinese massage. I wanted to book one so badly, but we just didn't have enough time. 🙁
The Location
Villa Diego is a little bit closer to the beach than Villa Paz, but you still need a scooter to go there. It also is close to good restaurants, but the best can be found a little bit further away. Everything is reachable by scooter within a few minutes. I would recommend staying at this location because it is a little bit calmer and quieter there than when you are staying closer to the beach or the main street with all the restaurants in Canggu.
The Price
During low season you can book the whole place for around 100 Euro, but it is more expensive when you are going there during high season. It still is an appropriate price!