After four weeks of traveling, I am back in Berlin, back at home. And even though I enjoyed being in Bali, Lombok, and Lisbon as well as Cascais, I am also happy to be back. So today I will do nothing but relaxing at home, getting organized and probably doing the laundry and stuff like that. And I will also tell you everything about what happened the past week when we were in Lisbon and Cascais.
Our flight to Lisbon was on Saturday, and since we booked the flight last minute, we didn't get a direct flight. We had a layover of five hours in Madrid and landed in Lisbon around 8 pm. I didn't mind that long layover because due to that I was able to work a little bit before another busy week. Once we arrived in Lisbon, we just wanted to grab our luggage and drive to the apartment, but it doesn't make it. Five hours apparently wasn't enough time to transfer our luggage, Iberia did an excellent job… And after 1 1/2 hours at the airport, we finally could drive to the apartment – without our luggage. I was super pissed and tired, so we quickly got something to eat and went to bed.
Our Sunday started with breakfast at the apartment and then we had to go shopping. We still didn't know when our luggage would arrive and needed clothes as well as washing things for the day. Once we had everything and could take a shower and finally put on new clothes, we went outside to walk through the streets and enjoy the sunshine.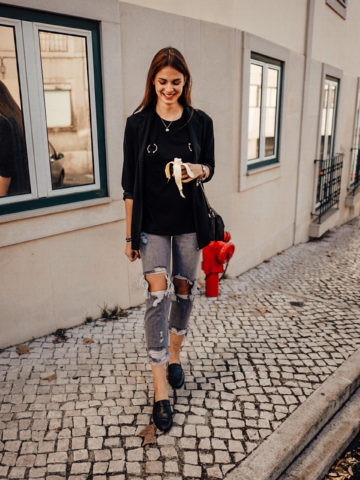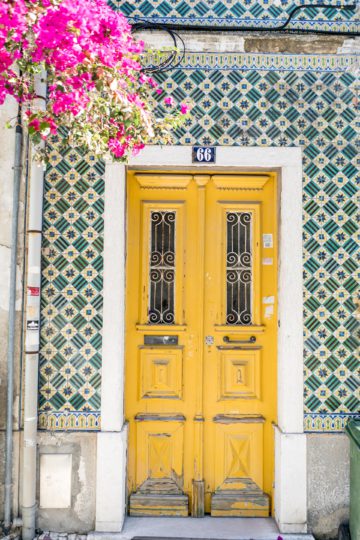 In the evening I finally got the call, that our luggage was on it's way to our apartment. It safely arrived, everything was still inside – so at least Iberia didn't mess up with that…
The reason we were in Lisbon wasn't another vacation. After being in Bali for two weeks, I definitely didn't need it 😉 We were in Lisbon for the Web Summit, a tech conference with around 60000 attendees. It was my first time there, and I was quite excited. Even though it is a tech conference, there are also many marketing related talks hold I wanted to hear.
The Web Summit started on Monday afternoon with the opening night. And then the days from Tuesday to Thursday were filled with talks, workshops, and networking. I went to a couple of talks, but it wasn't possible to go to everything I wanted to hear. We were running from one hall to the other all day, and it actually was quite exhausting. But, of course, interesting at the same time. Unfortunately, I didn't hear a lot of new things about SEO, Instagram, and marketing in general, but I got a lot of confirmation in what I am using to say about this whole influencer marketing thing.
After being at the Web Summit most time of the day, we usually had dinner at the apartment and went to bed quite early.
I was happy that we extended our trip until Saturday and didn't fly back on Thursday. We wanted to spend some time in Cascais after Web Summit to enjoy the perfect November weather (around 20°C and sunshine) by the ocean before heading back to Berlin. So on Thursday we got our rental cars and drove the 30 minutes to Cascais. We had a beautiful apartment with sea view and very close to the city center. The location was perfect, the weather was perfect, and oh, I was so happy to be back here. I fell in love with Cascais when we were here in March, and I would come back again and again. This small town (I wouldn't call it a city) has everything you need: good restaurants, beautiful beaches, a small shopping mall and more.
Once we arrived there on Thursday afternoon, we left our luggage at the apartment and went out for a late lunch. Afterwards, we took a stroll through the streets of Cascais and in the evening I had to work a little bit.
The plan for our last day, Friday, was to go surfing and I was so looking forward to it. Unfortunately, the waves were super shitty at most beaches, and there was only one beach with good waves. We drove to that beach, and it actually looked good, but guess what? There was no surfboard rental around. Not even close to that beach and due to that we couldn't go surfing in Portugal. So instead of going surfing, we bought a ball and played volleyball at the beach in front of our apartment, and that was a lot of fun as well. We got to spend a lot of time outside in the sun, and I really enjoyed this last day. And to make that day even better, we ended it with dinner at Moules & Gin. Moules & Gin is the restaurant we went to on my birthday, and we just had to go there again. Both the moules and the gin are so delicious there, and it is for sure something you can't get in Berlin.