Good morning from Ibiza, guys! Those who follow me on Instagram probably already know, that I am currently on this beautiful island. I arrived on Tuesday and will stay until tomorrow. But today I don't want to talk about this trip, I will share some more details about it on Sunday and maybe I will also prepare another blog post and share it next week.
Today I want to share a summer outfit for balmy summer days on which you need to wear a pair of pants or jeans. After being in Miami for one and a half weeks and wearing shorts, skirts and summer dresses all day, summer weather in Berlin doesn't always feel like it. We had some very nice days already with temperatures above 25°C, but some days we have temperatures between 20 and 25°C only and on the outfit I am sharing with you today is an outfit you can wear on days like these.
Plateau Sneakers, Mom Jeans and Flower Blouse combined
Do you remember some of my winter outfits? I was talking about mom jeans all the time and that I don't feel like wearing skinny jeans. Now it's summer (or coming closer to summer) and I still don't feel like wearing skinny jeans. Mom jeans seem to become the piece of clothing I enjoy wearing all year round, That's because they are so comfortable as well as versatile. They are easy to combine and work with so many different styles.
The other day I combined a pair of mom jeans with a flower blouse as well as plateau sneakers. I first wasn't sure about this combination, but it turned out to be one of my favourites from the past weeks. I LOVE this combination and felt so comfortable in it.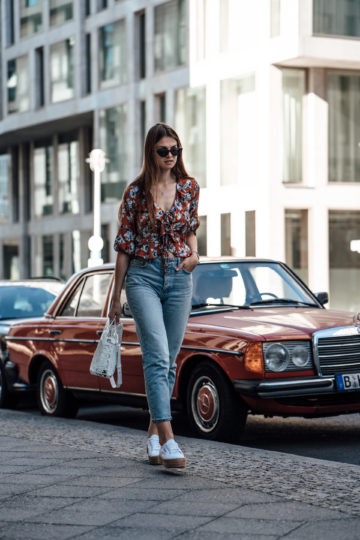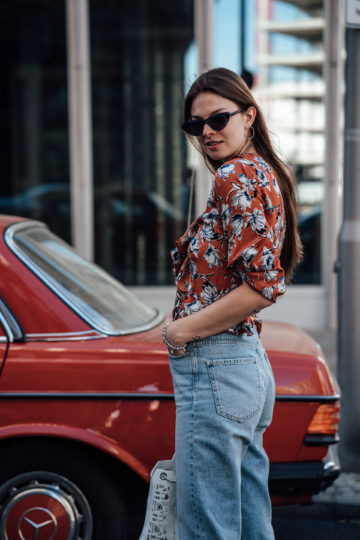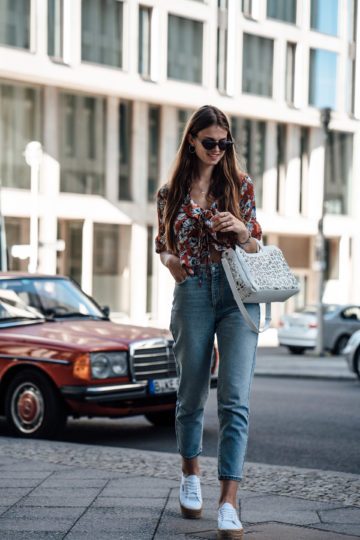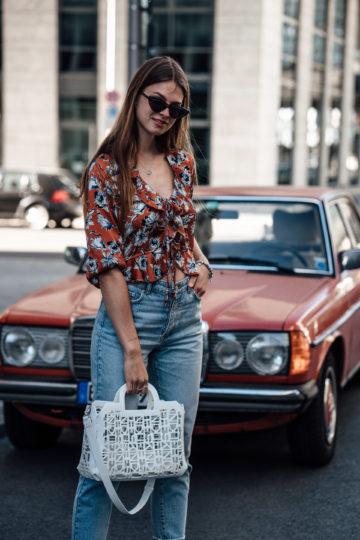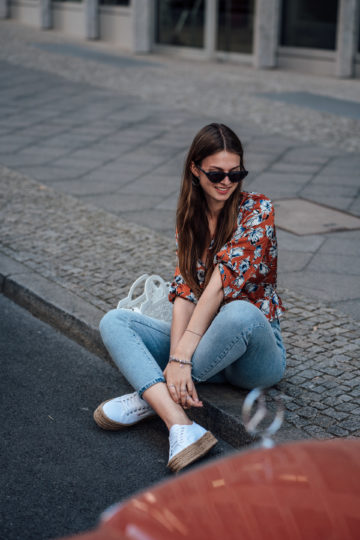 Another piece I would like to talk about are the plateau shoes. I got three pair of plateau shoes when I was in Miami and you could definitely say, that I have a thing for them at the moment 😉 I always wanted a pair of plateau shoes from Converse as well as the plateau Supergas. Both styles were sold out in my size whenever I looked for them, but as you can see: I finally got them and I couldn't be happier. I've been wearing them almost every day since I got them and I love how they make my legs look longer. Not that I need to wear shoes that make me appear longer, I am already 1,80m tall. But sometimes it's nice to add a little bit of extra length, isn't it?
I will share another outfit with plateau shoes tomorrow, so stay tuned. 🙂
Back to bigger bags
The past years I have been wearing small bags most of the time. That's because I tend to pack too many things when carrying a big bag. Things I don't need. And due to that they get quite heavy and that made my neck and back hurt. I switched to smaller bags to avoid the neck and back pain and it actually worked very well.
But bigger bags seem to be back in fashion and how can you avoid wearing them, when there are so many nice styles out there? The bag you can see me wearing here is one of the newest models from Liebeskind Berlin and I love the idea of seamlessness and the cut-out monogram. How do you like it?
Don't hesitate to leave me a comment and let me know what you think about this look. What is your favourite piece of the look and do you have any essentials for this summers outfits?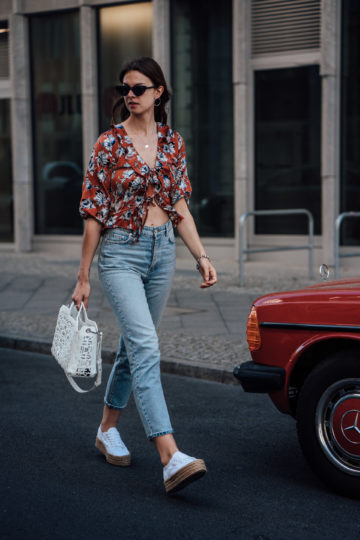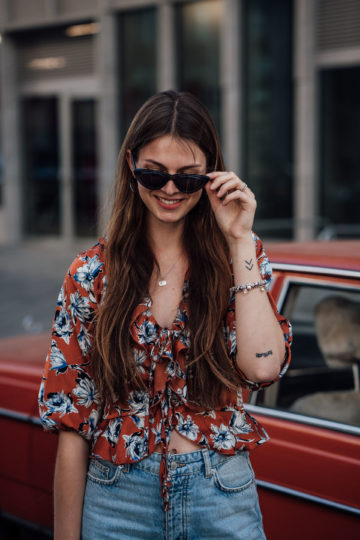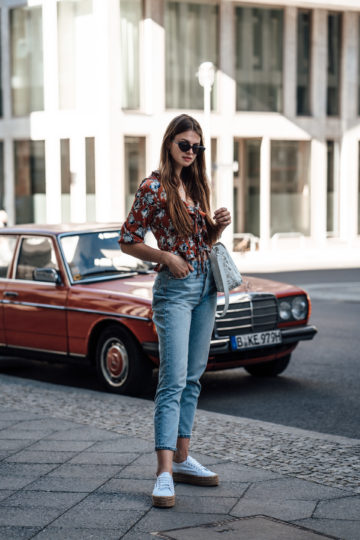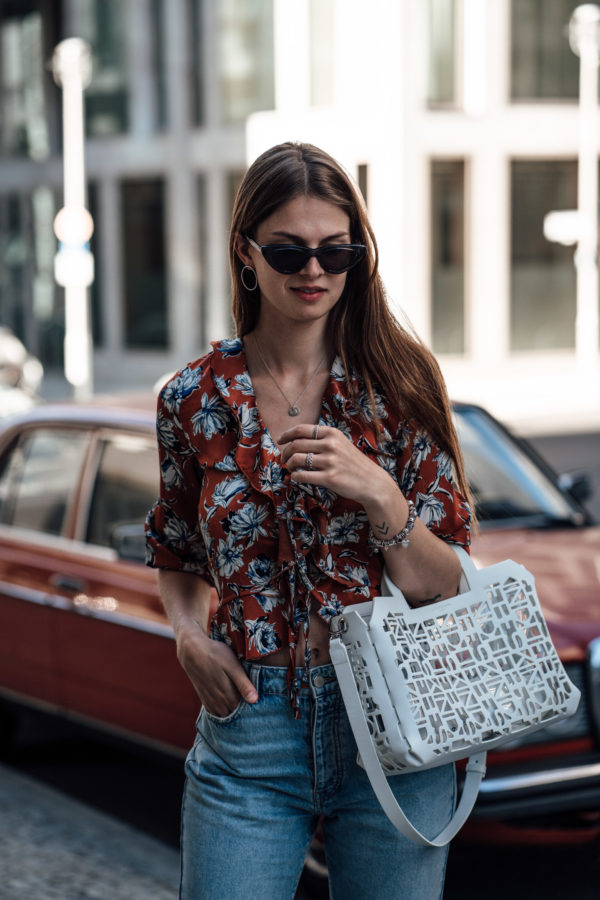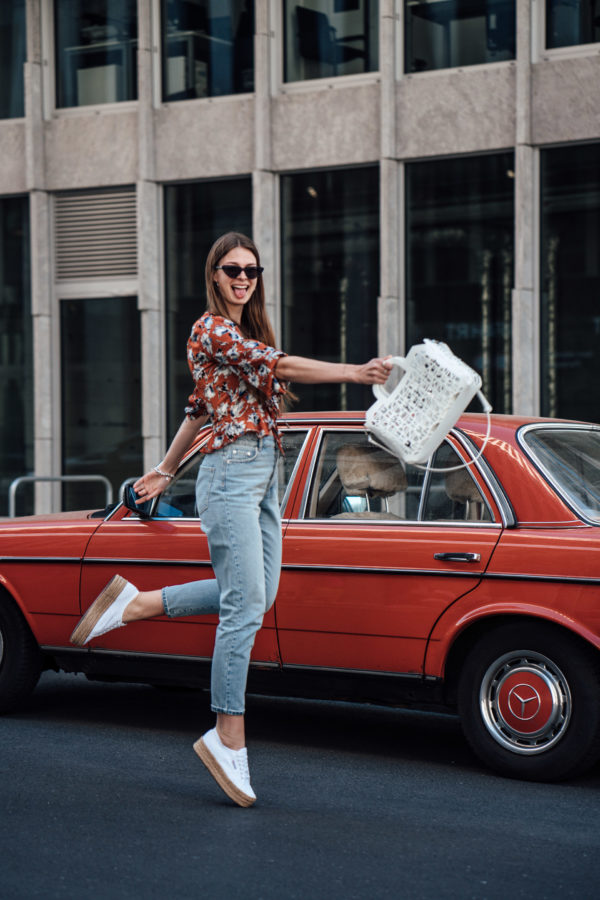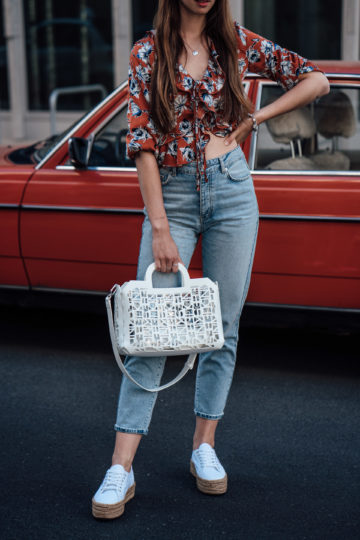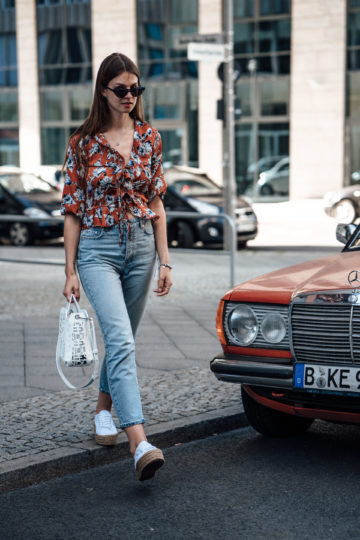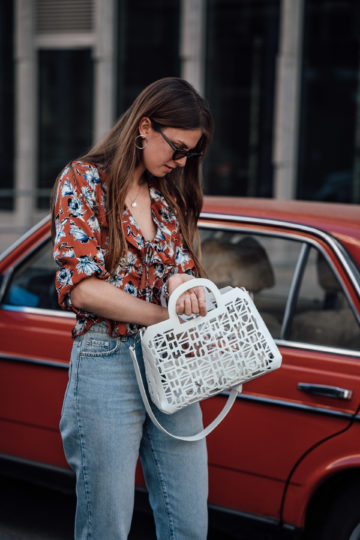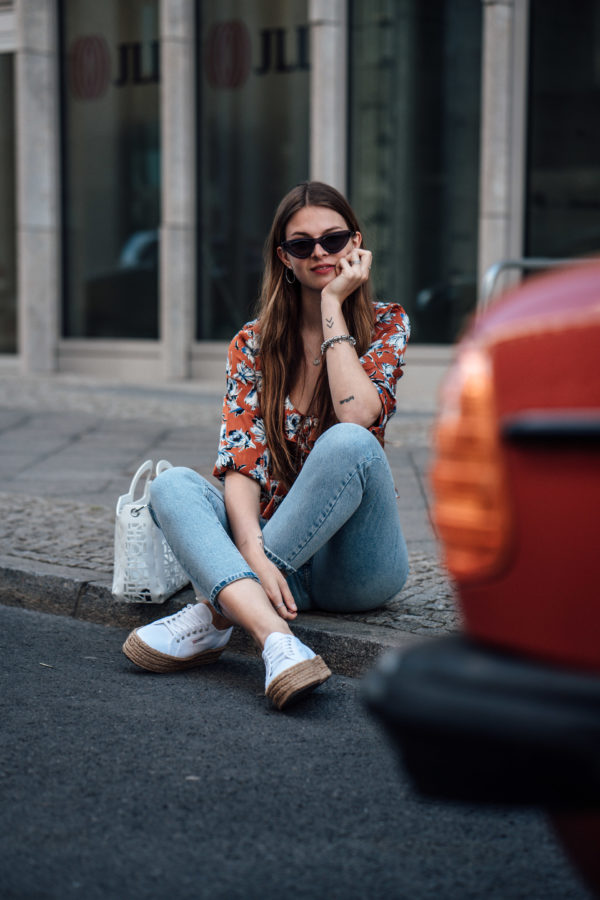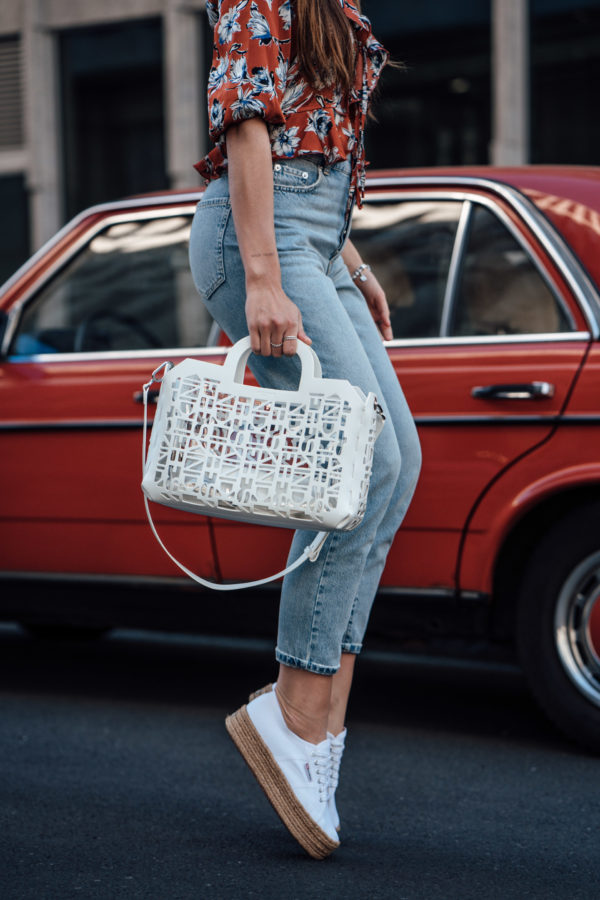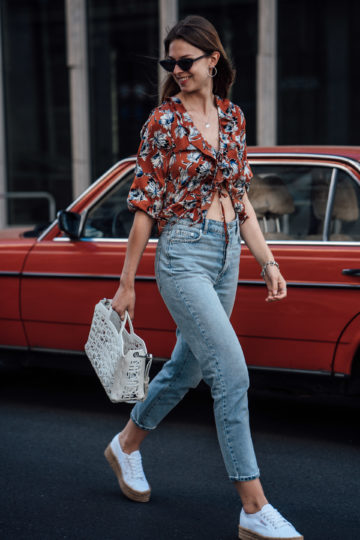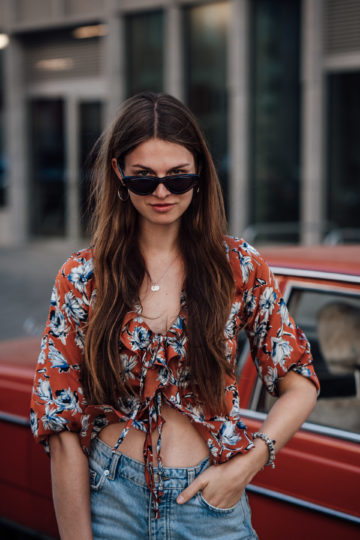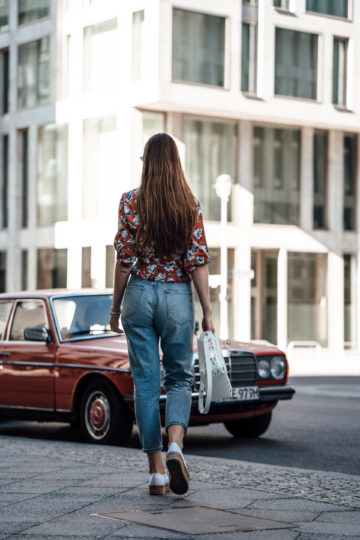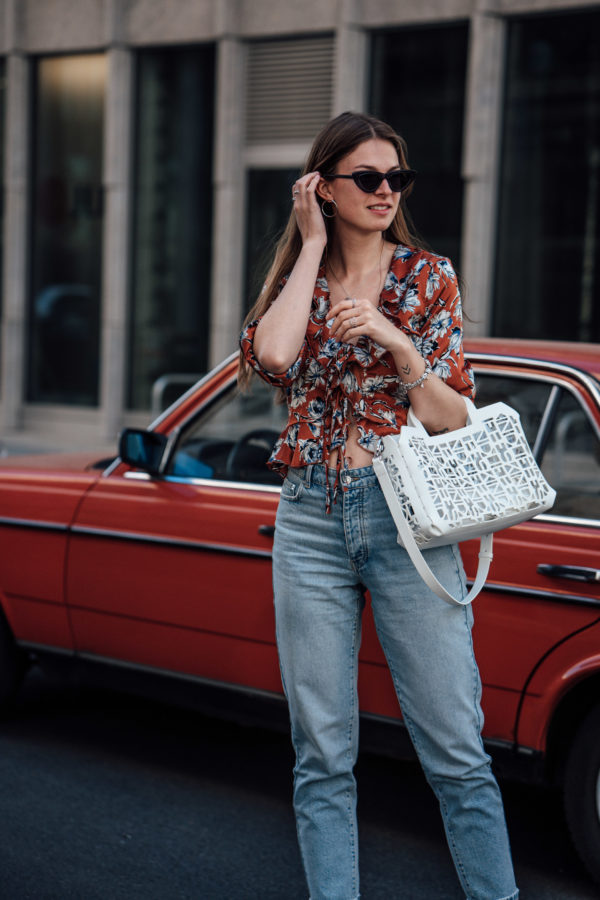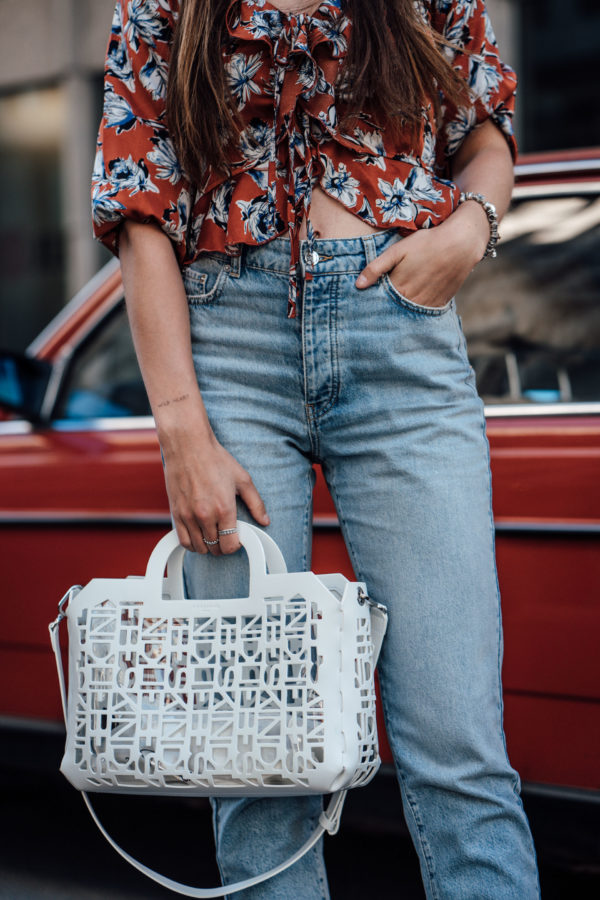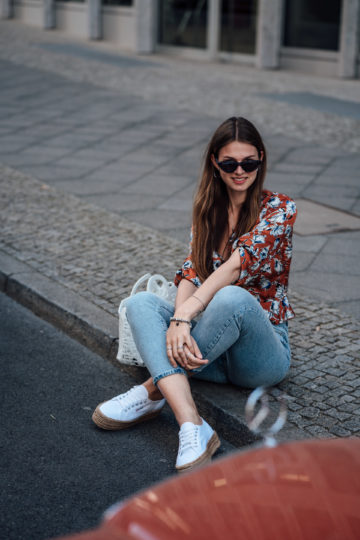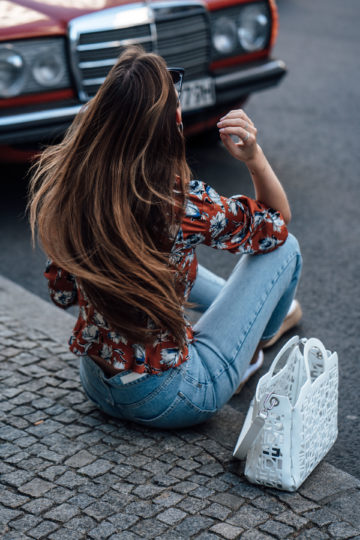 *PR Samples contained – Gina Tricot Jeans || Missguided Blouse || Superga Sneakers || Liebeskind Berlin Bag || Chimi Eyewear Sunglasses