Yesterday I shared the last outfit I was wearing in Tarragona, and today I am sharing the outfit I was wearing on our first day in this lovely town. Tomorrow I am sharing the other I was wearing or should I say we took pictures of? Because I actually was wearing at least two outfits every day. I put on a comfy outfit in the morning, was dressed in a bikini or swimsuit throughout the day and another outfit – usually a little bit chicer – in the evening when we were having dinner in Tarragona. The outfit I am sharing with you today is the one I was wearing in the evening. We were walking through the streets of Tarragona, not only looking for a beautiful location to take pictures at but also for a restaurant. As you already know, we had temperatures around 30°C every day in Spain, and even at night, it was still warm enough to wear a short dress, shorts or a skirt only. I really enjoyed wearing summer clothes all day and night without freezing, and I wish we would have more days like these here in Berlin.
Summer Dress with Flower Print
That evening I kept it quite simple. This dress with flower print is an eye catcher itself, and it doesn't need a lot of accessories and other pieces to be combined with. So all I had to put on that evening in addition to the dress were shoes, a bag and some pieces of jewellery as well as a pair of sunglasses. I opted for my Michael Kors Espadrilles, and it wasn't the best idea.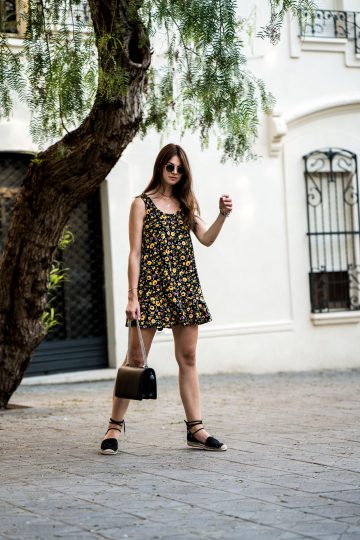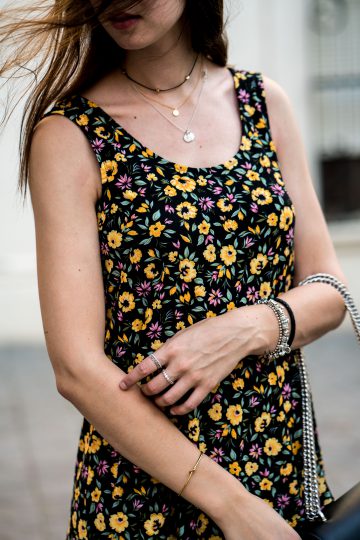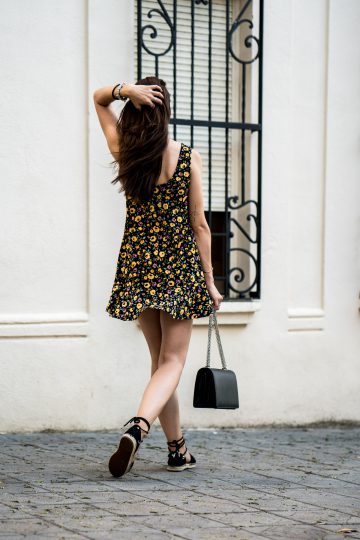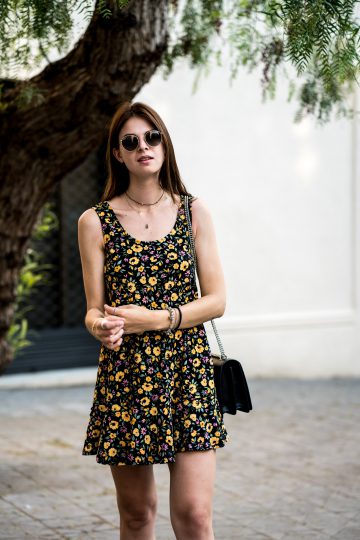 I was wearing them before, but they are definitely not made for walking. We walked a lot that evening, and the shoes began to chafe on my feet after half an hour or something like this. And yep, I got some blisters on my feet… but at least they are pretty, aren't they?! I just hope it's getting better the more often I wear these shoes.
Regarding the other pieces I was wearing that day, there is not much to say. They all worked perfectly and topped everything off. Altogether it was a very comfy outfit (except the shoes), that didn't look boring thanks to the flower print. My boyfriend actually doesn't like the dress, but I think it is perfect for hot summer days. Would you agree with my boyfriend or with me?
What to keep in mind: when it comes to summer outfits, keep it simple! Try to find clothes, that don't need a lot of accessories or other clothes to be combined with. You don't want to put on several layers when it is freaking hot outside, and you don't want to wear something uncomfortable. So summer clothes should be both comfortable AND interesting themselves. Get something with a nice print or an interesting cut, something with a low neckline in the bag or lace details. These are only a few examples of what interesting summer clothes can look like. Do you have an example yourself? Don't hesitate and leave me a comment. Let me know what perfect summer clothes look like to you.