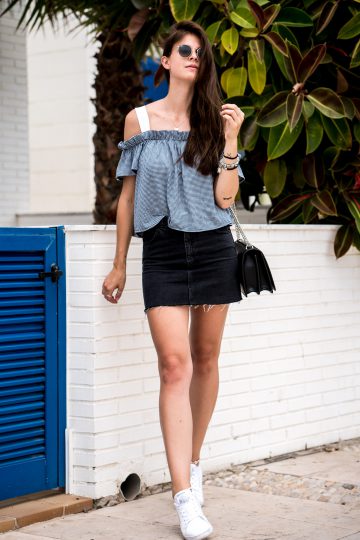 Happy Tuesday everyone! I know, I wanted to share the pictures we took in Spain earlier, but as you could read in the post I published on Sunday, I just didn't have the time to work on the blog. But today is the day; I am finally sharing the first outfit I was wearing in Spain. Three more posts are coming this week, and I can't wait to share all of them with you. After one very calm week on the blog, it is time to get organised again and to focus on new blog posts as well as taking new outfit pictures so I can keep on sharing outfit inspirations with you. I really don't want to have another week with hardly any posts on the blog. But while it was very calm on the blog, I share some more pictures from Spain on Instagram. So if you don't want to wait any longer, make sure to head over to my Instagram account – of course, after you read this post and had a closer look at the outfit pictures we took in a small town called Altafulla. 😉
Blue and White – the colours of summer
The weather in Spain was amazing. While it was raining in Berlin, we had sunshine and temperatures around 30°C in Spain, and even though it clouded up from time to time, I enjoyed the warm temperatures to the fullest and didn't mind sweating a little bit. 😉 The day we took these outfit pictures, was our last day in Tarragona and we actually didn't spend it there. We drove to Altafulla, a small town about 15 minutes from Tarragona, to spend the day on the beach. We discovered Altafulla when we were looking for a lunch spot the first day and even though the beach there was quite busy, we decided to come back the next day and even the day after.
The beach promenade in Altafulla is super cute. It has colourful houses all along the promenade as well as some restaurants – we didn't try. I didn't want to drive to Altafulla because of the beach; I also wanted to go there to take some outfit pictures, to be honest. That day we decided to use these white houses with the blue doors and windows as our location. Black and blue are the colours of summer to me. They always remind me of the ocean and places such as Mykonos or other seaside communities.
I was wearing a new top that day I ordered a couple of days before the trip. I saw it online, and it was love at first sight. I knew it would work perfectly for this trip, doesn't it? I combined it with my black denim skirt as well as a black bag and white sneakers. I was wearing sneakers that day because we decided to walk a little bit through the city, to explore the area around and maybe walk along the cliffs after we spent some hours on the beach. Of course, we changed the plan of walking around and drove back to the apartment instead. x) One of the reasons was that it clouded up in the afternoon and we wanted to be back at the apartment before the rain and thunderstorm. We almost made it in time, but it started when we were about to park the car, so we didn't make it to the apartment without getting wet. Imagine we would have been on the beach when it started… that would have been everything but fun – you need to know, that I am afraid of thunderstorms, I really am!