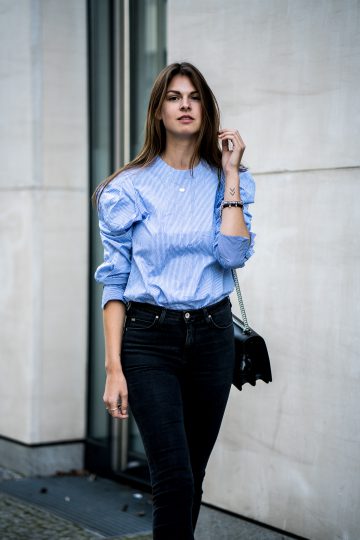 The outfit I want to share with you today is one of my favourites of the last week! As you can see, it was quite warm that day and – of course, I was wearing a jacket – wasn't freezing while we were taking these pictures. We actually wanted to take pictures in the sun, because it was shining that day, but we were super late and couldn't find a location. That's why we just had to choose a place without any sunshine, but where it was still light enough to take some nice pictures.
Striped Shirt with Buttons on the Back
I got a lot of striped shirts lately.. I've always liked stripes and this kind of shirts, but there was a point where I sorted all of the shirts I had in my closet out. I really have no idea why. I remember a lot of shirts I would love to wear these days, but I don't have them in my closet anymore. I think I was bored at one point, that's why I sorted all of my striped shirts out… Anyways, since I wanted to wear striped shirts again, I searched the web for some nice ones and ended up at Zara – as I do pretty often. I used to buy a lot at Zara but didn't do it for quite a while. But when I stopped by their online shop, I saw that they had pretty nice pieces on sale, and I couldn't resist. The striped shirt with the buttons on the back you can here is one of the pieces I got on sale at Zara. It's pretty nice, isn't it? I'm so happy I stopped by their online shop and found this striped shirt. I also got another striped shirt, one with wide sleeves and buttons on the right side 😉 But that's something I will show – and tell you more about – in another blogpost.
How to combine a striped shirt
So how did I combine my new striped shirt last week? I opted for a very simple outfit and combined it with a pair of dark grey (almost black) jeans, black boots and – once again – my new Agneel bag. It's such a simple yet chic outfit, and I like it a lot! It's chic enough to wear it to a meeting or another important appointment, but still comfortable enough to wear it all day on a super busy day. I have to confess, right now it's too cold to wear it like this, so I would probably wear a sweater or at least a warm jacket on top. But when it finally gets warmer again, I would combine it the exact same way again.
Combining striped shirts is actually quite easy. Of course, every shirt is different due to the colour and cut. But you can always combine them with a pair of black jeans or a black skirt. I would also combine them with blue jeans, especially the striped shirt you can see here. I think I will combine this one with one of my Levi's shorts in summer – oh yes, I can't wait for summer! 🙂 What do you think about the shirt? And how would you combine it?