Who wants to see another casual chic outfit I was wearing on a not-so-warm day in Berlin?! I am sure you all want to see it 😉 Summer is coming to an end, the days are closing in, and it's getting colder every day. We are slowly getting ready for the next season, the colder season of the year, but I don't want to give up on summer yet. As long as we have temperatures around 20°C, I will continue wearing my summer clothes. At least some of them. Because it's getting a little bit chilly from time to time, so I have to combine them with warmer garments such as knitted pullovers or jackets. And that's exactly what I did the other day: I combined a faux leather skirt with a knitted sweater.
Combining a knitted pullover with a faux leather skirt
I actually like this kind of outfit a lot: the combination of a skirt and a sweater. And I had so many outfits in mind, I wanted to wear in spring and summer, but I ended up not wearing them. It was either too cold or too warm in Berlin, the weather simply wasn't appropriate or was it this kind of outfit that wasn't appropriate? Anyways, I couldn't find a day to wear one of the many skirt-sweater-combinations I had in mind, and I hope that this autumn will be mild so that I can wear them this season instead.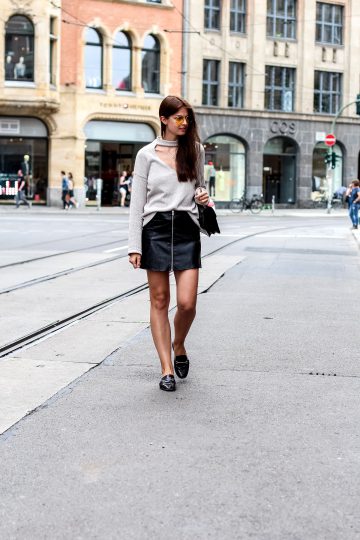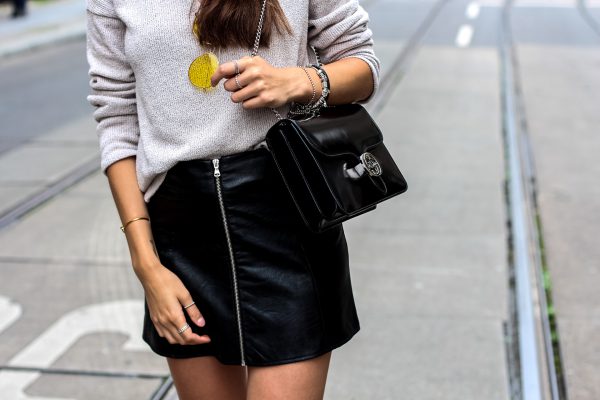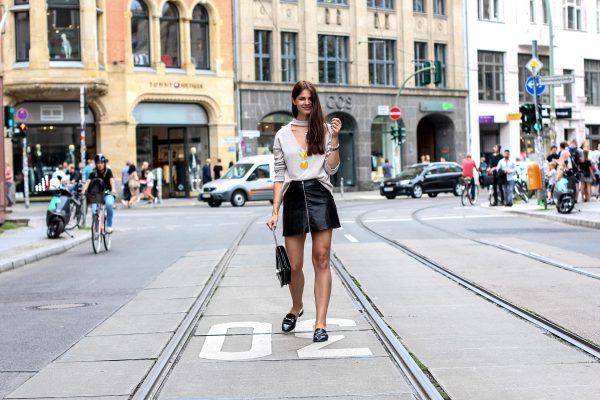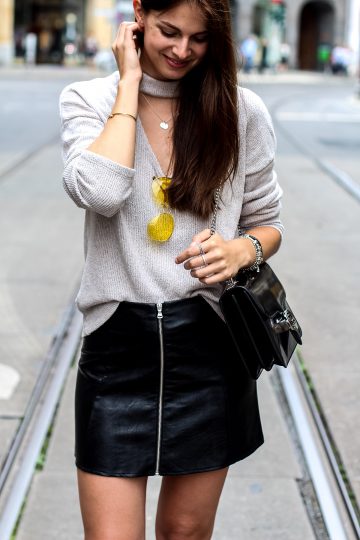 I was wearing this outfit earlier this month, so it still was high summer in Berlin – but that doesn't mean that the temperatures were seasonable 😉 It was a beautiful day, a little bit cold but sunny and I was in town for an event and to run some errands. Since I was on the go almost all day, I needed a very comfortable outfit, which looked chic at the same time due to the event I attended. I opted for the leather skirt in combination with my mule sandals and my Gucci bag. I first wanted to combine it with a white shirt, but that probably wouldn't have been warm enough without a jacket. That's why I chose this v-neck choker sweater instead. The outfit looked a little bit dull without any accessories, so I added one of my yellow sunglasses (this pair is a sponsored one from Subdued) in addition to the pieces of jewellery I am wearing every day.
The outfit I had in mind worked out, and the result was a chic yet casual and super comfortable outfit. I was wearing it all day and didn't regret going for another outfit at all. It worked perfectly for this busy day including some time in town as well as some hours at the office. I would also wear it when meeting up with friends or when having a business meeting as well as when going out for dinner with friends, my family or my boyfriend. It is such a simple look that works for many occasions, and that's what I like best about it. Maybe I would just change the sunglasses into another pair of sunglasses or no sunglasses at all for some occasions, but overall it is very versatile.
How do you like this outfit? And what do you think about this sweater-skirt-combination in general? I would love to read your thoughts, so don't hesitate and leave me a comment. xx