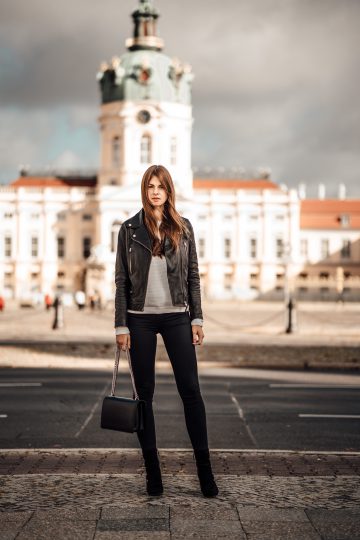 And happy Friday folks! You see, I wasn't lying when I said I am getting used to autumn earlier this week. I do have a lot of fun getting dressed and trying new outfit combinations, playing with autumn essentials or simply wearing a very simple autumn outfit teaming all the basics with each other. And speaking of basics and autumn essentials, I want to share another outfit with you guys. I was wearing this look a couple of days ago, and as you can see, it was a sunny and beautiful day. I spent most time of the day at the office and didn't feel like putting together a super fancy outfit. That's the reason why I – once again – went for basics. But these basics are autumn essentials everybody needs in their wardrobe.
Why black boots are autumn essentials
Well, do I really have to give you some reasons why black boots or boots, in general, are autumn essentials? I probably don't have to. But I will do it anyway; just in case 😉 It is no secret, that I have always been a huge fan of boots and I do not only enjoy wearing them in autumn, I also wear them in every other season as well – even in summer, when it is not too warm outside. Why? Because they work with everything. I can't imagine one piece of clothing or one outfit, that doesn't work with boots. Of course, it depends on the style, cut and fit. But usually, you can wear boots with everything you have in your wardrobe.
Boots are also the only shoes I think that are comfortable when they are heeled because they are simply more stable. Some heeled boots are so comfortable, I could easily walk in them all day long – and that's something I would NEVER say about high heels. The boots you can see me wearing here are from What for, and I received them a couple of days ago (it's a PR sample). It was love at first sight, not only because I have a thing for boots, but also because of the beautiful buttons on the side of the boots. I also love the high cut, because of that I can also wear them with my too short jeans or wide-leg pants.
Why leather jackets are an autumn essential
Another autumn essential is the leather jacket, no matter if it is faux leather or real leather. I have been collection leather jackets for years, and the collections keep on growing haha. Well, I also cleaned some of the older styles out, but the thing is whenever I give one leather jacket away, I find at least one new jacket in my wardrobe. Such as boots, leather jackets also seem to work with everything. You can even combine them with a floral dress or a lace camisole or other girly pieces of clothing. And, of course, leather jackets work perfectly with basics – as you can see here.
So the reason why these two pieces of clothing are autumn essentials basically is, that they are combinable with almost everything. Additionally, they keep you warm, and they look super nice, don't they? Boots can be both chic and cool, and leather jackets are for sure cool. They add this rock'n'roll vibe to every single outfit. What do you think? Would you agree or disagree? And I would also love to hear what are you personal autumn essentials, what can't you live without when it is getting colder outside. xx