As I mentioned the other day, we didn't take a lot of outfit pictures when we were in Amsterdam due to the rain. I also didn't feel like dressing up or wearing anything worth taking pictures of. Saturday was the worst day as it was raining quite heavily the first half of the day. We went to a café for breakfast, and once we arrived there, we were completely wet. So yep, being outside and taking outfit pictures wasn't really an option. But in the early afternoon, it finally stopped raining, and we decided to go for one last walk along the canals and just enjoy the beautiful Amsterdam views.
Amsterdam is one of my favourite cities, and even though it already was my fifth time in this city, I still enjoy walking around the most when there. There probably is so much more I could do and explore, but I honestly don't feel like doing it.
To come to the main topic of this post: when we took these pictures, we hadn't planned doing it at all. We just wanted to walk around, brought the camera with us in case we would see anything we would like to capture and ended up taking a few outfit pictures. 🙂 I first wasn't sure whether I would share them, because the outfit I was wearing isn't special or anything. It's just a very simple outfit I had to wear to stay warm. Also, I usually wouldn't wear my Vans on a rainy day, but the other ones I had with me were still wet from our morning walk.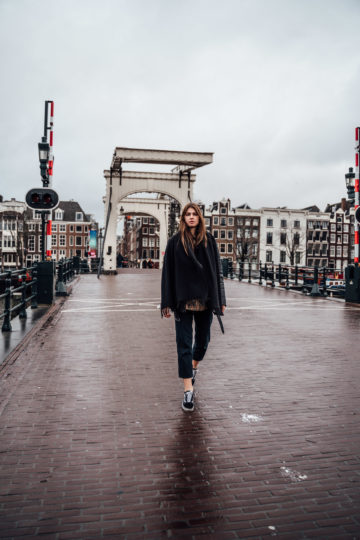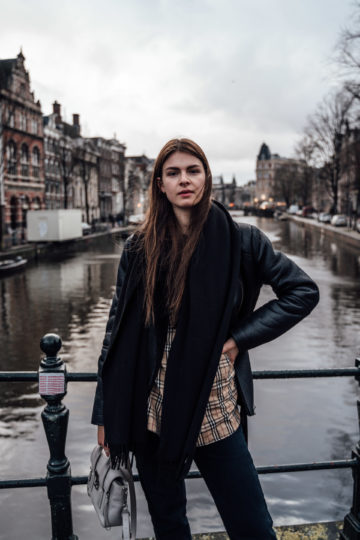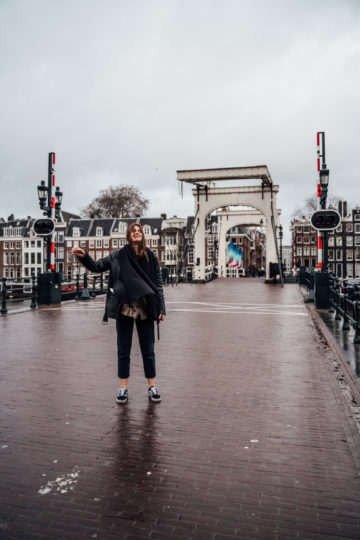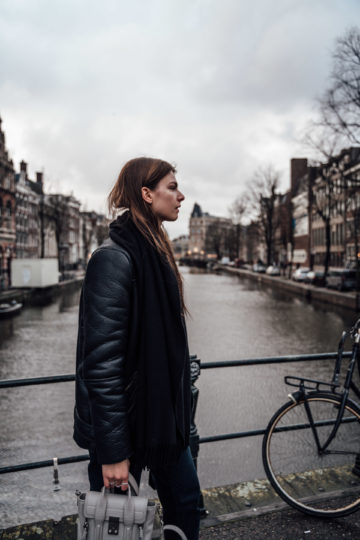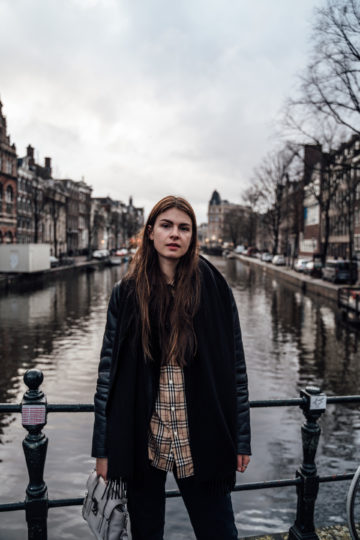 What to wear on a city trip when it's raining
Apart from the shoes, this outfit was a great choice for a rainy day. Well, since it wasn't raining that afternoon, these sneakers weren't such a bad choice. But in case it would rain, I wouldn't recommend wearing sneakers. The better choice for rainy days would be a pair of waterproof boots or even rubber boots.
The rest of the outfit worked pretty well for the weather conditions in Amsterdam. I was wearing a pair of black jeans (something you can never go wrong with), a waterproof shearling jacket and a scarf I could put over my head when it started raining again. Do make this look at least a little bit more interesting and fashionable; I decided to wear my Burberry shirt. And due to the fact that it is oversized, I was even able to put a few layers of clothing underneath to stay warm. I was wearing another longsleeve and a t-shirt as well as a tank top underneath.
Let's summarise the most important things you should keep in mind when putting together an outfit for a rainy day on a city trip:
– Wear waterproof shoes that will also keep you warm
– When it's cold, you will also need some more layers. This will not only keep you warm but also make sure that it will take longer until you are wet to the skin.
– Wear a waterproof jacket or even better a raincoat. Raincoats are in fashion right now, so you can find a lot of fashionable options in stores and online,
– When you don't have an umbrella, wear a scarf or beanie.
Is there anything you would add to this list? What do you wear on rainy days when on a city trip? I am looking forward to reading your comments. xx