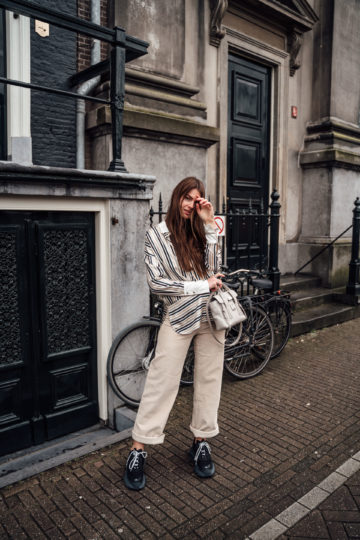 It's been quite calm here on the blog the past days, which is because of a very busy Fashion Week in Berlin and a cancelled flight from Amsterdam the day before Fashion Week started. I was on the run all day and didn't have the time to work on any posts for the blog. Once Fashion Week was over I had to organise everything for our trip to Cape Town, which was a last-minute decision as we couldn't get the visa for Cuba where we originally wanted to go. Yes, it's been a few hectic days, and I actually can't wait to fly to Cape Town this evening and to spend some time in the sun – even though we will work there a lot as well.
And while I am getting ready for my next travel, I wanted to start sharing everything from the last one: Amsterdam. Since the weather wasn't very pleasant, we didn't spend as much time outside as we wanted to and we didn't take a lot of photos. The look I am sharing with you today is actually the only one we took proper outfit pictures of. The other outfits I was wearing were quite simple and maybe even a little bit boring, so I am happy that it was this outfit we captured for you.
Combining beige corduroy pants with a striped blouse and ugly sneakers
I have to admit, that this outfit might be a little bit unusual for me – well, the pants are. I wanted a pair of corduroy pants for quite a while, but I had a hard time finding a pair with a cut and colour I like. And even when I had found a pair, it often wasn't available in my size, or it just didn't look as nice on me as on the model.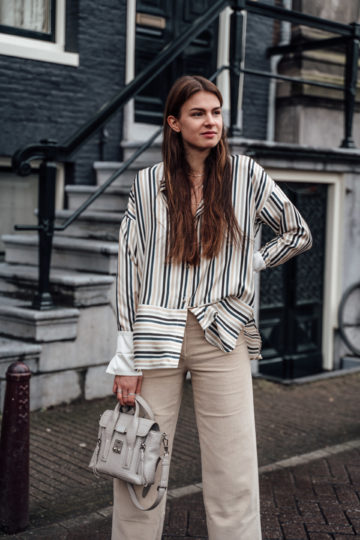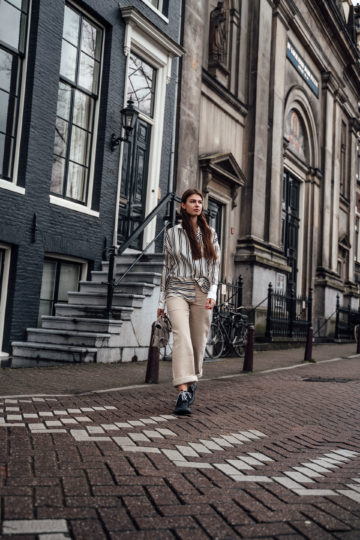 Just before our trip to Amsterdam, I received this pair of corduroy pants, and it was love at first sight. I do like the colour a lot as well as the fit. Well, I do have to roll them up because they are a little bit short on me, but I actually like it.
Since we were in Amsterdam and I needed a casual yet chic travel outfit, I decided to combine my corduroy pants with a striped blouse and my new Balenciaga Triple S sneakers in black. I was also wearing my black shearling jacket as it was a little bit cold that day, but I took it off when we were taking the pictures so that I could show you the essential parts of the outfit. 😉
The ugly sneakers are obviously the most comfortable part of the outfit, and just as I did it with my other pair, I brought these with me as I knew, that we would walk a lot in Amsterdam. The blouse is also very comfortable. I got it a bit oversized so that I could wear a few layers underneath. I love how it matches the pants and that it is optically divided into two parts due to the different directions of the stripes. You will probably see me wearing all these pieces I was wearing here more often during spring and maybe even summer. As it got freezing in Germany, I have to wait until it's warmer to wear them again. But it is for sure, that I will wear them again as soon as it gets warmer outside.
How do you like this outfit? And what do you think about corduroy? I am looking forward to reading your comments. xx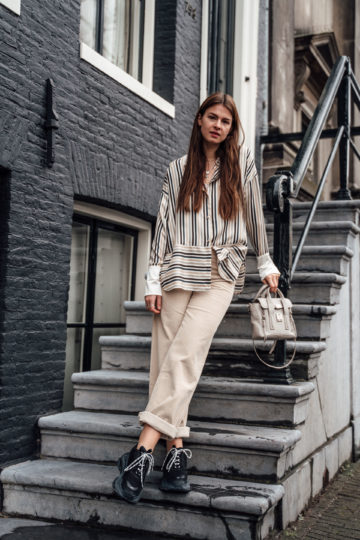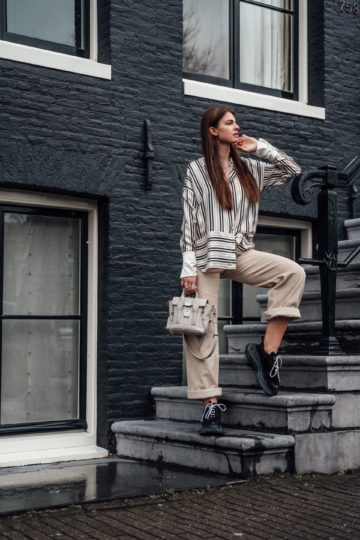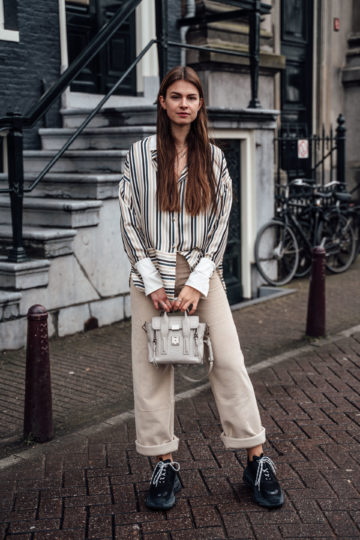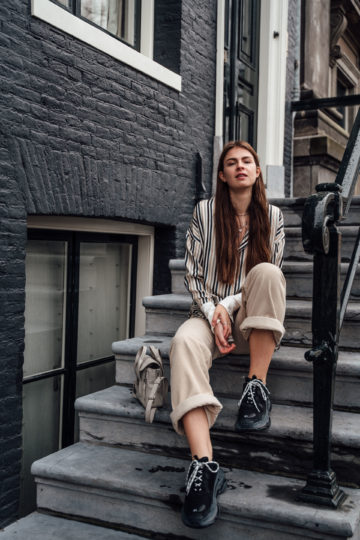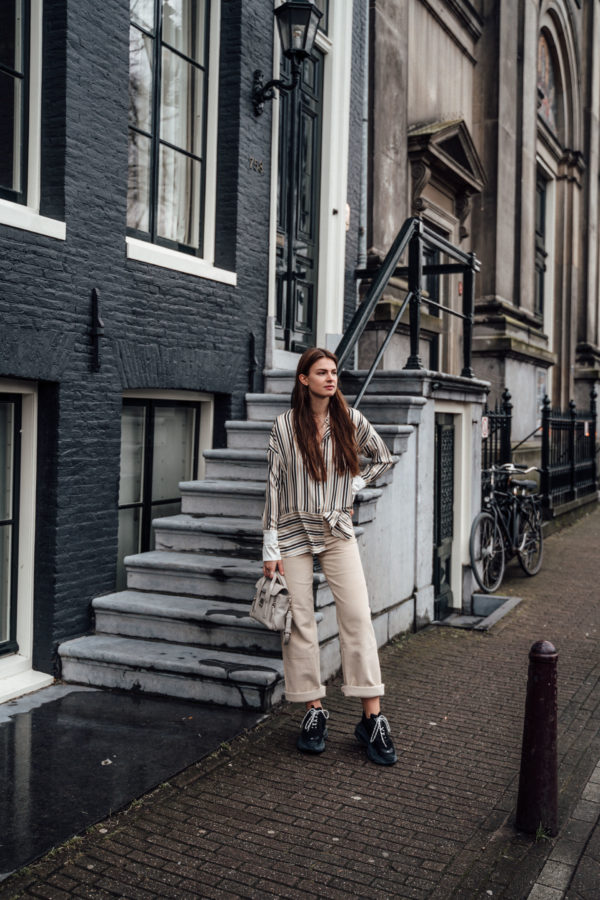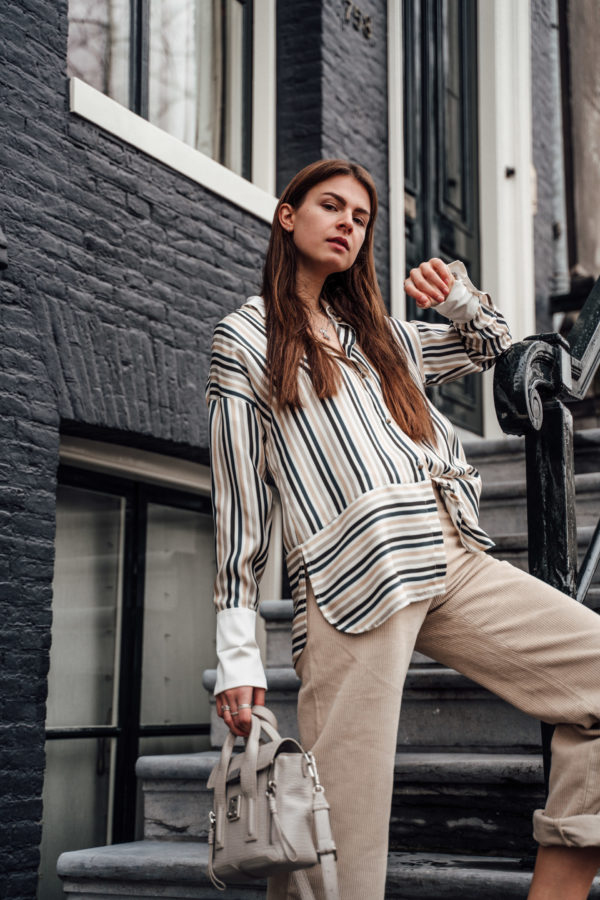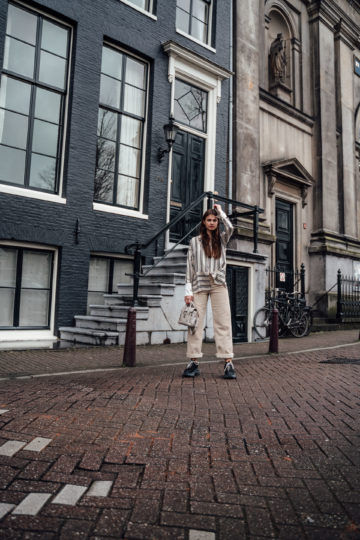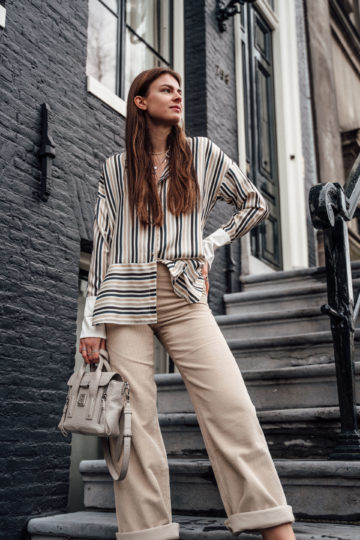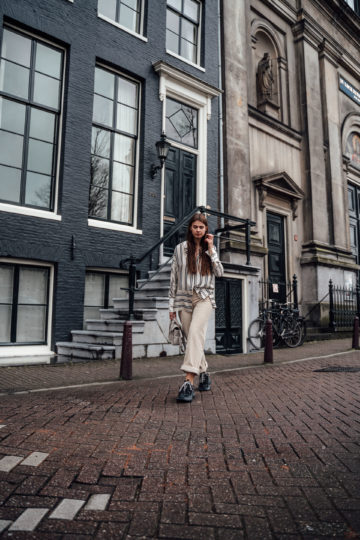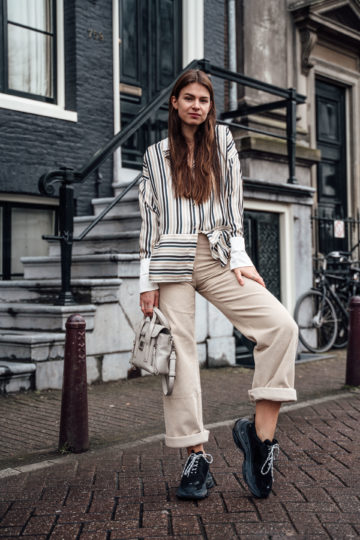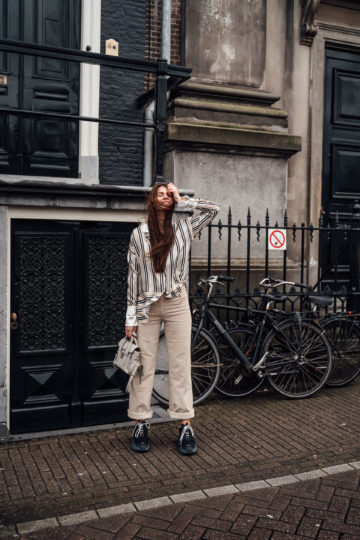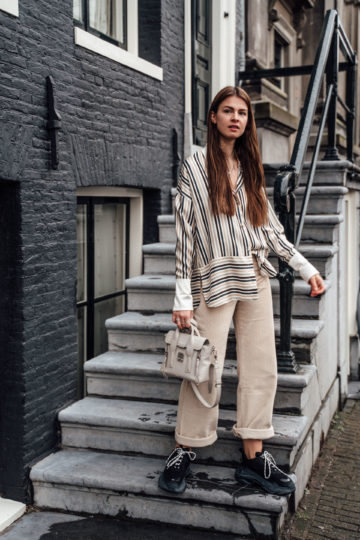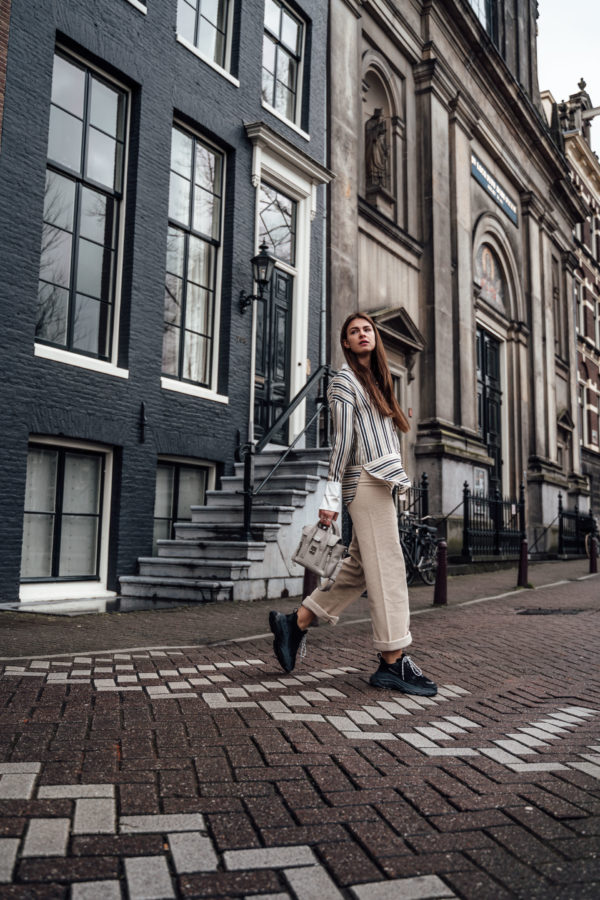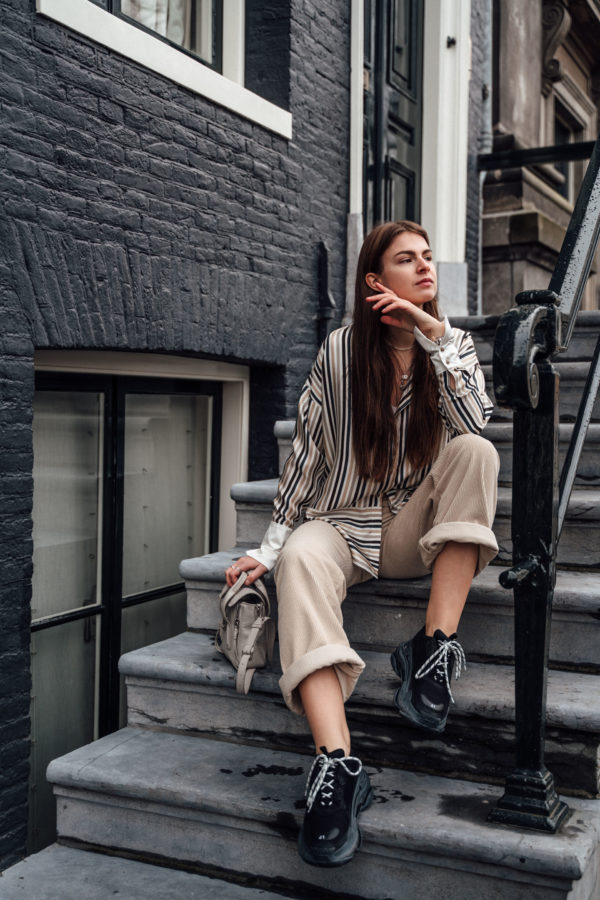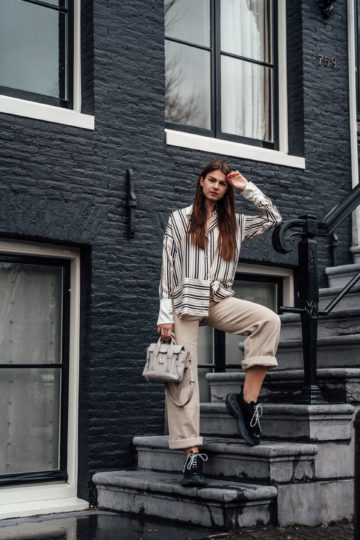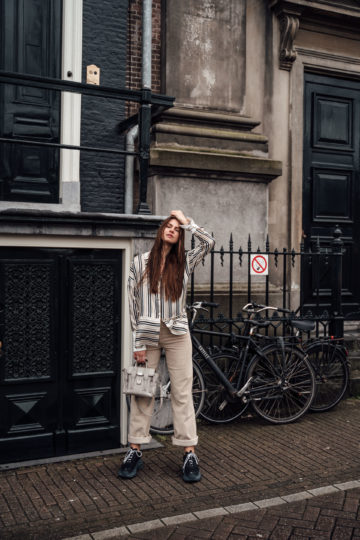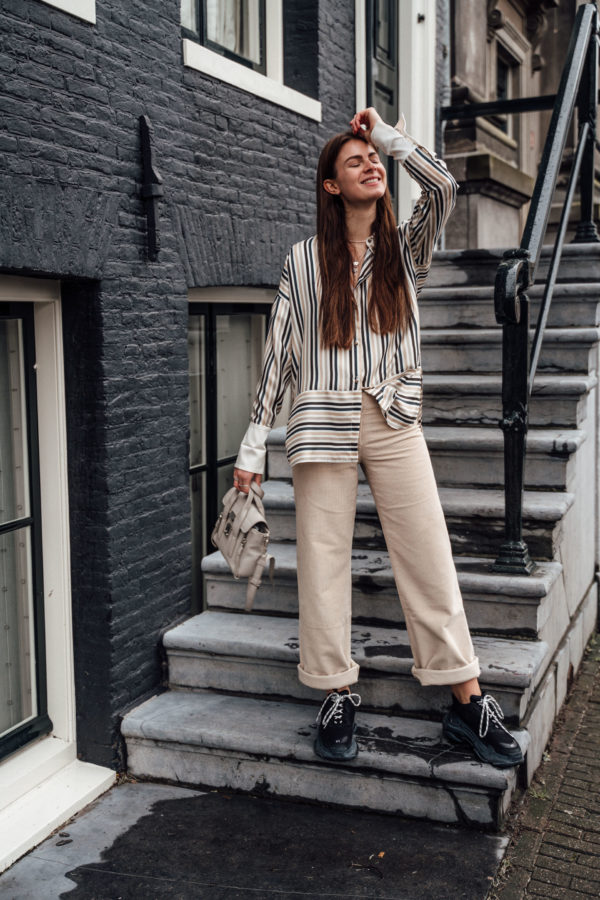 *Ad, brands named – Weill Paris Blouse || Weill Paris Pants || Balenciag Sneakers || Phillip Lim Bag