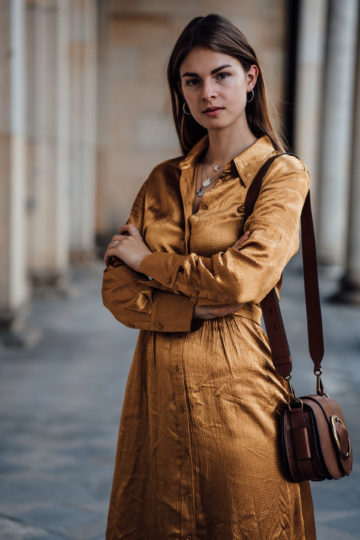 Since I didn't have the time to work on as many posts for the blog as I planned to at the beginning of October, I still have some outfits from warmer days in October left I want to share with you this week. But I promise that the outfit I am sharing with you today is the last one that might be slightly unsuitable for the current weather situation. The good thing is that you can always change the outfit a little bit and make it more suitable for the weather. I will tell you later in this post what you can change in regards to this outfit if you want to wear it on colder autumn or even warmer winter days.
But before I tell you what to change on this look, let's talk about the look the way I was wearing it on that warm day in October. Before I start, I have to mention, that I ironed the dress before we took the pictures, but the fabric is super sensitive, and I got wrinkles all over the dress. I am sorry about that but hope you won't mind.
Mustard midi dress combined with cowboy boots
I actually can't tell, if the colour of the dress is more mustard or more golden. Due to the edit, it definitely looks more golden than in real life and in real life, it looks more mustard… that's why I will stick with mustard as the colour of the dress. And with that said we can finally move on and talk about the outfit I put together. I actually can't tell if the key piece of the outfit is the dress or if it is the boots. Both pieces were new in my closet, and I wanted to focus on them equally. The dress has the perfect fall colour as well as the perfect length for the colder seasons of the year.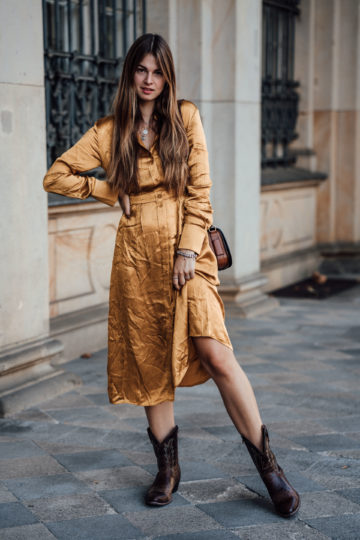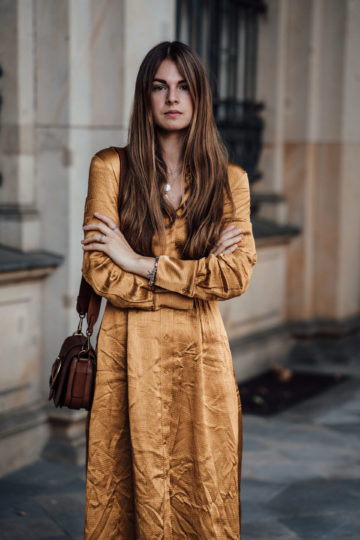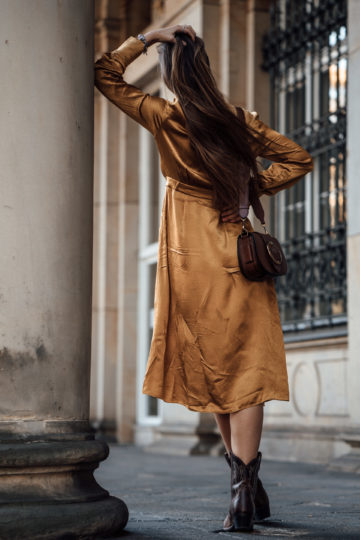 I mentioned before, that there was a time when I didn't like midi length dresses, but this definitely changed this year. I shared a couple of outfits with focus on midi dresses, and I mostly combined them with sneakers or flats. But for my autumn outfit, I wanted to style them with boots even though I first didn't know which kind of boots to choose. But I had just gotten these cowboy boots, and I couldn't resist and had to wear them. But I think that the brown boots work perfectly with the mustard dress in regards to the colours.
Other than that, the combination of a midi dress and boots of this length might not be my favourite as it makes my calves look a little bit bigger. But in this case, I really didn't care. I liked the combination too much to not wear it. 😉
How to wear a midi dress in autumn and winter
And now let's talk about how you could wear this outfit even when it's colder outside. Of course, you can always put on tights, but I know that most of you probably don't like tights. Another way to wear a midi dress in autumn and winter is to combine it with a pair of skinny jeans. In this case, I would recommend a pair of black jeans as well as a pair of heeled black boots. When you want to combine a midi dress with a pair of jeans, you should always wear heeled shoes as they will make your legs look longer as well as thinner.
How would you wear a midi dress in autumn and winter when you can't walk around with bare legs anymore? Would love to read your comments on this. xx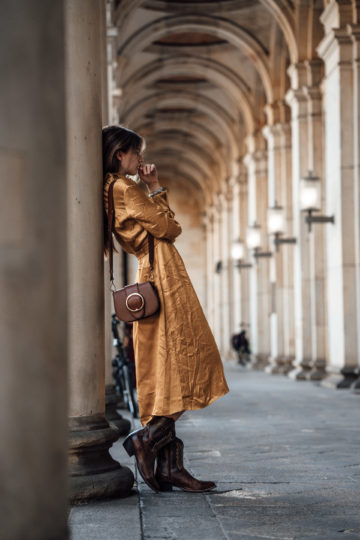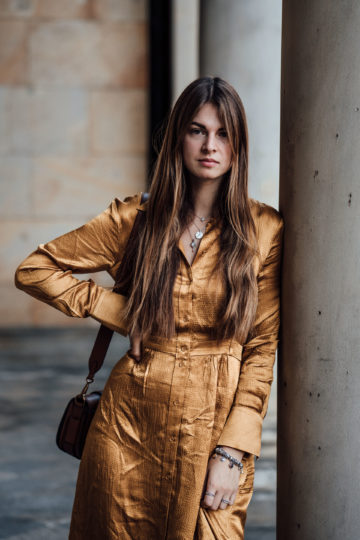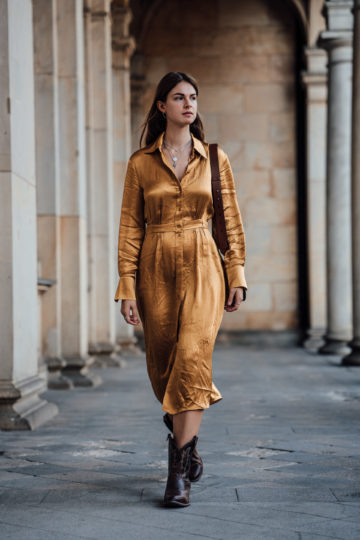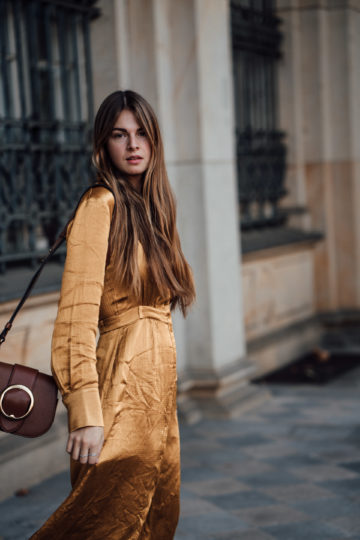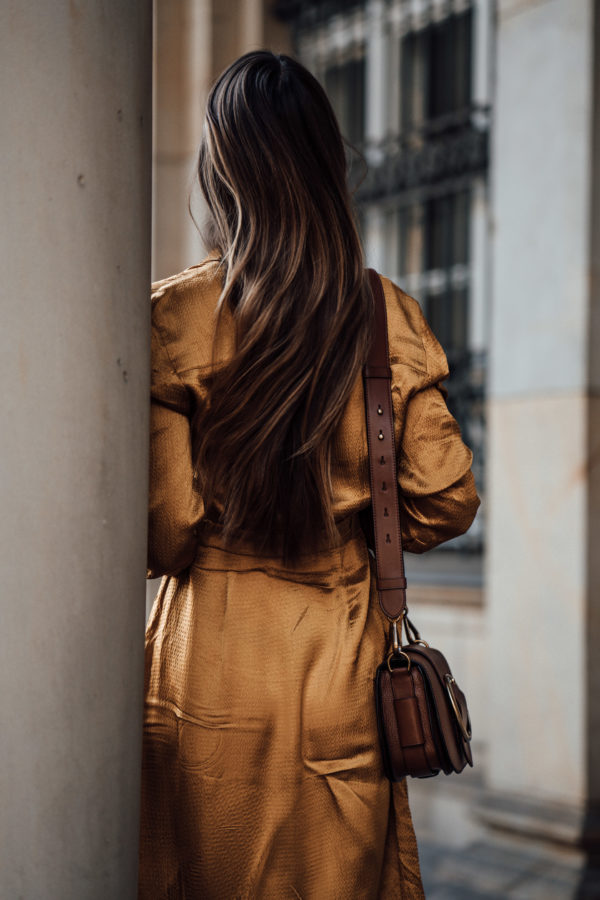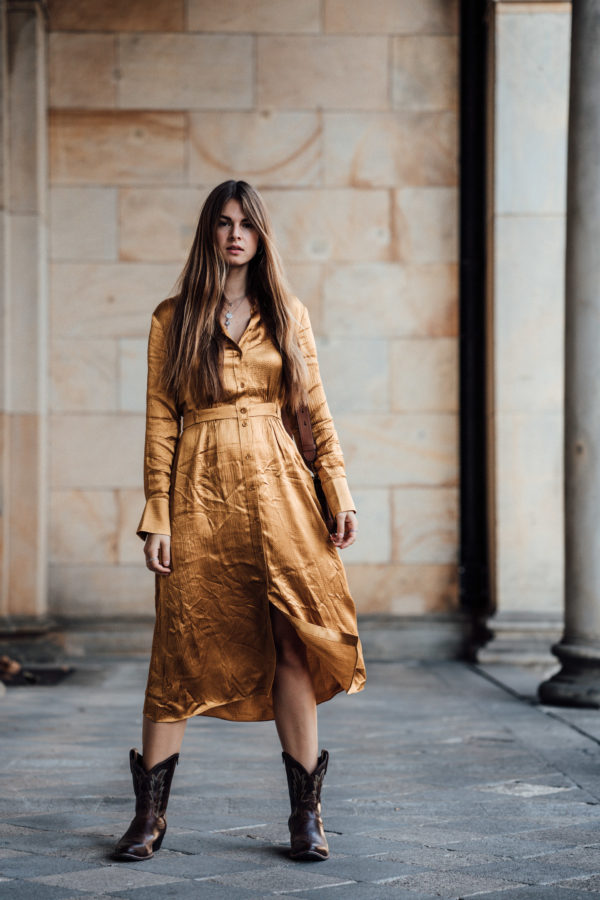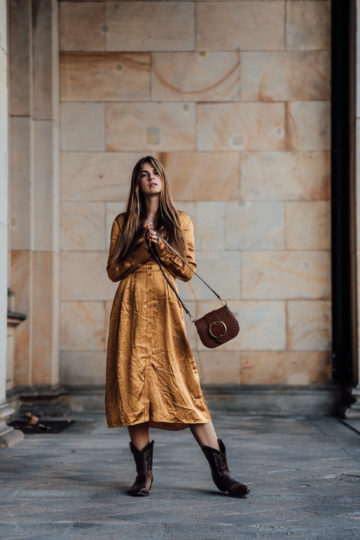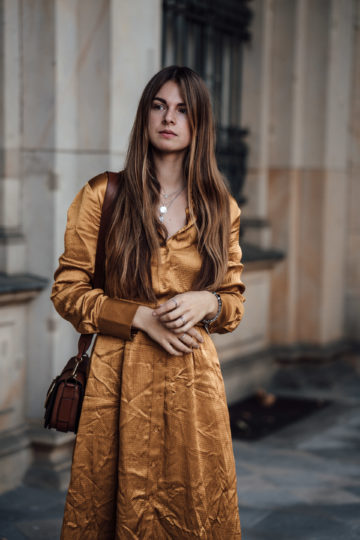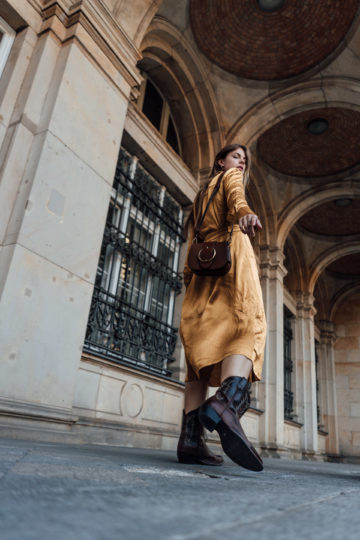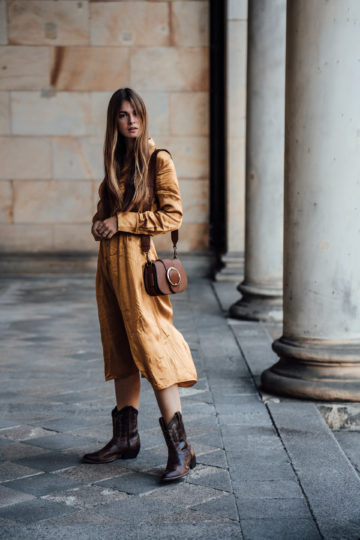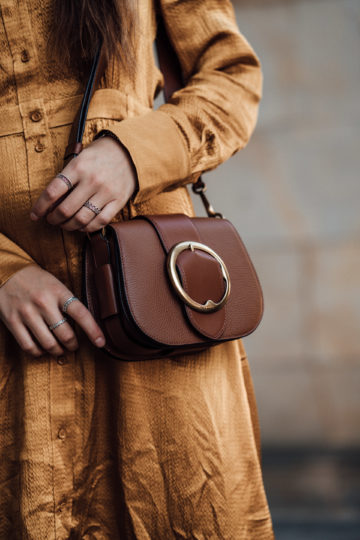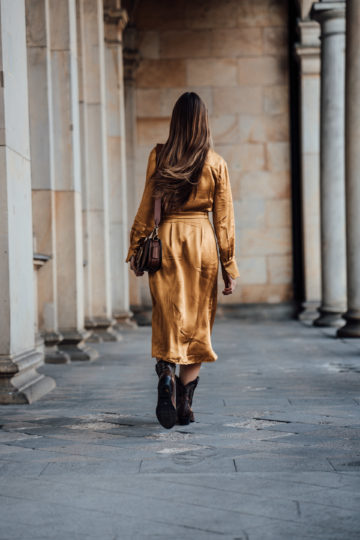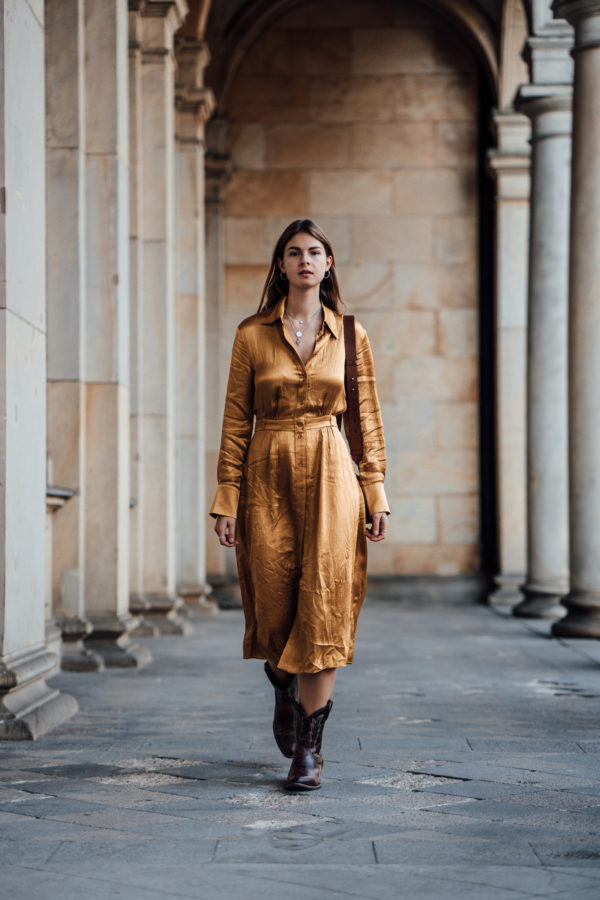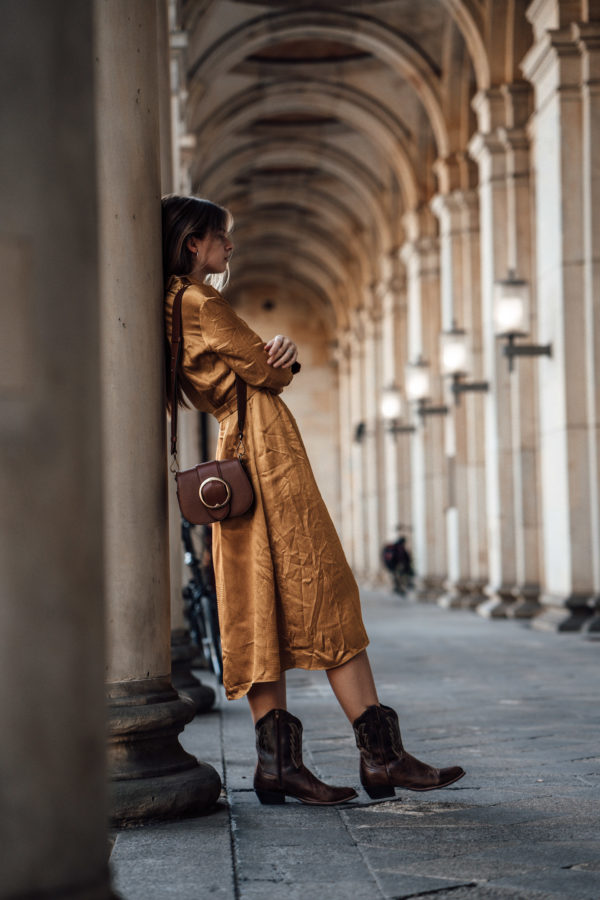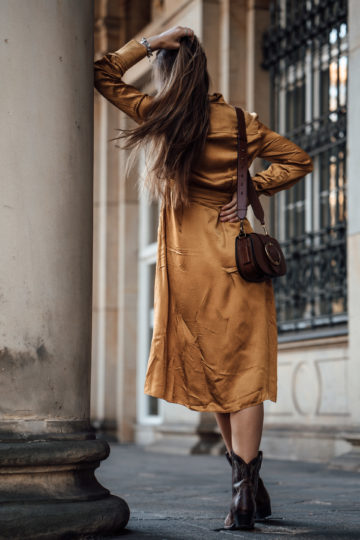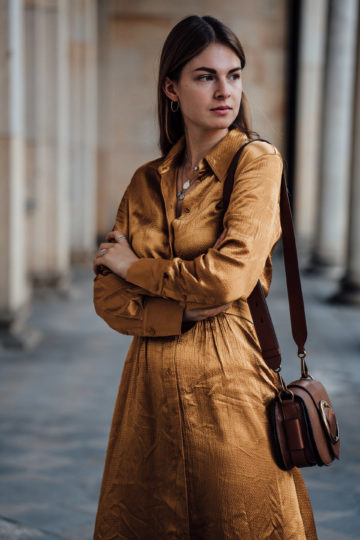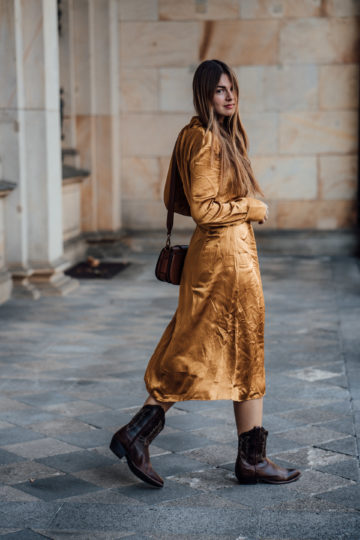 *Ad, brands named – & other stories dress || Vintage Cowboy Boots via eBay || Polo Ralph Lauren bag