The world of shoes
The world of shoes offers an almost limitless range of different shapes, cuts, and types – and that's a good thing! Because especially women, but also many men love shoes. What would an outfit be without a pair of shoes? It wouldn't be a complete outfit. A look is only perfectly put together with a pair of shoes. Anyone who've watched "Sex and the City" knows how important shoes are and how much they can change an outfit. For example, in one episode, Carrie Bradshaw is asked to take off her shoes at a party in an apartment. In disbelief, she asks if this is really necessary as only her shoes make her outfit complete.
Shoes can indeed give the same outfit a completely different direction, a different look and feel by just changing them. An airy summer dress looks very different when combined with sporty sneakers than with summer flip-flops or even with elegant high heels.
To always find the right shoes for you and your outfit, you also have to know them all. Today we want to talk about a classic kind of shoe, the loafer.
What are loafers?
Originally, shoes were simple clothing for the feet. Shoes certainly still serve this purpose today – you don't want to go barefoot – but you need the right pair of shoes for every outfit. Loafers are the ideal companion for everyday use because a shoe should not only be a decorative addition to the wardrobe, but they also have to survive a full (working) day on the feet without causing permanent damage to them. Loafers do this job very well. The term loafer stands for a slip-on shoe with a heel; the English word "loafer" generally refers to a low shoe or slipper.
The history of loafers
The loafer was developed in America at the beginning of the 20th century. The most well-known version of the loafer is the penny loafer, which Bass introduced in 1930, and which students at universities and colleges were wearing with growing enthusiasm. Loafers are, therefore, also called college shoes. The penny loafer got its unusual name because it is said that the students put a penny in their shoes as a lucky charm. In the following decades, more and more shoe manufacturers produced the classic as well as elegant shoes. The loafer began its triumphal march around the world, as the Italian shoe manufacturers adopted this model, and the British followed with their traditional shoe manufacturing method.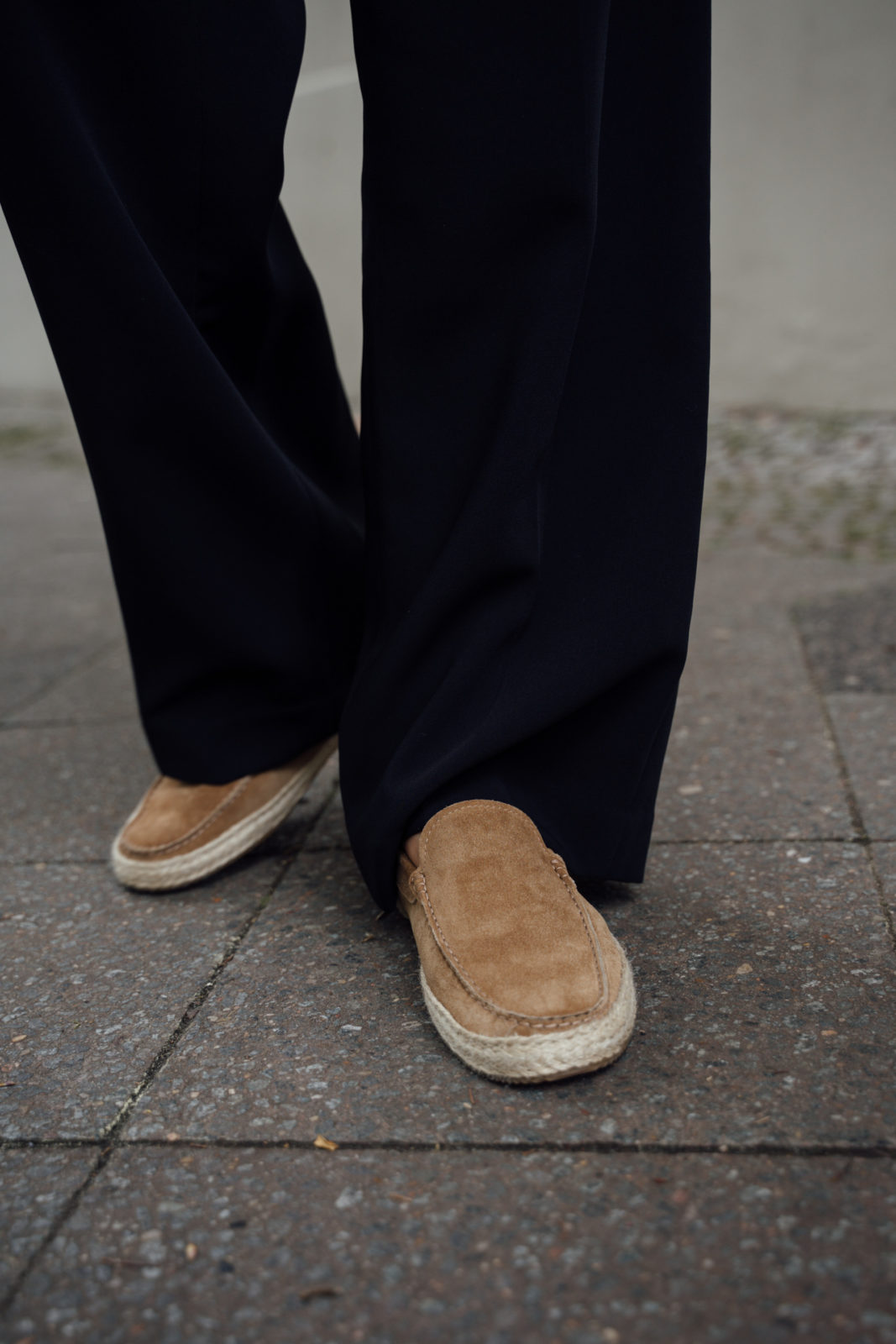 Different types of loafers
There is not only one loafer style; it is available in many different ones. No shoe is only available in one cut, shape, or color. And so can loafers be found in countless different designs. Especially the front of the shoe differs a lot. There are loafers with buckles, with elegant fringes or with pretty decorative stitching and leather trimmings.
Classic Loafers
Loafers are actually considered unisex shoes because both women and men can wear them. The classic loafer differs very little between the two genders. As a slip-on shoe, it can be put on very quickly without a lot of lacing by merely putting it on. The classic loafer is made of smooth leather and has a flat heel. The color of the leather is usually black, dark brown, or dark blue. These colors highlight the elegant touch while the shoe itself is very comfortable.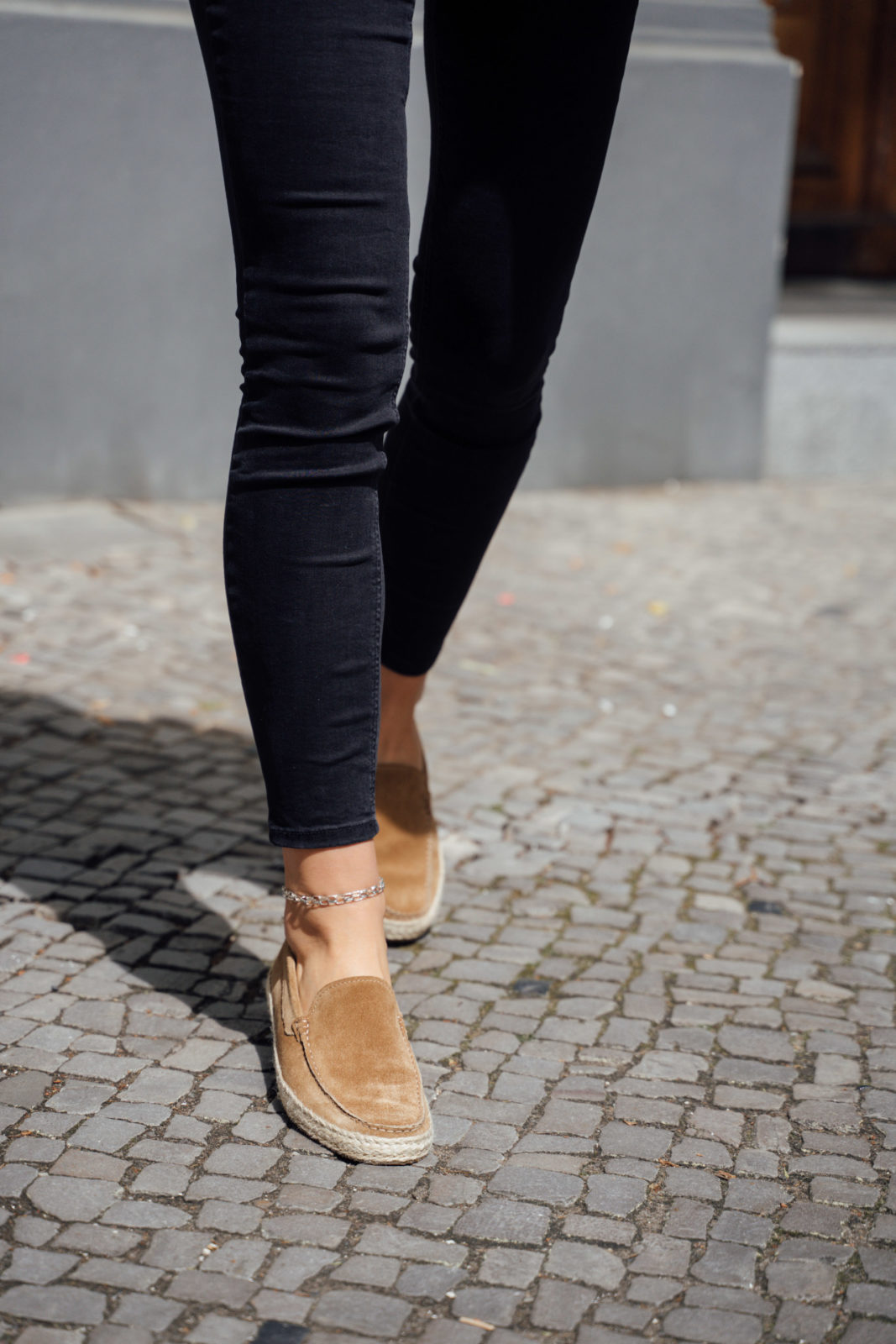 Tassel Loafers
The absolute classic among loafers and, therefore, a real must-have is the tassel loafer. The tassel loafer was developed in the 1950s by the American shoe manufacturer Alden. As the name implies, this loafer style is characterized by the tassel in the front. The tassel gives the loafer a very traditional look. Nevertheless is still is one of the trendy loafer styles you can find in stores and online.
Loafer Mules
The mules are a very unusual variant of the loafer. Mules are open at the back and give an extremely feminine look. This shoe variant is available in countless shapes. The back might differ from the classic loafer, but the rest of the shoe stays true to the loafer cut. These very feminine shoes are the perfect add-on for a loafer outfit. Besides, the mules are also ideal for warm summer days. Closed shoes are often very uncomfortable to wear in hot temperatures, so open – or at least open-back – shoes are a real treat for the feet.
Heeled Loafers
What would shoes be without a heel? The ladies often love to wear heeled shoes as they give their outfits a very feminine touch emphasizing the legs and restraints. That's why they love a pair of heeled loafers. Such as every other loafer style, the loafer with heel is available in many different shapes and colors. There is something for the taste of everyone. The heeled version of the loafer is a real blessing for women of smaller stature.
Loafer Trends 2020
Even if the loafer is a classic shoe style, there are, of course, new trends to be discovered every season – it never really gets boring! The Loafer Trend 2020 includes several beautiful designs of this elegant shoe type. One of them is animal print. While the cut remains the same, the animal print makes the loafer appear more fashionable and younger.
This summer, loafers mostly come in delicate pastel shades and with some pretty details such as buckles or delicate fringes. In contrast to that, you will also see smooth leather loafers in black with thick buckles or beige loafers with golden buckles everywhere.
The tassel loafer is also part of the Loafer Trend 2020 and presents itself with all types of tassels and bobbles. The buckles of the loafers are getting bigger and wider this year and create a more eyecatching look. Combining your favorite pair of loafers will be a lot of fun in 2020.
How to combine loafers?
Combining loafer shoes is very easy because they adapt wonderfully to the selected outfits. It is advisable to wear the loafers either barefoot or with footlets. That way, they emphasize the cuffs, and the focus will be on the loafer and not on a pair of socks. Loafers go perfectly with jeans or 3/4 length trousers. You can combine your loafers in a lot of ways, from casual for your everyday life to chic for the office.
Although most loafer styles are more of a casual shoe, it captivates with its timeless elegance and complements the chosen outfit in a very pleasant way. Thanks to the countless designs, such as smooth leather, suede, or various prints, you can find a pair of loafers for every kind of outfit.
Together with Aurélien, a smart luxury shoe brand, we have put together two outfit ideas for the loafer. Before we get to the looks, we would like to explain Aurélien's Smart Luxury concept. Smart luxury means that the shoes are made of the highest quality while offered at great and affordable prices. The luxury fashion brand started with moccasins, but Aurélien now provides an excellent selection of shoes for him and her, including great loafers. One of their loafer styles you can see me wearing here. When I first saw them online, it was love at first sight. I love the color and summery vibe. After wearing them quite some times already, I am still super happy with them – especially with their comfort!
For the first loafer outfit, we combined a pair of wide-leg black pants and a classy white shirt as well as a pair of beige suede loafers from Aurélien. This is the perfect casual-chic look you can wear to the office or a meeting.
The same pair of loafers can also be worn with skinny black jeans, a crop top, and a black blazer for a completely different look. For both outfits, the loafers add beautiful detail to the look, making it more special.
More loafer outfit ideas
Combined with skinny jeans in a destroyed look and a wide ruffled top in soft pastel tones, you can create a very summery and feminine loafer outfit. Choose a pair of loafers in a delicate rosé shade to round off the outfit perfectly.
Loafers can also be worn with a skirt. One option is to wear a black leather-look skirt with a loose-fit light grey shirt and a cool olive-colored jacket. Add black loafers with fringes, and you have the perfect outfit for a relaxed shopping trip with your best friend.
A more elegant and sexy loafer outfit option: skinny white jeans in a 7/8 cut combined with a black top with spaghetti straps, plus black loafers with a golden buckle.
Combining loafers is wonderfully easy, and you can always reinvent yourself with the countless outfits, looks, and combinations! Let us know how you would style your pair of loafers.