It's no secret that I love to travel and explore the world. But as much as I love to go to new places, I also love my hometown, Berlin, in summer. Actually, Berlin is the best during the summer season.
As we don't really have the chance to travel much this year due to the virus, I thought I would write a blog post about my favorite things to do in Berlin during summer. There's so much you can do here, and most of them don't cost anything. Berlin is always worth visiting, not only to see all the historical parts and do a lot of sightseeing. It can also be the perfect destination if you want to have both buzzing city feeling and calm nature.
I teamed up with Vaultskin to share my favorite things to do in Berlin in the summer. Vaultskin offers high-quality leather accessories such as phone cases as well as wallets. At Vaultskin, it's not only about design but also about practicability and attention to detail. Continue reading if you want to know my favorite things to do in Berlin and how I included my new Vaultskin accessories in these.
P.S. If you want to get some of the amazing Vaultskin pieces, you can get 10% off with the code VSF-WHAELSE10.
Go for a walk and enjoy the nature
Berlin has a lot of parks and lakes, and even if the selection in the city isn't enough for you, you can find more nature by heading a bit outside of the city. I won't list all the parks and lakes you can find in and around Berlin but my top three favorites for you: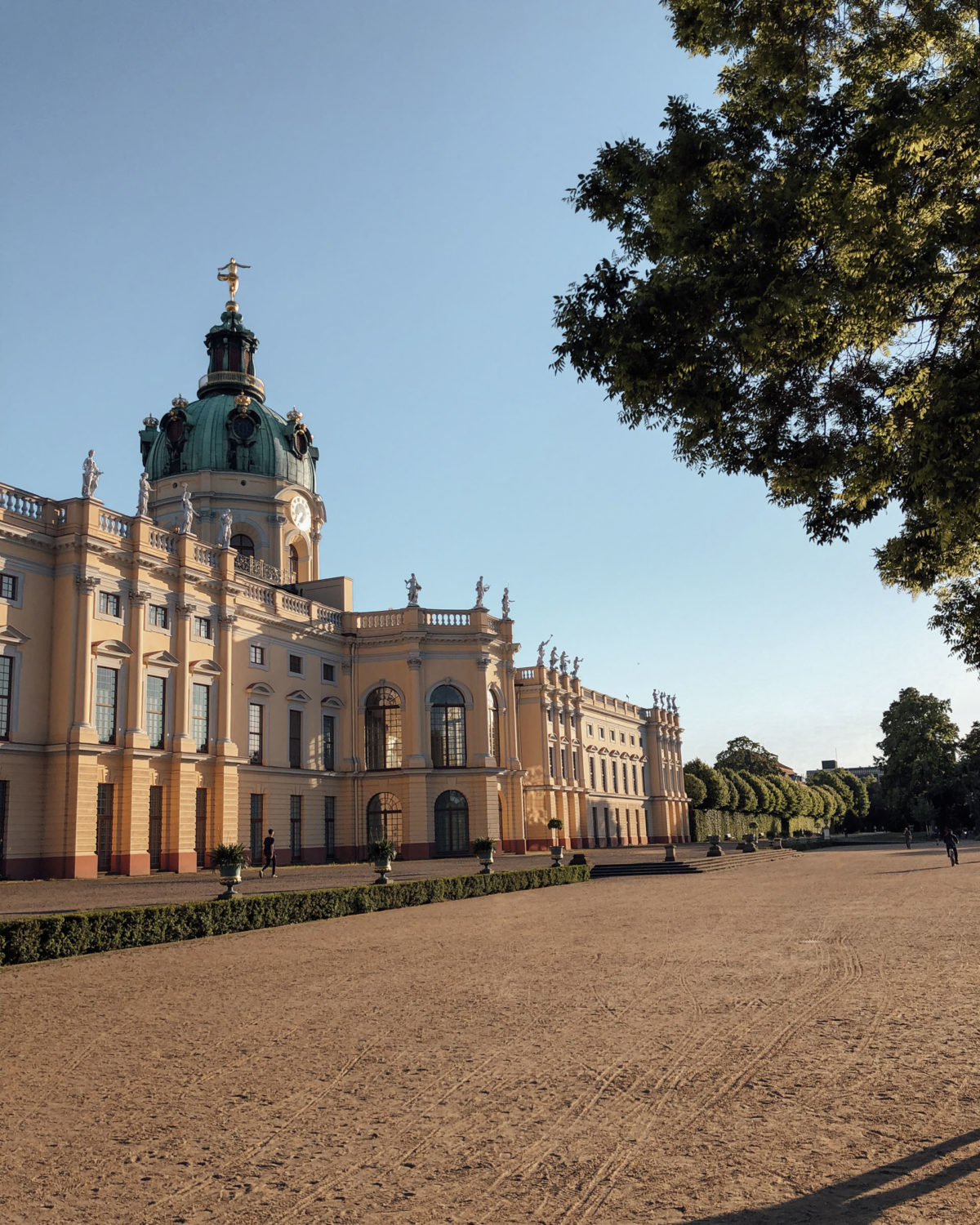 Charlottenburg Palace
Let's start with the one that's closest to where I live: Charlottenburg Palace. The palace itself is such a beautiful location, but the park is what I go there for. You can find a little lake in the park, stunning views of the palace as well as calm spots next to the Spree. The area right behind the castle is beautifully planted, there is a fountain, and sometimes you can spot swans around the lake. They even have sheep in the park of Charlottenburg Palace.
You see, this place doesn't seem boring at all. I either go there for a walk, for a run, or bring something to eat, sit down next to the water, and have a little picnic.
Grunewald
Grunewald is not only a district in the western part of Berlin, but it's also the largest green area of the city. Part of this area is a forest, a beautiful lake as well as the Teufelsberg hill. Those who follow me on Instagram might already know how much Iove the Teufelsberg hill – or better said, the hill next to it as that's the one where you can sit and enjoy some beautiful views.
But I also love to go to the forest area around the Grunewald lake. I often go there for a walk with my dog as he can run and play with other dogs and doesn't need to be leashed.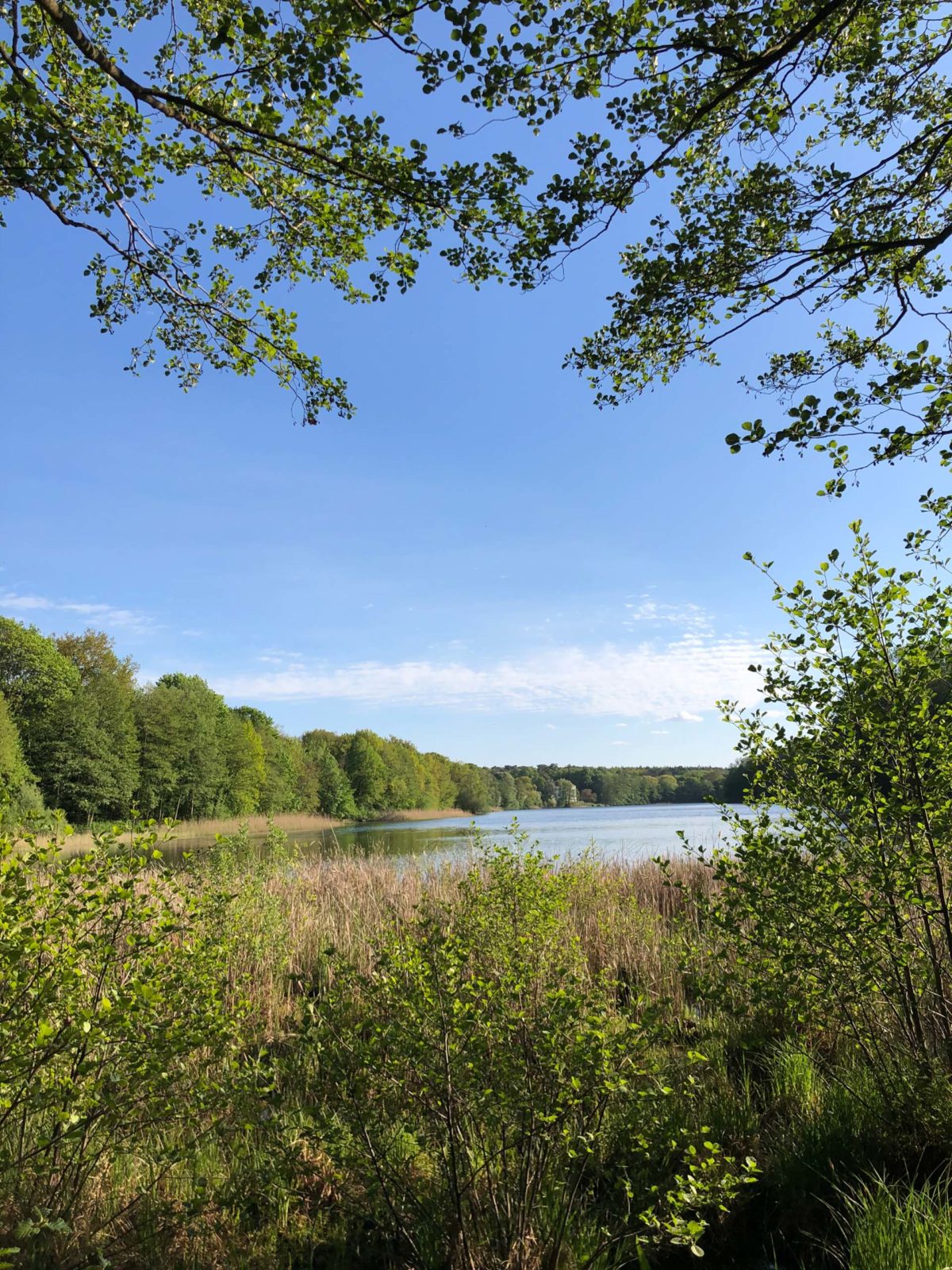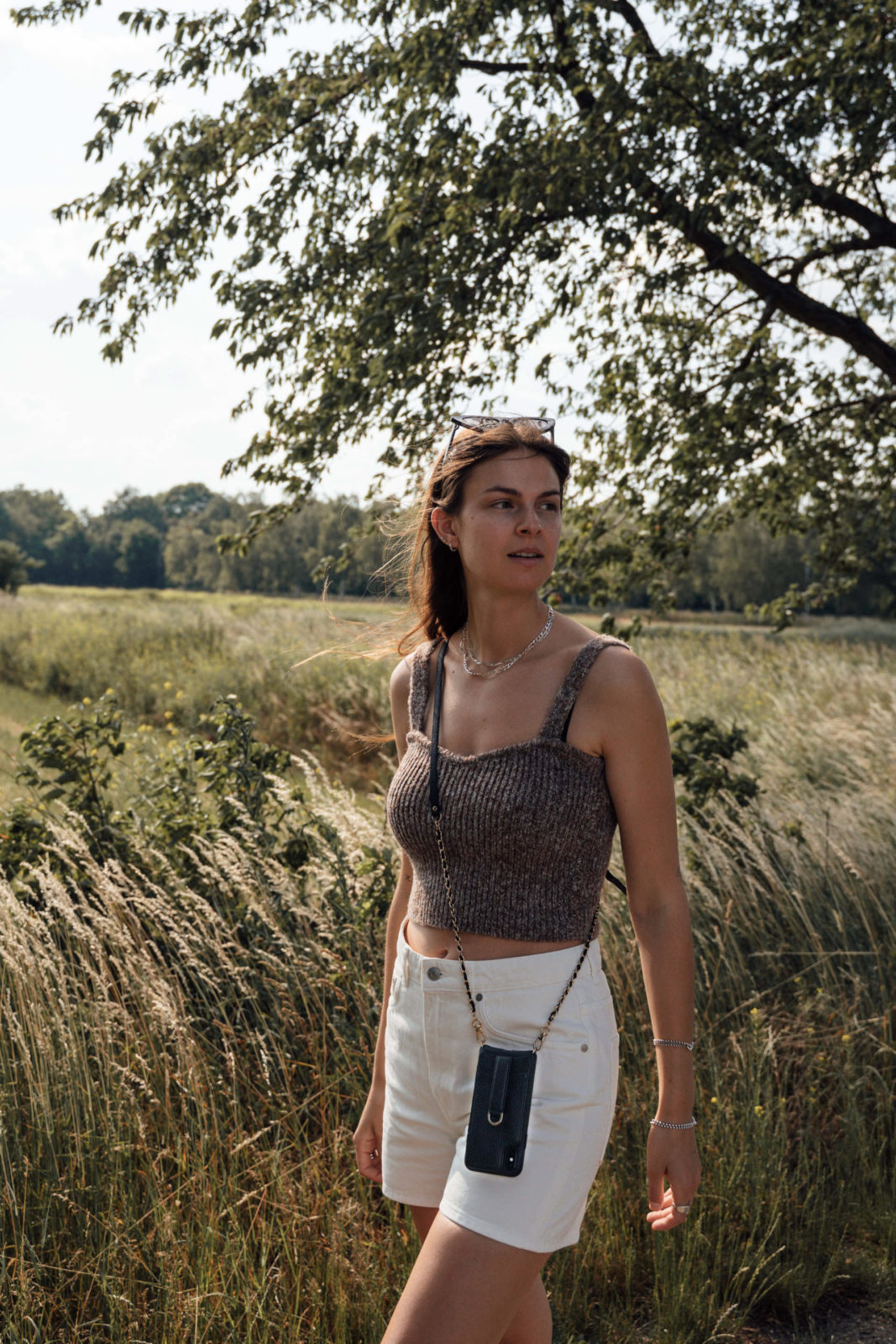 Sewage farm Karolinenhöhe
Lately, I am spending a lot of time in the south-west of Berlin. Close to Brandenburg, you can find a huge area called Sewage farm Karolinenhöhe. It just looks like farmland, with broad acres and trails in between. It's such a beautiful area; you will only see a few other people there, sometimes horses and their owners and lots of nature. We love to go there for a walk, which always turns out to be a long one. It's easy to spend hours in this sewage farm.
Whenever I go for a walk, I don't want to bring a lot of things. All I need are the essentials such as my phone. I love to have my hands free, and the Victoria phone case with the chain strap is the perfect companion for every walk. It allows me to have my hands free while having my phone with me all the time.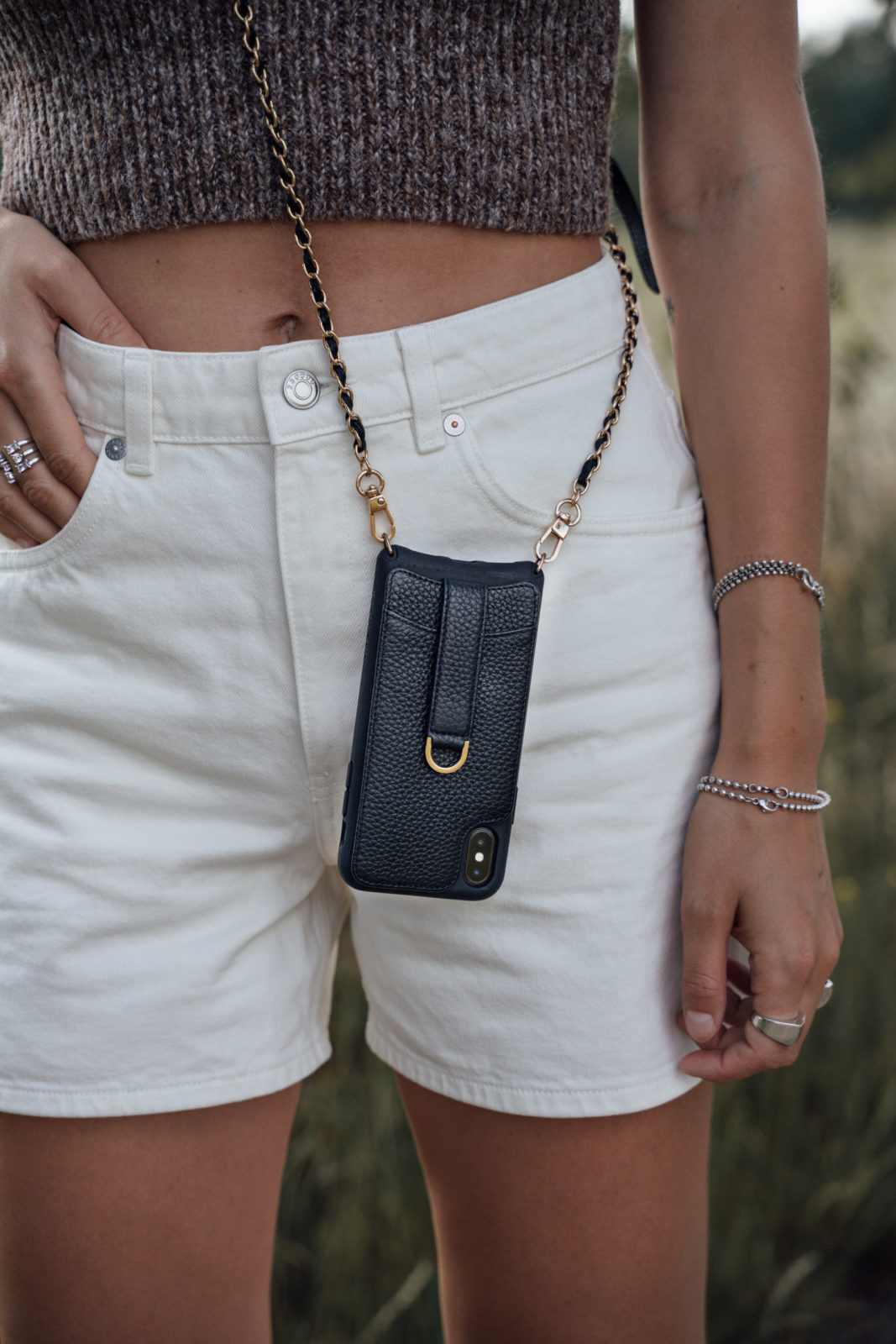 Sunbathing and swimming by one of Berlin's beautiful lakes
I recently read that Berlin has 50 lakes, and you can find even more lakes in the area around – Brandenburg has about 3000 lakes. How crazy is that? Of course, not every lake has perfect water quality. But there are a lot of lakes with water quality suitable for swimming. Again, I will share my three favorites with you in the following:
Schlachtensee and Krumme Lanke
I have to name these two first, as these are the ones I grew up with. I can't even say how much time I spend by these lakes. Krumme Lanke is a little bit smaller than Schlachtensee and has less to offer. But it still is a popular spot for sunbathing and swimming. It is next to Schlachtensee and surrounded by a green forest. Schlachtensee is also surrounded by greenery, and both lakes are located in the south-west of Berlin.
Schlachtensee has a bit more to offer as it has a train station where you can find cafés, restaurants, and supermarkets. You can even rent SUP boards and rowboats at Schlachtensee, making a day there even more fun.
2. Strandbad Wannsee
For those who don't really like lakes and want a bit more of a beach feeling, I can totally recommend Strandbad Wannsee. It is an open-air lido with a sandy shore. You have to pay entrance if you want to spend a day at Strandbad Wannsee, but you get beach chairs, bathhouses, toilets and kiosks as a little extra. Make sure to come early if you want to get a beautiful spot or even one of the beach chairs (Strandkorb).
3. Groß-Glienicke Lake
One side of the lake is located in Berlin; the other one is in Brandenburg. If you are coming from Berlin-Mitte, it might take around an hour to get there, but it's totally worth it. The lake in Groß-Glienicke is my favorite, as it has the best water quality I know. It has depth visibility of up to four meters and is surrounded by beautiful greenery.
You can find several bathing spots around the lake; some are more peaceful others can become very crowded.
Sitting outside in a café
There's no such thing as sitting outside in a cafe in summer, enjoying an iced cappuccino or matcha latte, talking about bits and pieces with the best friend, or just watching people walking by.
As I wouldn't say I like to carry a lot of things with me in summer, I usually bring a small bag that only fits the essentials such as my phone and a small wallet. Additionally, I don't like to have a lot of cash with me, so the Chelsea Card Holder from Vaultskin is perfect for me. I can fit in all the cards I need on a daily basis (and some cash, if required), but it doesn't take up a lot of space in my bag. I could even just put it in the pocket of my pants.
Berlin has countless cafés and restaurants; you could easily test a new one every single day. In the following, I am sharing three favorites of mine:
Nah am Wasser Charlottenburg
One of the cafés I like best in our neighborhood is Nah am Wasser. Their coffee is excellent, and I love the selection of food they offer. From banana bread to soup and acai bowl, you can find everything at Nah am Wasser. I often go there for banana bread and coffee. Or I get one of their brownies; they are so tasty. In summer you can sit outside and watch the buzzing street, which is always fun.
Fischerhütte Schlachtensee
I mentioned Schlachtensee as one of my favorites lakes in Berlin. But I do not only like the lake, but I also like the restaurant there: Fischerhütte. The restaurant is right next to the lake and offers a beautiful view. You can sit next to the water, enjoy a cold beer, coffee or lemonade, have food, and enjoy nature. Even though the restaurant itself is quite big, it's such an idyllic place.
Have a picnic
I could go on and on with my favorite cafés and restaurants in Berlin – and I might write another blog post about it -, but instead, I want to encourage you also to have a picnic now and then. Go to a café or restaurant, pick up something to eat and drink, pack a blanket, and have a picnic somewhere in nature. Some of the spots I mentioned before are perfect.