First of all: you know, that I don't think much of trends. Of course, they affect me – that's part of the blogger business I guess. But I would never NOT wear something because it is not in fashion. And I also would never wear something just because it is in fashion. So that's why the question I ask in the caption is absolutely irrelevant. Because if you enjoy wearing something, you should wear it no matter if it is in fashion or not.
I actually have no idea whether the one-shoulder trend is still current or if it already is history. I also didn't check the online shops and stores (what I maybe should have done) to see, if they are still available. But as you know, I got many one-shoulder pieces during the summer months, and since I still enjoy wearing them, I will continue to share them on the blog. And the one-shoulder shirt I want to share with you today is something I haven't shared so far. I received it in summer and couldn't wear it due to the high temperatures. But as soon as it got colder, I couldn't wait any longer and put together an outfit with my new striped one-shoulder shirt.
Striped One-Shoulder Shirt, Blue Jeans and Blue Mule Sandals
Whenever I am not quite sure what to wear, I try to keep it simple and to go with the essentials. In this case, I opted for a pair of blue jeans, mule sandals and some pieces of jewelry to finalize the outfit. And fortunately it worked very well due to the shirt, that is an eye-catcher itself and doesn't need many more details. And that's the reason why I needed it in my closet.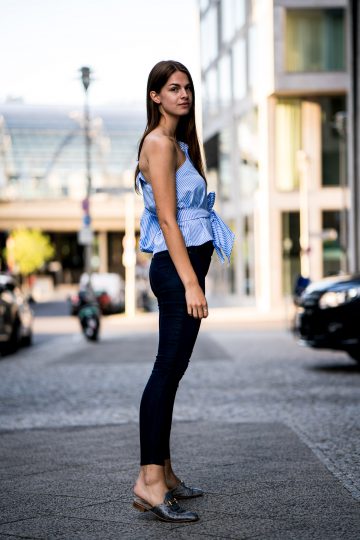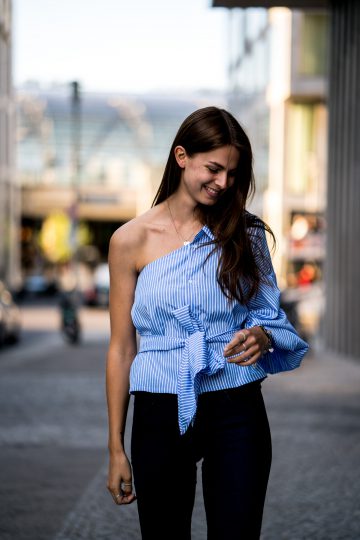 The one-shoulder detail, as well as the stripes and the strap that I looped, make it a very special piece of clothing that doesn't look boring at all. At the same time, it is quite chic and can be combined in so many different ways. The outfit you can see me wearing here is one of the looks I would wear on a day spent at the office, to a meeting or even on a date. It may be a little bit too chic for hanging out with friends, but that's not the point.
Another detail I would like to talk about today is my new watch I got from Brandfield the other day. It is a very minimal and clean style from Oozoo and works with almost everything. What I like best about this watch is the black clock-face, that makes it such an eye-catcher. I think a black clock-face looks super cool and not as boring as many watches with a white clock-face, don't you think?
By the way, did you recognize that I am wearing all my bracelets and the watch on the left side? The one with the sleeve? I did this on purpose, because I wanted to underline the contrast effect. How would you do it? Would you wear all your bracelets on the sleeveless side, so it wouldn't look that "naked" or would you do it the way I did it?!
I am looking forward to reading your comments. And I would also love to hear what you think about this whole one-shoulder thing. Do you still like to wear this kind of shirts and dresses or is it already out of fashion to you and you wouldn't wear it anymore?!