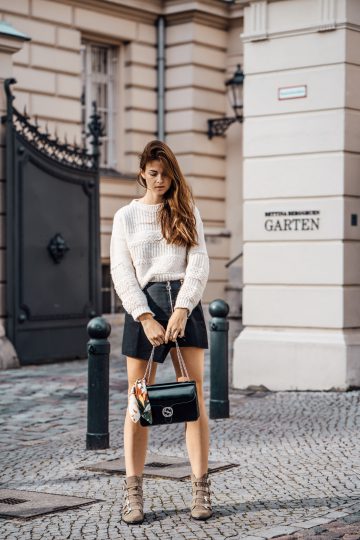 And it's Friday again. Wait, what?! Wasn't it just Tuesday? Damn it, time goes by so fast, and I wish I had more time to get everything done I have on my to-do-list as well as in my head. There are so many projects I am working on – or not really working on at the moment due to a lack of time – and so many things I have to plan. One of these things is to keep you inspired by sharing at least three new outfits every week. 🙂 So let's not complain about too little time and other things, let's get straight to the main topic of today's post: the combination of skirts and chunky sweaters.
Summer went by so fast and wasn't satisfying at all in Berlin and Germany in general. It's getting colder and rainy as well as gloomy days become more frequent. But, of course, we also have some sunny and warmer days here in Berlin such as the past Monday. The sun was shining most time of the day, and we had around 20°C. You know, that I am not ready to put all my summer clothes away and make space for autumn and winter clothes and I also don't want to stop wearing them as long as it is possible. Some may say, that it is already too cold to wear any kind of summer clothes, but I put up some resistance and say: of course, I can still wear them! And here's how: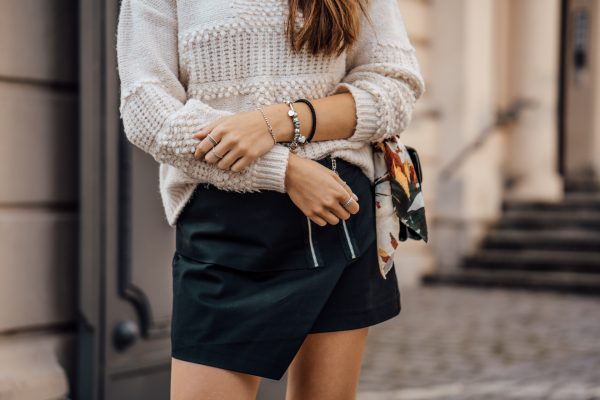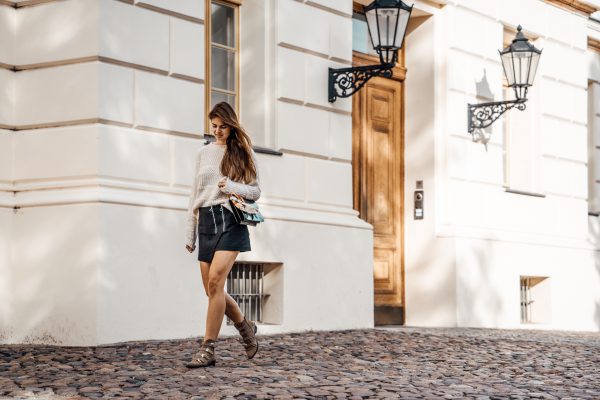 How to wear summer clothes on sunny autumn days
I have to admit, it's only possible on sunny and some kind of warm autumn days, but it is possible. You can wear summer clothes such as skirts and shorts in autumn when you combine them right. In this case, I opted for the combination with a chunky sweater I usually wear in winter. I also added a pair of matching boots, and that's it. You don't need much more. To me it is most important to cover the upper body and wear something warm, so all the vital organs are "well wrapped up" 😉 And, of course, the feet. I get cold feet so easily, and I always feel as if I would get sick when they are cold. So a chunky sweater and boots do the trick.
The pieces of clothing I chose for this outfit work pretty much for themselves, so I didn't have to add a lot of accessories. The only thing I added was, of course, a bag. The only thing missing was a pop of color, that's why I put a neckerchief on the chain of my bag. I've seen this many times on Instagram and Pinterest, and I really liked the idea. I don't know why I didn't try it earlier, but now I will wear it more often for sure. 🙂 I have some other neckerchief in my wardrobe I have never worn, but now I have found the perfect way to wear them finally.
Guys, how do you like this outfit? Would you combine summer skirts with chunky sweaters in autumn? And what do you think about this way to wear a neckerchief?! I am so looking forward to reading your comments. xx