Good morning and happy Thursday everyone 🙂 Those who follow me on Instagram might already know that I headed to Hamburg yesterday. I got invited to the launch of a new collection, and after a great evening yesterday, it's already time to head back to Berlin. Hamburg is such a beautiful city, and it's a pity I didn't get to enjoy some more time here. BUT I will be back next week, and that time I will extend the stay, so I will have a full day to enjoy Hamburg without any events, meetings or work.
While I am getting ready, having breakfast and then heading back to Berlin, you can have a closer look at a new autumn outfit I want to share with you today. I have to admit, that I was quite unsure about this outfit combination and I actually still am. It's the perfect office outfit, because it is chic yet comfortable, and I could walk around in this look 24/7 expect the fact that I am not sure whether I like the combination or not. 😉 I know, I should be more confident and share a look I don't like a hundred percent might not make a lot of sense. But I think it is also important to share things I struggle with, don't you agree? And maybe some of you really like this outfit so that I can inspire at least some of you.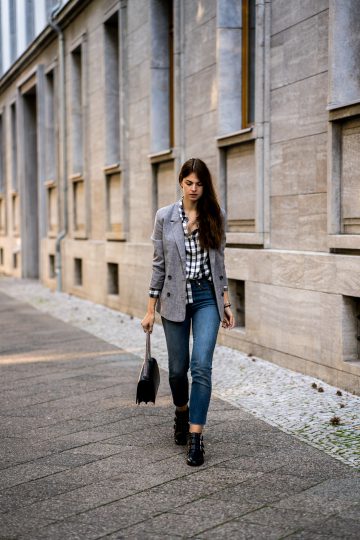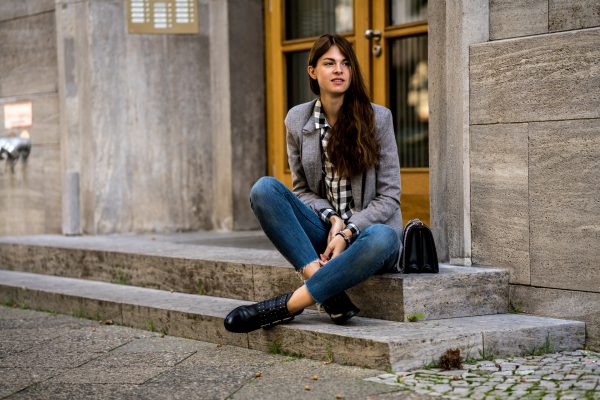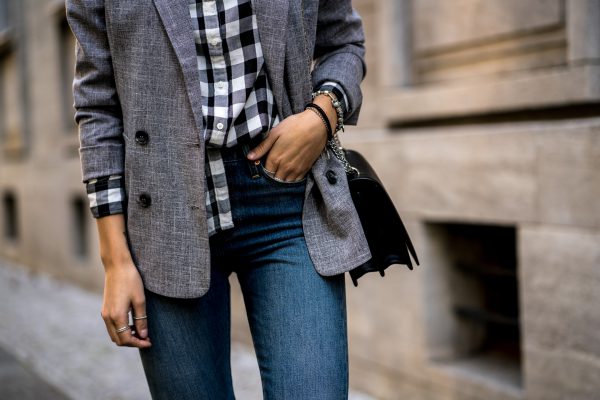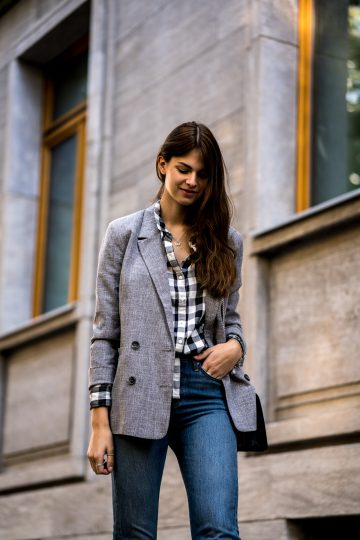 Should I have been wearing the plaid shirt?
The part of this outfit I am unsure about is the plaid shirt. You know, that I usually keep it quite simple and choosing the plaid shirt to combine it with the jeans and the grey blazer is quite unusual for me. I usually would have picked a white t-shirt, a white blouse or maybe a black shirt or sweater. But that day I felt like trying something unusual for me.
When I look at these outfit pictures, I see another piece I could have changed into something different: the grey blazer. Maybe a black blazer would have worked better in combination with the jeans and the plaid shirt. And the more I think about it, the more I realize, that these three pieces offer many outfit possibilities. So you either can wear the outfit the way I did the other day, or you change one part into another one, and the result will be an entirely different look. Once again it makes me realize how important it is to own the right basics. 🙂
And, btw, I already asked on Instagram how you guys like this outfit and your feedback were quite positive. And your positive feedback is the reason why I decided to share this outfit on the blog as well. I hope it can inspire some of you because even if you don't like this exact outfit, keep in mind that you can exchange one piece of clothing and you'll have a new look. I think I would exchange the plaid shirt and wear a white t-shirt instead or I would exchange the grey blazer and wear a black one instead. Oh, and you could also exchange the shoes and wear a pair of high heels instead of the black boots. That would make the outfit look even chicer. How would you wear this outfit? And what do you think about the look as you can see it in these pictures? I am looking forward to reading your comments. Have a lovely day, guys! xx