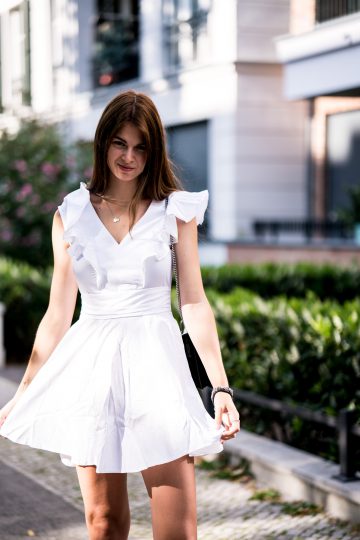 The outfit I am sharing with you today might be a little bit unusual for me. The last weeks I shared a lot of casual, sporty and simple outfits, but none of them was very chic. Time to change that, time to get out of my comfort zone for at least once 😉 When I was looking for summer dresses the other day, I found this white summer dress on sale and even though it isn't what I usually wear, I couldn't resist. I was a little bit bored of all the clothes I have in my wardrobe and needed a change, so here it is. Going shopping when you are tired of your clothes and don't really need new things, might not be the best idea. But you can also end up with some pretty nice pieces you will wear a lot even though it is nothing you would have usually bought. Let's see how it will be with this white summer dress.
I was wearing it once so far and in the following you can see how I combined it. It actually was a warm summer day I was wearing this dress, so there isn't a lot of garments I combined it with, but see yourself: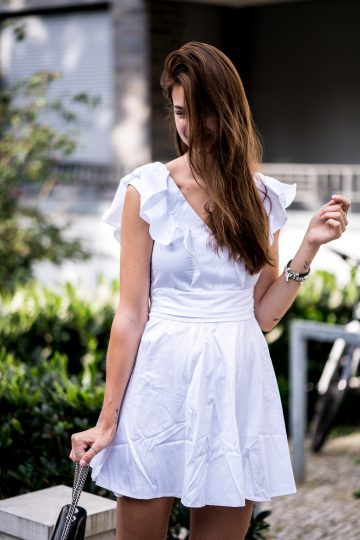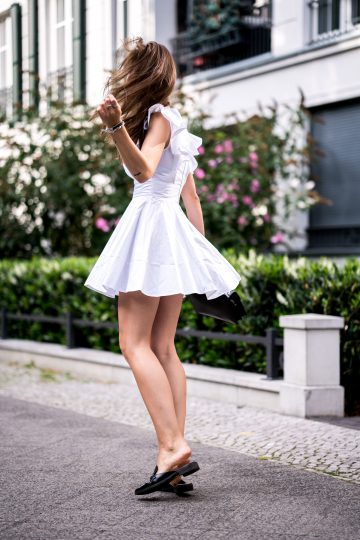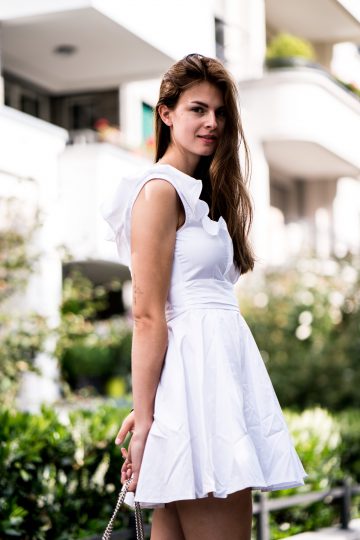 How to wear a white summer dress
I mentioned before that I am not the biggest fan of white garments. Why? They get dirty way too easily. Especially when it's a pair of jeans, pants, shorts, dresses or skirts. That's why I usually only wear tops, t-shirts and shirts that are white. But I mentioned that before.
And even though I am afraid of these clothes getting dirty while I am wearing them (without a chance to get changed, when it happens), I got a few white garments this year. I got a pair of white shorts, a white skirt, white jeans and this white dress is the newest member of my white-clothes-family. The thing is, that even though they get dirty (or look dirty) faster than other colours, they look so pretty in summer. White is the perfect summer colour, and it looks amazing when you have a nice tan! Not that I have any kind of suntan right now due to this year's summer in Germany… but imagine I was tanned. Wouldn't look the white dress amazing?
As I mentioned before, I didn't have to add a lot of clothes that day, because it was quite warm in Berlin. So all I was wearing in addition to the dress were some black mule sandals as well as my Gucci bag and some pieces of jewellery. And that's it. No jacket was needed, to other accessories had to be added. It was simple as that. But I like it when an outfit works without adding a lot of accessories and other garments. And this one is simple yet chic, and I would wear it on a busy day with lots of meetings or a date – to name two examples. But it is suitable for many more occasions for sure. When would you wear this kind of outfit? And how do you like it? I am looking forward to reading your comments, guys! xx