Happy Wednesday everyone! I hope you had a great start into this new week and survived the first two days without incident. As to me, it has been a very productive week so far. My boyfriend is still in Miami and to be honest; I miss him a lot. Even though he's away for only a week… hahaha. And since he is not in Berlin, I am spending a lot of time at the office (well, I am also doing this when he is in Berlin…) and I also went to the gym twice and are planning to go again this evening. So my week has been all about work and fitness so far. I also met up with some friends, took some new outfit pictures (what actually is part of my job) and cleaned the whole apartment. It feels so good to get things done, and I am more than motivated for today as well as the rest of the week.
I will start this day with sharing a summer outfit we took pictures of last week. I know that I said I wanted to share around four outfits every week, but I didn't have the time to write a post for yesterday so that I will share only three outfits this week. Nevertheless, you will get to see five posts in total this week. On Monday I already shared a new beauty post, today and the next two days I will share outfit posts with you guys, and on Sunday you can read everything about my past week in my "24 hours a day, 7 days a week" post – as every week! You see, there is a lot more coming this week. But let's start with the first outfit: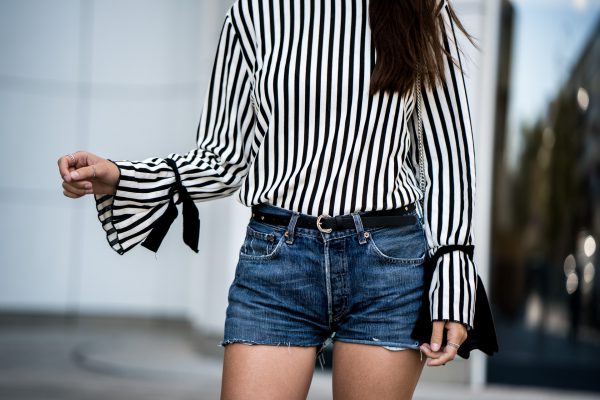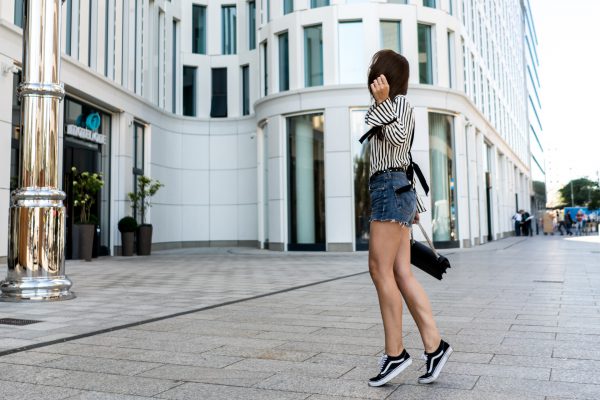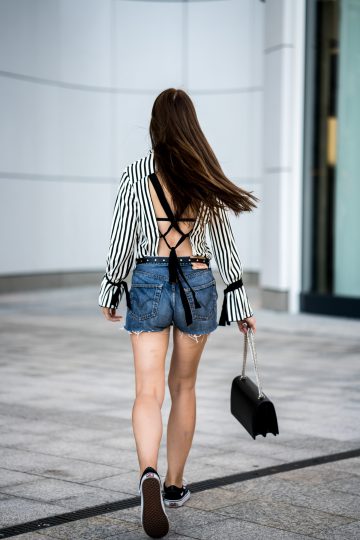 That certain something: an open back
You know how much I like clothes with that certain something. That certain something that makes it look interesting even though it actually is quite basic. The striped shirt you can see me wearing here is one of those pieces. The front looks quite simple, and I would also say some kind of stuffy, but the back has that certain something, that makes the whole shirt look interesting. That certain something is the open back with the crossed laces. And the open back actually was the reason why I wanted this shirt so badly. Additionally, it was on sale at Zara, so there was no reason not to buy it 😉
I planned to wear it during Fashion Week in Berlin, but I couldn't think of a proper outfit, so I ended up not wearing it. And the days after Fashion Week I felt like wearing comfortable outfits only, it also was either too cold or too hot to wear this longsleeve shirt. But the other day the temperatures were just perfect to wear it finally. We had temperatures between 20 and 25°C in Berlin, but due to the wind, it felt a little bit colder.
I combined my new striped shirt with that certain something with a pair of Levi's shorts, black sneakers and my Agneel bag. I chose the sneakers to ease the whole look and make it more comfortable. I was spending most time of the day at the office, so a comfortable outfit was much needed. How do you like this outfit? And what do you think about my new striped shirt? Do you like the open back?