I was hoping that this year's winter wouldn't be that cold in Berlin and that we would have plus 0°C degrees all winter long. But, of course, it got colder and even though we have temperatures around 0°C, it feels like degrees below zero due to the ice cold wind. Luckily we got to see the sunshine the past weekend, and it already warms up the earth a little bit. It still was freezing outside, but the sun made it a little bit better. And as you can see it also encouraged me to go outside without one of my winter jackets or coats on. 😉
Yes, I was wearing this oversized satin jacket I bought on sale last year on a cold winter day in Berlin. I mentioned before, what you have to do to wear your between-seasons jackets even in winter, but let me repeat it: you have to layer!
Oversized Satin Jacket, black Pants and black Boots
As you know by now, the temperatures are freezing in Berlin right now. So to wear my oversized satin jacket on a winter day in Berlin, I had to put on many layers. You can only see the grey sweater in these pictures, but underneath I was wearing a t-shirt as well as a long sleeve to keep me warm. I also should have put on a pair of tights underneath the pants, because it wasn't the best choice and I was freezing on my legs everytime the wind was blowing. BUT with tights on, it would not have looked that good. I actually don't like it when you can see the tights when you are wearing them underneath a pair of pants or jeans. And that's why I did not even think of putting them on that day.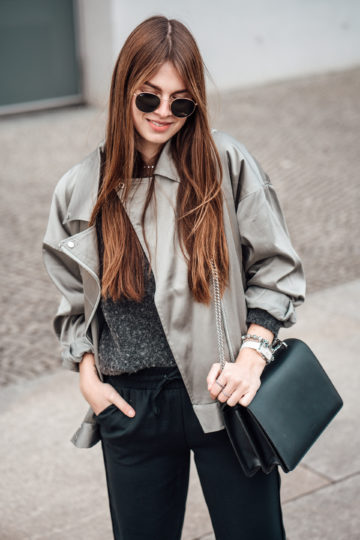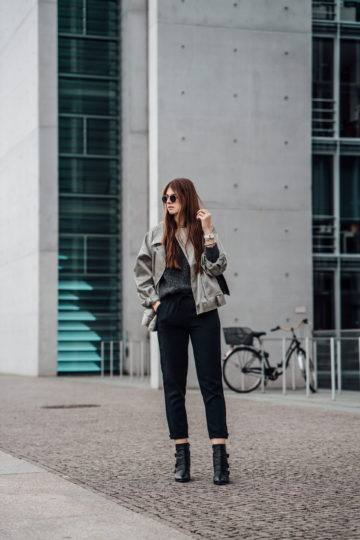 So expect the pants the rest of the outfit worked very well for a sunny winter day in Berlin. I was even wearing a pair of sunglasses, but not because of the sunshine but an eye irritation haha. I had to cover my eyes from the wind.
In addition to the sunglasses, I was also wearing some pieces of jewellery, my Agneel bag and black boots. It's a very simple yet chic outfit, that doesn't need many more details like the ones I added to the look that day. I would definitely wear it on a day at the office with or without meetings and appointments or when going out with friends, eating out in a restaurant or having a date with my boyfriend. It is one of those casual chic outfits that work for many different occasions.
Wearing between-seasons jackets in winter
Last but not least I would like to know, whether you are interested in seeing these outfit inspirations with between-seasons jackets or not. I am a person, who gets easily bored by all the winter jackets and even though they keep me warm, I don't feel like wearing them every day. How about you? Would you like to see more ways to wear between-seasons jackets in winter? The principle is always the same: you have to layer. But the combinations can vary. So far I have shared how to wear a bomber jacket, a trenchcoat as well as a denim jacket in winter. Let me know what else you would like to see. xx