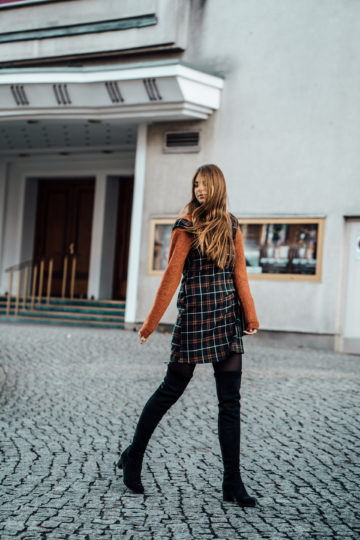 One thing I will continue sharing in 2018 is outfit posts. Why? Because they are the heart of Whaelse.com. When we started the blog, it was all about outfit posts, and even though most people are now on Instagram getting their outfit inspirations, I still want to share detailed posts on the blog. I know, that you like and enjoy them from time to time, don't you? 🙂 I won't share three to five outfits a week anymore; it will be two to three posts. The reason is that we want to focus on other topics as well and we want to add more value. But I already mentioned that last week when I wrote about all the changes. 🙂 So for detailed information about the changes that will happen here on the blog, make sure to read the post I shared last Friday.
In the following, you can now read more about one of the outfits I was wearing at the end of 2017. It was a cold winter day in Berlin, but the sun was shining, and I felt like wearing one of my summer/ autumn dresses that day. Of course, I couldn't wear it the way I would in summer or early autumn, but I found a solution. Do you want to know how (if you haven't seen it in the pictures yet)?!
How to wear a dress in winter
The easiest way to wear a dress in winter? Combine it with a warm sweater! Some might wonder how to wear a dress in combination with a sweater, but it actually is super simple. You wear it underneath the dress! It was one of the big trends last year: wearing shirts, turtlenecks and sweater underneath t-shirts, tops as well as dresses and I still like the way of putting together an outfit a lot! That's why I will continue wearing it no matter whether it's in fashion or not. And as long as you feel comfortable in this kind of outfits, you should continue wearing it as well.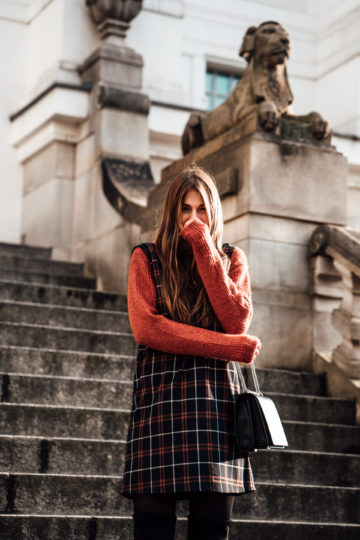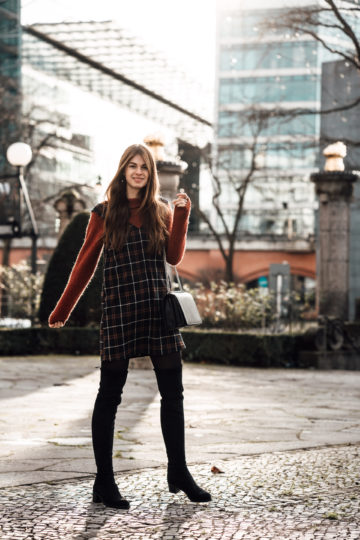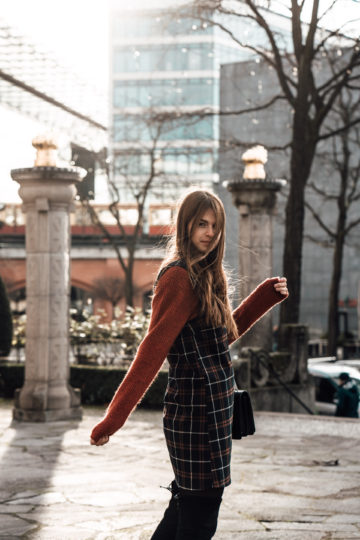 Dress over Sweater
I usually do not wear a lot of colourful outfits; I prefer black, white, grey and denim. But When I saw this dress, I didn't just want to combine it with a white sweater (black, grey or denim aka blue would not have worked). I really felt like wearing colour that day and combined it with an orange sweater, because it perfectly matches the orange lines you can see on the dress. Due to the orange, this outfit looks super autumnal, don't you think?!
When wearing a dress with a sweater or a shirt, I always would wear different colours. Meaning, that you don't wear a black dress over a black sweater. It may look nice when both pieces of clothing are made of different fabrics, but these outfits usually work better when you are wearing different colours. Wearing a white shirt underneath a black dress would look great to name an example. Or imagine this dress worn with a black or dark blue sweater underneath… it would look pretty dull and boring, don't you think? So I opted for the orange sweater, but you could also wear it with a white sweater. I also think this dress would look super nice with a white button-down shirt underneath.
To finalise this outfit, I put on my favourite pair of overknee boots and, of course, tights and my Agneel bag. I think overknee boots work best in winter. In spring, summer and autumn, I would wear this combination with bare legs and a pair of sneakers or flat summer shoes instead – as long as it is warm enough outside. But in winter you should go for boots. 😉