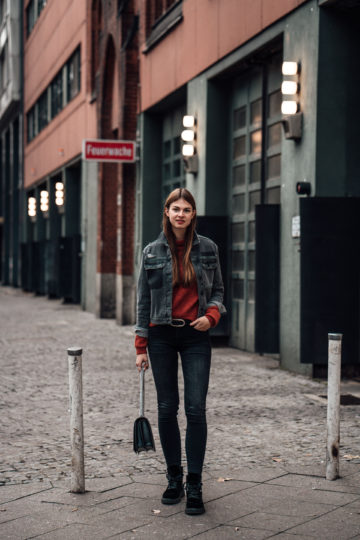 Last week I told you, that I would try to put together several outfits with jackets I usually only wear in spring, autumn and sometimes even summer but never in winter. Last week I showed you how to wear a trench coat in winter, and today it is all about how to wear a denim jacket in winter. I was wearing this outfit about a week ago and believe me guys; it was a cold day in Berlin! There wasn't any snow or rain, but the wind was ice-cold.
I have to admit, that I had another jacket with me because I was wearing this outfit the whole day and had an event in the evening. During the day this outfit worked quite well, but once it got dark outside, it just was too cold to be outside with this denim jacket only. But today we are not talking about what I had to wear in the evening and at night, today we are talking about how I was wearing this denim jacket on a winter day in Berlin without freezing and without wearing an additional jacket.
Wearing a denim jacket in winter
As you might already know, in winter it is all about layering! And when you layer, there are no limits; you can wear whatever you like as long as it will keep you warm enough. 🙂 That's why even a denim jacket is a great layer and something you can consider wearing in winter.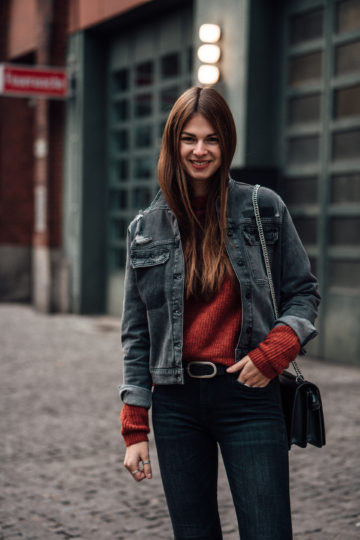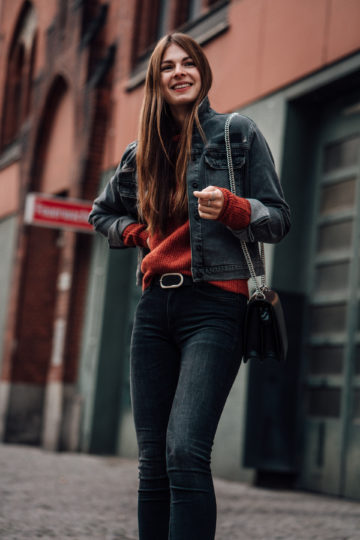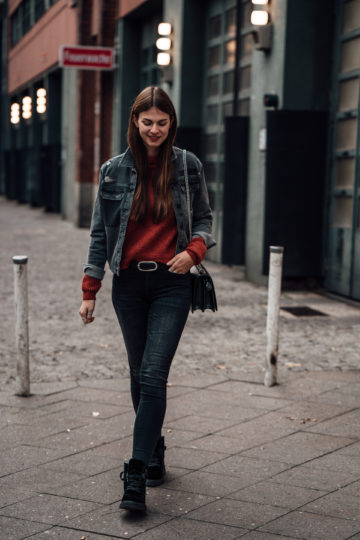 When I put together an outfit, I first think of what I will do the day and whether I need a chic outfit or can wear something more casual. The next step usually is to choose one piece of clothing I feel like wearing that day, and then I start to put everything together based on that piece. Selecting the base (that one piece) usually isn't the easiest part because I always have some clothes in the pipeline and that's either something I recently got or something I absolutely enjoy wearing. So it's either something new or one of my favourites.
When I put together the outfit you can see me wearing here, I had this denim jacket in mind to use as the base for this look. It was a piece I just got, and I couldn't wait to wear it. I decided to combine it with a pair of black or dark grey jeans, tried on both varieties and went for the pair of dark grey jeans – as you can see. Since the weather in Berlin isn't the most beautiful right now, I decided to brighten up my mood a little bit by wearing a colourful sweater. Underneath the sweater, I was wearing a tank top as well as a longsleeve to avoid freezing in this cold 😉
The last decision I had to make: what shoes to wear! That's always the hardest decision because I got my favourites I would wear every single day! But that would be quite boring, wouldn't it? The only issue I have at the moment is that most of my shoes are in boxes because we are still rearranging some parts of our home. That's the reason why I don't have a large choice at the moment and ended up wearing my current favourite shoes: the black velvet boots from Calvin Klein. Last but not least I added some accessories such as my Agneel bag and some pieces of jewellery and I was ready to go. How do you like this outfit? Would you wear a denim jacket in winter? I am looking forward to reading your comments. xx