End of November I shared an outfit post in which I showed you my new pair of wide leg pants I got when we were in Lisbon. I already mentioned how much I like them and that I will share many more outfits on the blog to show you how to wear them in several situations and seasons. The outfit I shared at the end of November was an autumn (almost late summer) look and the one I am sharing today is a winter look. You know how much I miss summer and that I am everything but a winter person, but since I am living in Germany, I can't do much but to get used to the cold and make the best of it. The solution? Wearing summer, spring and autumn clothes even in winter.
To be honest, these pants are amazing, but they are not the best choice for winter. Especially when it's windy outside, I easily freeze in these pants. Luckily those are wide leg pants, so I can put on a pair of tights without people seeing them 😉 And yep, that's basically how to wear cloth pants even in winter. But there are some other clothes I put on to make sure I won't freeze and here is what:
Putting together an office outfit for cold winter days
Getting dressed for the office can be a challenge from time to time. All we want is to cuddle up in a cosy sweater and wear our sweatpants or leggings, nothing else. But wearing this kind of outfit to the office is quite inappropriate, especially when we are having meetings or other important appointments.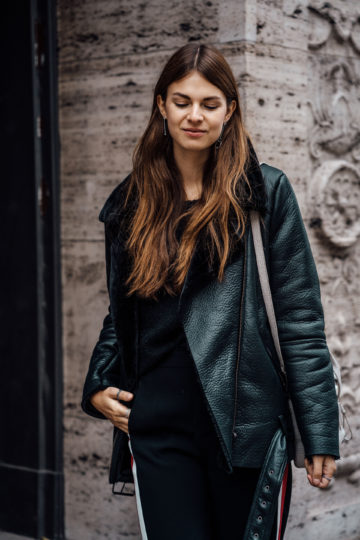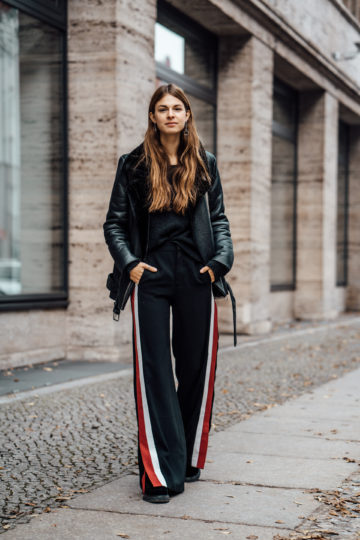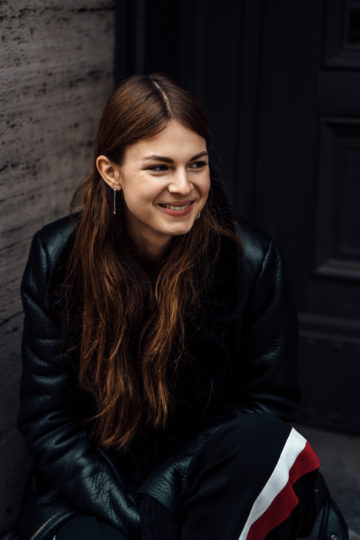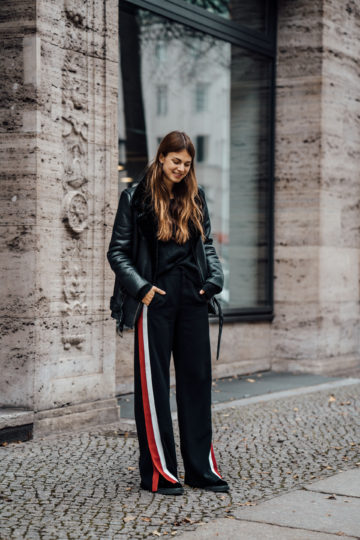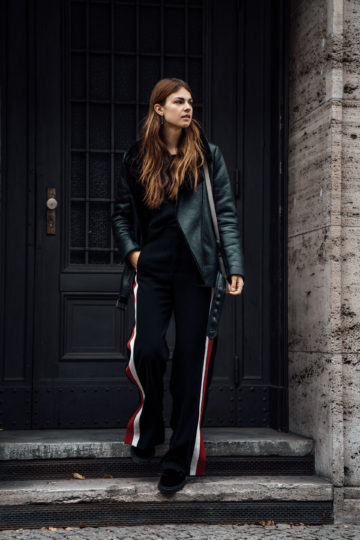 So I thought about how I could put together a super comfortable outfit, that is chic enough to wear it at the office. And it actually wasn't that much of an issue to find comfortable clothes that are suitable for a meeting or important appointment. I started with my wide leg pants from Zara, combined them with a pair of black boots to keep my feet warm and added a black sweater. You actually can never go wrong with a black sweater as long as you combine it with some chicer clothes such as the wide leg pants I was wearing here. A black sweater is very basic and plain, something you can wear with everything.
Some of you might not have chosen the boots I was wearing, but I really like the contrast of the chic pants and the rugged boots. Additionally, I can't wear the pants with a pair of heeled boots, because they are not long enough – tall girl problems…
To finalise this outfit, I added some pieces of jewellery such as these pretty asymmetric earrings, my Phillip Lim bag as well as my shearling jacket. Another piece of clothing I talked a lot about the other day and I promised I would share more outfits wearing it, so here you go! 🙂 It's only one outfit, but I am showing you how to wear several pieces in another way. The last time I shared this shearling jacket on the blog, it was a very casual look. So now you also have a chicer version to get inspired by 🙂
How do you like this outfit? And what do you usually wear to the office in winter? I would love to read your thoughts about this look and office outfits in general. xx