Christmas is coming closer, and you might wonder why I haven't shared any Christmas outfit inspirations on the blog so far. The bad news: this year I won't share any outfit ideas for Christmas Eve. But I am sure; you will find a lot of inspirations all over the internet 🙂 That's why I will continue sharing everyday looks instead of festive ones for Christmas eve! BUT I am currently working on some more outfits for NYE, and I will share them with you next week (one post with NYE outfit inspirations was published last week).
But back to the everyday outfit, I want to share with you today. I was wearing this look a couple of weeks ago but totally forgot about it. I think that's because I was wearing it once we were back in Berlin after a month of travelling and I just didn't feel like wearing winter outfits or sharing them on the blog. But last week I started to organise my hard drive and to go through everything I haven't shared so far and found the pictures. And today I am sharing them with you, because I know, that you will need inspiration for casual outfits after the holidays 😉
Wearing a bomber jacket in winter
With this outfit, I can also continue with my "how to wear spring/autumn jackets in winter", because a bomber jacket probably isn't the first choice when thinking of winter jackets. But yep, you can even wear a bomber jacket in winter. I will keep it short and give you the one tip you need if you want to wear a bomber jacket (or any other between-seasons jacket) in winter: layer! There is not much more I could say because it is all about layering. You can even go outside without a jacket at all as long as you are wearing enough layers to keep you warm.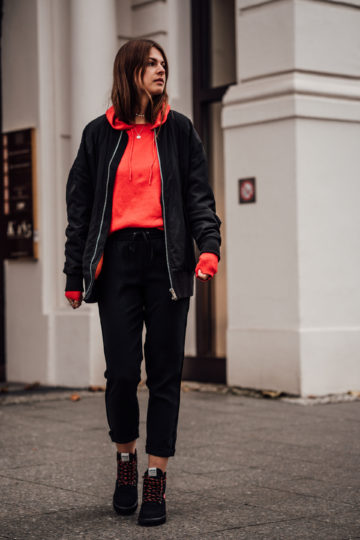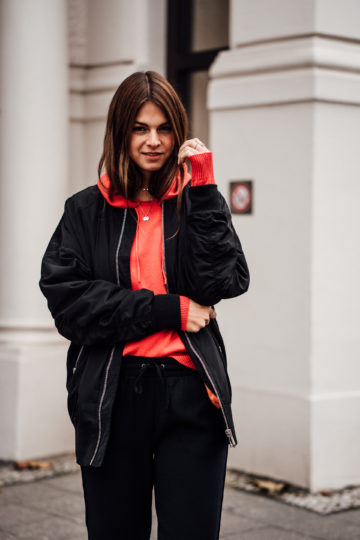 Combining a bomber jacket and a red sweater
With that said let's get straight to the outfit combination I chose that day. As you can see, I opted for a touch of colour and was wearing my red sweater again. The last time I wore it was in February when I was in Morocco. It's not that I don't like it, it's just that I wear those bright colours very seldom when I am in Berlin. I usually only wear more colourful outfits in summer, but a hoodie like this one is not the perfect piece for warm summer days 😉 So that's the reason why it's been such a long time. But as soon as I was back from Bali and Lisbon, I decided to wear it! I still was in the mood for summer, and a little bit of colour was exactly what I needed.
I combined my red sweater with a comfortable pair of black pants, black sneakers as well as an oversized bomber jacket. It's easy to see that it was all about comfort that day! It is an outfit I would wear on the weekends when I don't have any special plans. I maybe would also wear it on a day at the office, but only when I have no meetings or other appointments. It also is a good outfit for a day you have to run errands and a lot of other things to do. It is very sporty and casual, so nothing you should wear to a festive occasion 😉
I've said enough guys, not it's your turn. How do you like this outfit? Is it something you would wear as well? 🙂 Have a lovely day and don't forget to leave me a comment to let me know what you think. xx