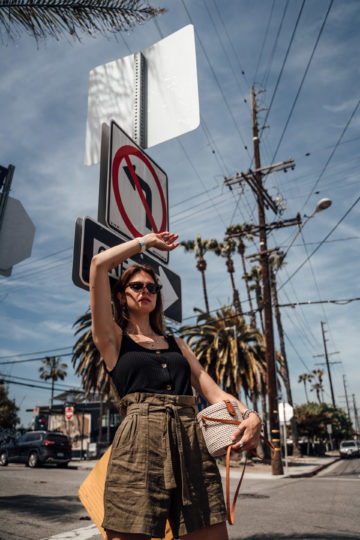 Guys, I am sorry, I didn't share any new posts last week. We were so busy fixing some last bugs on Onvacay and getting everything ready for the launch of the online shop that I didn't have time to do anything else. But on my flight to Menorca last week, I couldn't do anything for Onvacay, so I decided to write this text instead. It wasn't easy for me not to do anything for the blog and leave you a whole week without a new post. That's why I am more than happy that I got some time during the flight and can finally share the last three posts from Los Angeles this week.
All three posts are outfit posts, and I will start with one of the outfits I was wearing after Coachella. The weather in Los Angeles was quite nice, it already felt like summer, and I got to wear some of the summer clothes I had with me. These high waisted shorts and the black top are two of them.
How to style high waisted shorts
I love everything loose and easy for summer days, and these high waisted shorts are more than perfect. They are very comfortable and easy to style. I opted for a very simple outfit when we were in Los Angeles and styled it with a black top. To add at least a few details to this outfit, I decided to wear a black top with buttons in the front. Other than that you could style high waisted shorts always with a crop top or when they are belted, you can also style them with an oversized shirt. Thanks to the belt, the outfit won't look too bulky, and it also is another nice detail.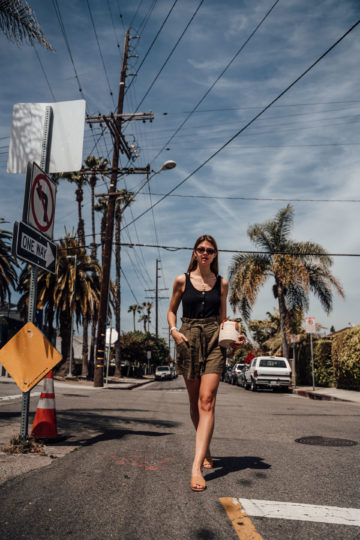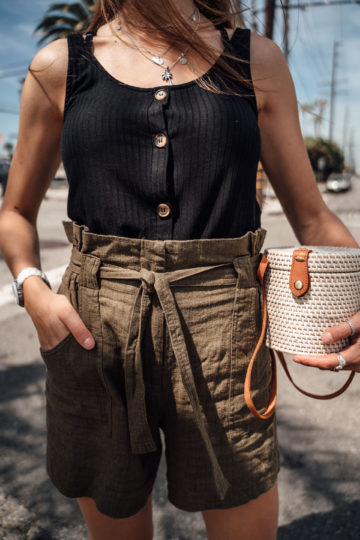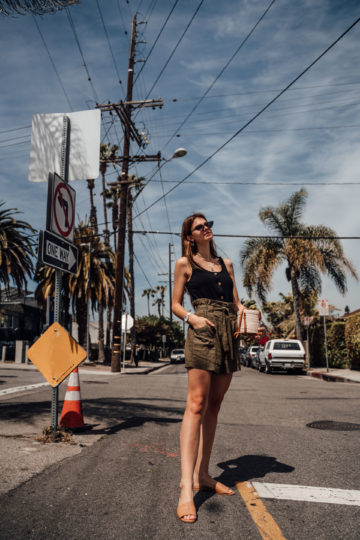 High waisted shorts actually work with everything. And you can even wear the kind of crop tops you usually don't feel comfortable in as the shorts will cover your belly and make you feel more comfortable. Regarding the colours, it really depends on the colour of your shorts. The green shorts I was wearing in LA work perfectly with black and white, and I wouldn't go for anything more colourful. But, of course, you could also try styling green shorts with red, yellow or whatever colour you have in mind 🙂
When it comes to shoes, you can style high waisted shorts with everything. They work with flats, sneakers, but also with boots or high heels. And as you can see, I opted for a pair of flats in a brown shade. I decided to wear them as they match the buttons of the black top as well as the strap of the bag. The bag, by the way, is another bag you can find at Onvacay. It is the not-so-classic Ata bag I am wearing a lot when travelling. How do you like it?
I didn't add much more to this outfit but the pieces of jewellery I am wearing every day and a pair of sunglasses. This outfit already had a lot of details such as the buttons and the belt of the shorts, so I didn't need anything else.
Let me know what you think about this outfit I was wearing in Los Angeles. Also, how would you style a pair of high waisted shorts? Do you like them as much as I do? 🙂
*Ad, brands named – Vila Shorts || Vila Top || Flattered Shoes || Onvacay Bag