Today I am sharing one of my favourite outfits from Los Angeles, and as so often, I didn't plan on wearing it and put it together very spontaneously. I was wearing it after Coachella as well, and it was such a nice day. We spent the day in Venice and had very nice weather with lots of sunshine.
The funny thing is that I do like this outfit a lot, but I somehow don't think that it would look that nice if I would wear it in Berlin. I think it is the combination of the Los Angeles vibes, the sunshine and the outfit itself that makes it my favourite from LA.
Black and White Leopard print skirt combined with lilac shades
You've seen me wearing leopard print a lot the past year, and it is not a secret, that it is one of the trends I do like a lot. But most of the leopard print pieces I have in my wardrobe are in different shades of brown. This black and white leopard print skirt definitely is a change, and I do like it a lot. It still is a very eye-catching piece of clothing, but it might be even easier to style it as black and white work with more colours than brown does.
I would never style a brown leo print skirt with shades of lilac, but it works very well with this black and white leo print skirt. I felt like wearing light colours that day and styled my new skirt with a white crop top – that doesn't really look like a crop top because the skirt is a little bit high-waisted -, a lilac bag as well as a lilac-ish/ pink-ish hat. Now that I see this hat. I regret that I didn't bring it to Menorca; I should definitely wear it more often as it adds such a nice detail to an outfit and it definitely makes it look more interesting. What do you think? Do you like wearing hats to make your outfits a bit more appealing?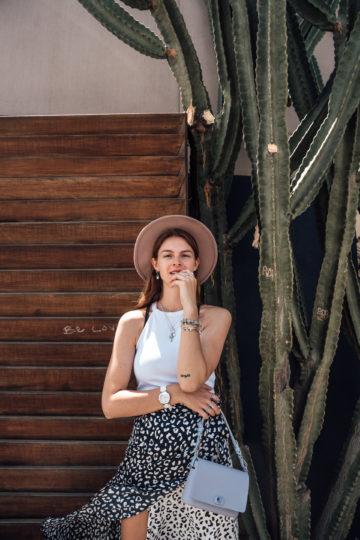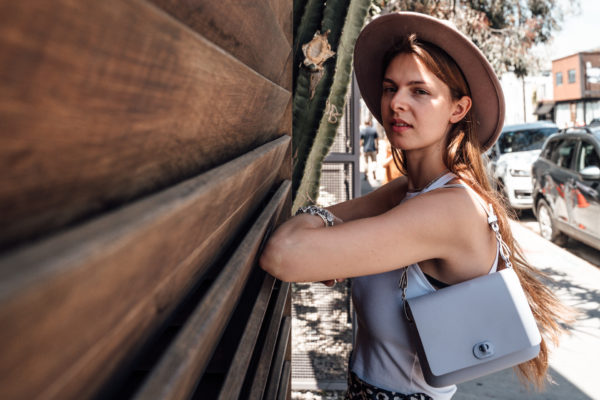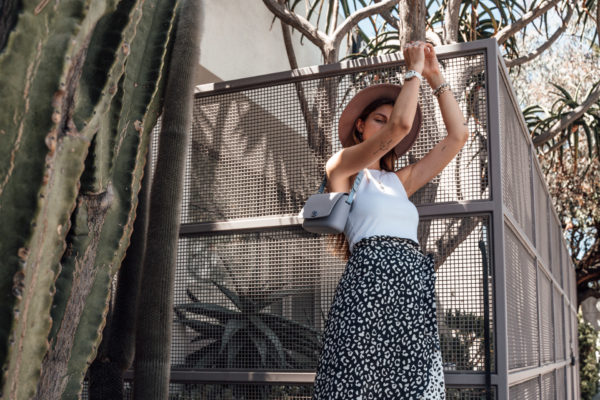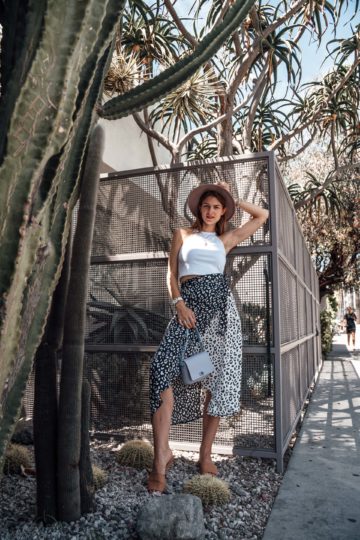 To finalise the outfit I put on my brown slides again as I didn't have another pair of shoes that matched the outfit. As I already said, it wasn't one of the outfits I had planned beforehand, so I didn't have a pair of shoes for it. But I actually think that the brown slides work with the outfit even though they usually wouldn't be my first choice.
Why I am adding more colourful pieces to my wardrobe
The past years I've mostly been wearing simple colours such as black, white, denim or grey. But in the past months, I started adding a lot more colourful pieces to my wardrobe. I felt like I needed a change and started adding more colours to my outfits. I first got a few more colourful bags; next were clothes in neon shades and other colours and the past week I even got a pair of shoes with neon green details. I haven't worn them yet, but I definitely will do it pretty soon! I actually can't wait to wear them and try different outfits.
I feel like adding some more colours to my outfits make them way more interesting, and the brighter colours seem to brighten up my mood as well. 🙂 What do you think about wearing more colours? Let me know in the comments. xx
*Ad, brands named – boohoo Skirt || Zara Top || Asos Hat || flattered Shoes || Obag Bag