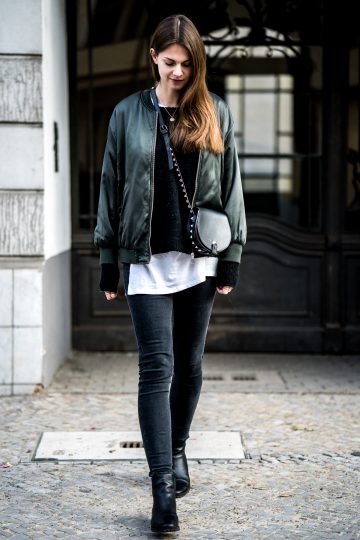 Happy Tuesday folks! I'm flying to Morocco in two days and are so looking forward to it! Can't wait to spend some days in the sun, surfing and exploring a place I haven't been so far. Of course, I'll also take a lot of pictures for you guys, but for now, I only have an outfit we took the pictures of here in Berlin. It's still freezing cold in Berlin, and I just don't get used to the cold temperatures. Spring should hurry up because otherwise, I'll freeze myself to death. Additionally, I have no idea what to wear these days. All the outfits I have in mind are outfits I can't wear right now because it's too cold. And all I want to wear at the moment are oversized sweaters with at least two layers underneath, my big winter jackets and UGG boots. Luckily I have so much work to get done, that I'm sitting in the office most of the day. I just have to go outside when I'm driving to the office when I'm living it as well as when I have to go walkies with Jimmy or when we have to take new outfit pictures. Taking new outfit pictures takes only 10 to 15 minutes, so I'm fine with freezing for as long as taking new outfit pictures takes. The day we were taking these pictures it didn't feel as cold as the days before, so I actually didn't freeze that much. Of course, I was wearing my winter jacket on top the rest of the day, but it was no problem at all to take it off for the 10 minutes of taking outfit pictures.
Green Bomber Jacket, Black Jeans and other layers
I know, you've seen this bomber jacket many times here on the blog as well as on Instagram. But it's been a while since I last shared and wore it, so I hope you won't be bored of its look 😉 This outfit
actually isn't quite special, it's very simple because I focused on staying warm instead of looking fashionable and chic. I was wearing this outfit on a day at the office, so it was more important to wear something comfortable and warm than something sophisticated. I wear these simple and casual outfits almost every day at the moment: black boots, black jeans and a couple of layers on my upper body. That day I was wearing a tank top, a white t-shirt as well as a black sweater and my green bomber jacket. Sometimes I even wear a long sleeve instead of a t-shirt underneath my sweater.
Some of you might say, that these outfits are very boring, but let's be honest: do you really dress up every day and wear something super fancy and fashionable? We usually feel most comfortable in this kind of outfits and wear them most days, don't we? I agree that they can look boring. But to make sure this outfit doesn't look boring at all, I added some accessories such as my cross-body bag from Rebecca Minkoff, some rings and my Jane Konig necklace. And would you say this outfit is boring? Of course, you can call it casual and simple, but not boring… at least that's my opinion. 🙂 What do you think? What do you wear on cold winter days? I'm looking forward to reading your comments and thoughts about this kind of casual winter outfits. xx