Happy Wednesday everyone! Today's my last day here in Berlin before I'm flying to Morocco tomorrow morning, so it's going to be a very busy day at the office. I have so much work to get done and pack my stuff for Morocco tonight, and I actually would like to go for a run as well… but since I'll be surfing the whole week in Morocco, I probably won't feel that bad when I don't go for a run tonight. And before I can think about my plans for this evening, I should start working on getting things done here at the office. Speaking of the office, I would like to share the outfit I was wearing at the office yesterday. Even though I enjoy wearing comfortable outfits most, I can't always wear them. Especially not, when I'm having a meeting as I had yesterday. So yesterday I couldn't leave our home with a pair of jeans and a comfy sweater, I had to wear something chicer and here's what I chose:
White Shirt and destroyed Jeans
I had only one meeting yesterday, and I didn't want to wear something chic only, I wanted to wear an outfit that's chic yet comfortable. I was wearing a white shirt for the chic touch and a pair of destroyed jeans and white sneakers for the comfort. These jeans are actually the most comfortable black jeans I have in my closet, and I probably should buy myself a pair of black jeans without any holes or rips. That's actually one of the basics I don't have in my closet… do you know where to find some really nice black jeans? The ones I have in my closet are either destroyed, not comfortable, too short or washed-out.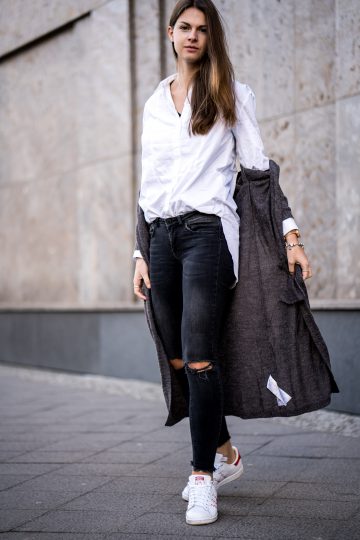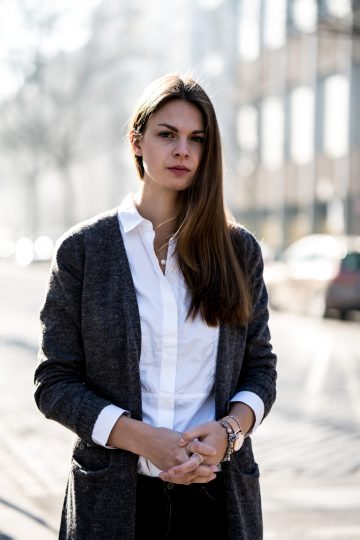 I also added a long cardigan to stay warm and to make this outfit even more comfortable. It's still super cold in Berlin, and even though the sun was shining yesterday, I was freezing my ass off when we were taking these outfit pictures. It wasn't cold at all in the sunshine, but in the shadow, the weather still isn't everything but enjoyable. I wish it would be spring already and I didn't have to wear that many layers to be able to take outfit pictures without my winter jacket on. Because what you can't see is, that I was wearing another long sleeve and a tank top underneath the white shirt. And for those who wonder, why I am wearing destroyed jeans and sneakers when it's that cold outside: I usually don't freeze on these parts of my body.
So that's the office outfit I was wearing yesterday, on a day I had a meeting and couldn't look as casual as I usually do on a day at the office. What do you think about it? Would you combine a white shirt and destroyed jeans as a business outfit? I know, this outfit isn't very chic, but it's less casual as if I would combine it with a hoodie or oversized sweater. If you think it's too casual, I would recommend wearing a pair of black jeans without holes and rips and black boots instead of the white sneakers. If you just change these two pieces, the result will be an entirely different outfit.