Happy Monday! Since I have no more Sri Lanka outfit pictures I could share with you on the blog, it's time to get back to reality aka back to winter outfits shot in Berlin. I really had my problems going outside, well first dressing up for the cold, then going outside and taking new pictures and I put it off for as long as possible. But last week it was time to get off my backside, dress up and go outside to take outfit pictures. I still don't like taking pictures with my winter jacket on, so you won't see me wearing it. On the blog, I'll only show you what I'm wearing underneath because I think that's the most interesting part of my outfit. If you don't agree and if you want to see my outfits with the jacket or coat I'm actually wearing, please let me know. Until then: no winter jackets and coats.
All black outfit for the win
The other day I was wearing an all black outfit, once again. And once again all I can say about it: you can never go wrong with an all black outfit! I was wearing a black pyjama style blazer, a black turtleneck a pair of dark grey jeans as well as black boots and my beloved black Gucci bag. It's such a simple yet chic outfit. Especially the details such as my bracelets or the necklace and, of course, my bag make the outfit look everything but boring. Even more, they add the chic touch to this simple outfit.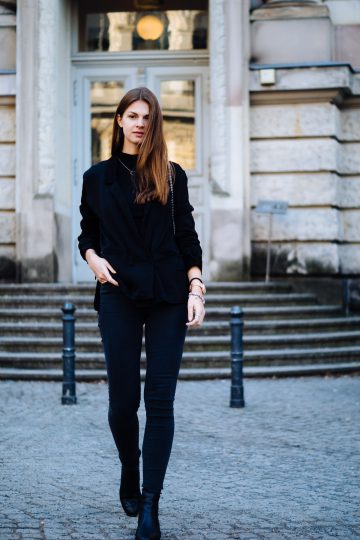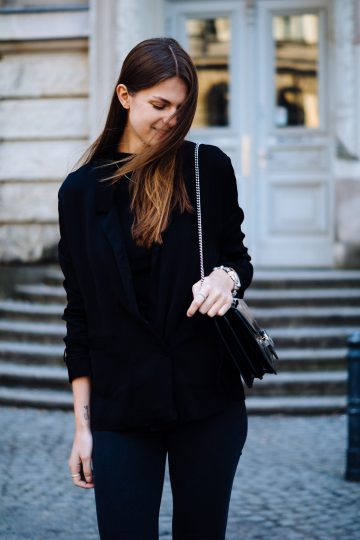 All the pieces you can see in this outfit are essentials you should have in your wardrobe, they're basics, and you can always wear them when you don't know what to wear. A black blazer is classic yet chic; it can be worn in combination with casual or even sporty outfits to add a chic touch or on top of a blouse or dress to make a chic outfit look even classier. Black jeans is a wardrobe essential as well, and I think I don't have to say much about it. Next up are black boots. I have a lot of black boots, some of them are heeled others – such as this pair of black boots – are not. I love every single pair of black boots I have in my closet, and I could wear them all day and every season. The last essential you can see in these pictures is my favourite Gucci bag. Not the fact that it is Gucci makes it an essential, but that it is a classy black bag. It's one of the things you should invest in because if it's a good one, you'll wear it many, many years!
I never talked about a turtleneck as a wardrobe essential, because I didn't use to wear them. I actually didn't have a single turtleneck in my wardrobe until this autumn. And I just bought it, because I wanted to wear underneath a cami dress and cami top. During these past winter weeks, I figured, that I can combine it with more than only cami dresses and tops and now the turtleneck has become a wardrobe essential for me! How do you think about turtlenecks as a wardrobe essential?