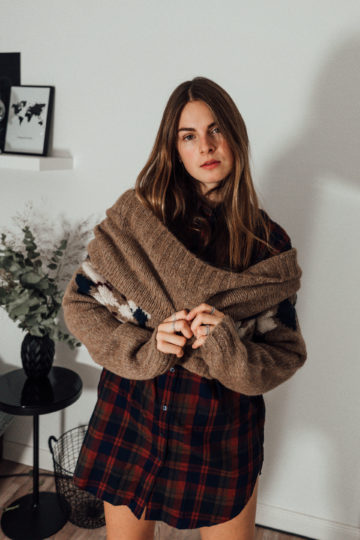 In autumn we spend more time at home, especially when it's cold and rainy outside. And as much as I love summer and miss it as soon as it's over, I also love spending time at home when it's cold outside. I mean, is there anything better than snuggling down on a sofa covered by a cosy blanket with tea or hot chocolate as well as some tasty sweets? I am sure you guys like it as much as I do!
And GANT chose the perfect timing to launch a collection that invites you to spend more time at home, being comfortable and enjoying some Hygge moments. You haven't heard about "Hygge" yet? Don't worry; I will tell you more about it in the following:
Take your time for a Hygge moment with GANT
The word "Hygge" has several meanings, but they all have to do with being and feeling comfortable. Hygge is all about a cosy atmosphere that also includes friends and family as well as soul food and drinks. In autumn Hygge can be a comfortable sofa, in summer it can be a picknick somewhere outside. In a general sense, you can create your own Hygge moment no matter where you are and who you are with. Hygge is a mindset and not a location.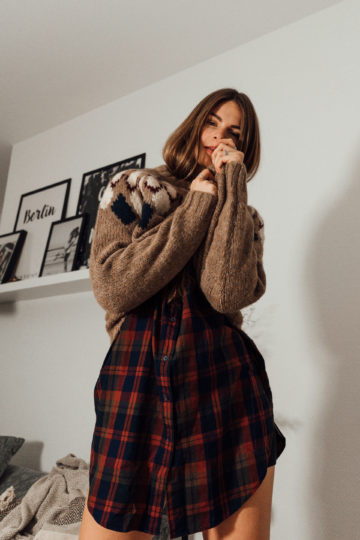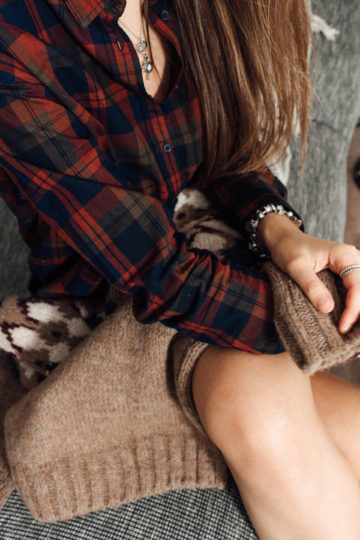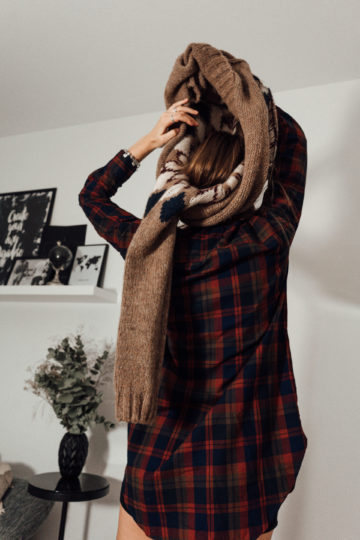 And if you feel comfortable or not, often depends on the clothes you are wearing, and this is where GANT and their new collection comes into play. Gant wants you to spend more Hygge moments this autumn and winter and help you to feel more comfortable with their incredibly beautiful and cosy collection. For my personal Hygge moment at home, I opted for a long shirt from their Hygge collection. I got it in a size bigger, so I could wear it as a dress at home. But when wearing it outside, I would definitely wear it in combination with a pair of jeans or pants. To make my outfit even cosier, I also put on a sweater, that is also part of the GANT Hygge collection.
Hygge Recipe: Muffin Cake with Apple Compote
Part of my personal hygge moment was, of course, some soul food! That's why I decided to bake a very improvised muffin cake spontaneously. The actual plan was to bake a cake, but I didn't have all the ingredients at home, so I had to improvise. I ended up making some kind of healthy muffins instead because I had everything I needed at home (expect backing powder, but I tried to find an alternative).
What you need for the muffin cake: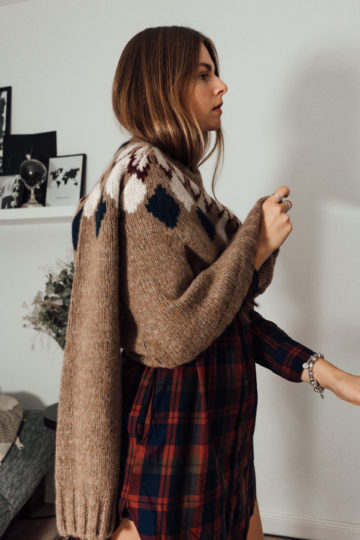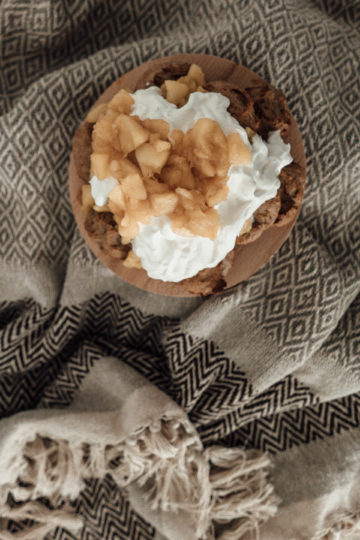 For the apple compote
– Five apples
– juice of 1/2 lemon
– One teaspoon cinnamon
For the muffins
– Two bananas
– 100 ml of oil
– One egg
– 250 grams of whole wheat flour
– 6-8 tablespoons soy yoghurt
– One pinch of cinnamon
optional:
– whipped cream
– coconut blossom sugar (or other sugar)
The preparation:
1. Peel and dice the apples. Add the lemon juice as well as the cinnamon and put everything in a coated pan. Boil it for 15 to 20 minutes until it becomes a compote, put it down from the hot plate and let it cool off.
2. Preheat the oven to 200 °C and grease the muffin mold.
3. Peel the bananas and mash them with a hand blender. Then add the oil and, if necessary, sugar and mix everything together. Add the egg and the yoghurt and mix everything.
4. Mix the flour and cinnamon in another bowl. Then gradually add the flour to the banana mixture. If the dough is too firm and sticky, you can add a little more yoghurt.
5. Put the dough in the muffin mold and bake for 25-30 minutes. Once finished, take it out of the oven and let it cool off.
6. Whip the cream, layer the muffins and cover with the cream and apple compote. Finished! Now you can enjoy your muffin cake with whip cream and apple compote.