Happy Wednesday guys! I know, I promised I would share the restaurant guide for Bali on Monday, but I didn't have the time to finish is the past weekend and that's why you have to wait a little longer. But not sharing the guide doesn't mean that I am not sharing anything else. Yesterday I shared a very comfortable autumn outfit I was wearing at home this weekend, and today I am sharing an autumn look you could actually wear in Berlin today as it got a bit warmer after some freezing cold days.
I was wearing the outfit I wanted to share with you today a couple of weeks ago, and I just didn't have the time to share it earlier. But this doesn't mean, that it isn't suitable for the current weather situation in Germany and Europe. It actually is an outfit you can wear even when it gets colder, all you need is a warm coat and maybe a pair of warmer boots, and that's it. But let's not talk about what you would have to do when you want to wear it on colder days, let's talk about the outfit I was wearing on one of the warmer autumn days we got to enjoy in Berlin in October.
How to wear a military overall
Even though I really like wearing overalls (jumpsuits, playsuits and whatever other names they have), it's been a while since I was wearing one. I couldn't tell you the reasons, as I don't know them myself. BUT as you can see, it's been long enough, and I was wearing an overall a couple of days ago.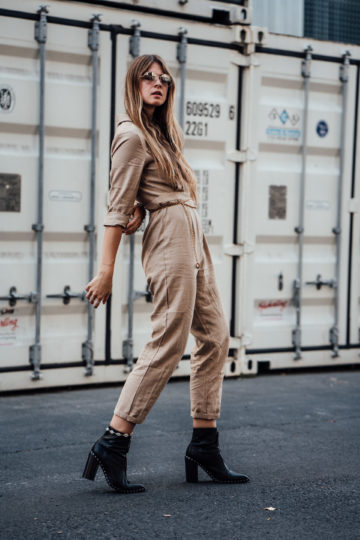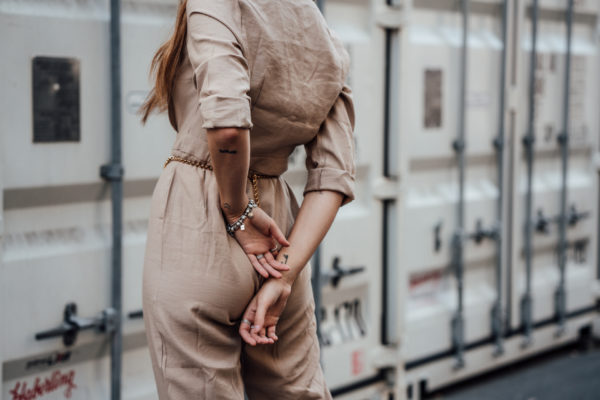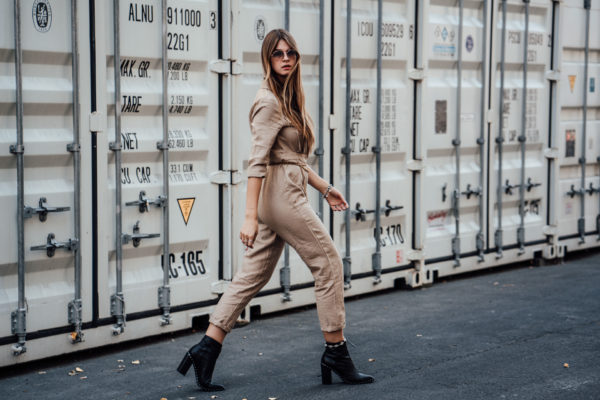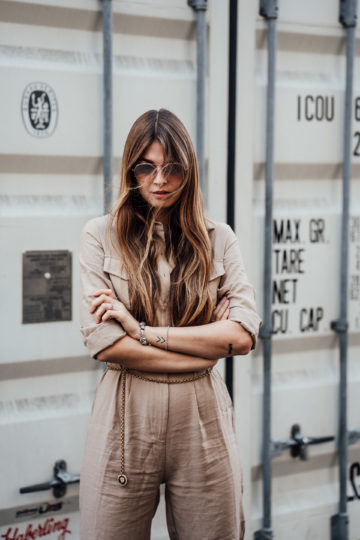 I just received it in time for autumn, and I couldn't wait to wear it. I first wasn't a hundred percent sure how to combine it as I wanted to add a few details to make it look a little bit chicer and more feminine. This overall is military inspired, and we all know, that the military style isn't a very chic and feminine one, BUT when you combine it with the right pieces, you can definitely make it look chicer.
So, in this case, I opted for my chain belt I've been wearing a lot this past summer and a pair of heeled black boots. I didn't add many more details and didn't try to make the outfit look even chicer, because I also like the military look. It was all about finding the right balance between military and chic, and I would call the final outfit a military chic outfit.
If you want to create an outfit that's a bit chicer than this one, you could add a black blazer or wear heeled sandals as black boots are not always the most feminine pair of shoes. I also think that the military overall would look very nice in combination with a trench coat or a wool coat and maybe you could try wearing a turtleneck or something with lace details underneath. You have endless options when it comes to this overall, just give it a try and become creative. 🙂
How do you like the outfit I put together the other day? Would you wear this military overall like this or would you add more (feminine) details? I would love to read your thought about it in the comments. xx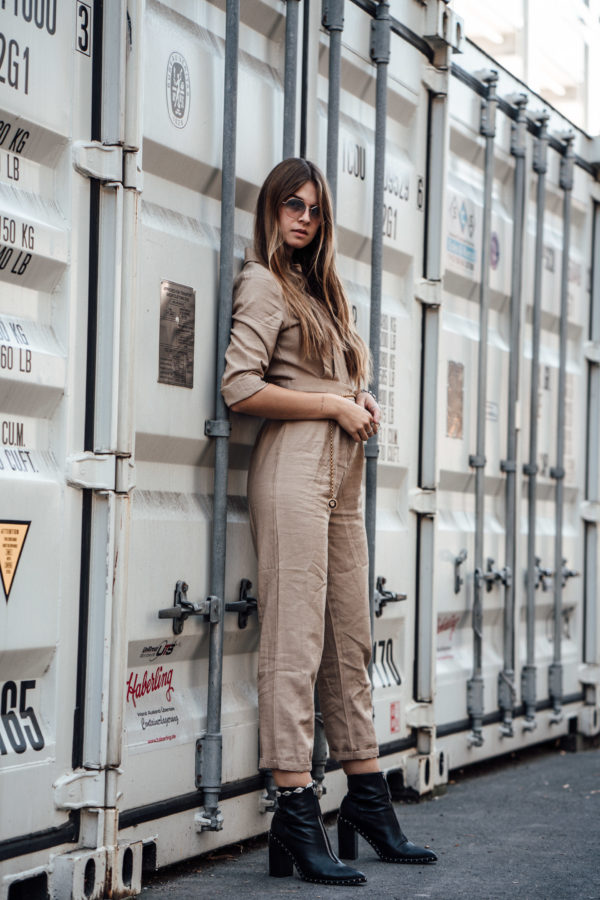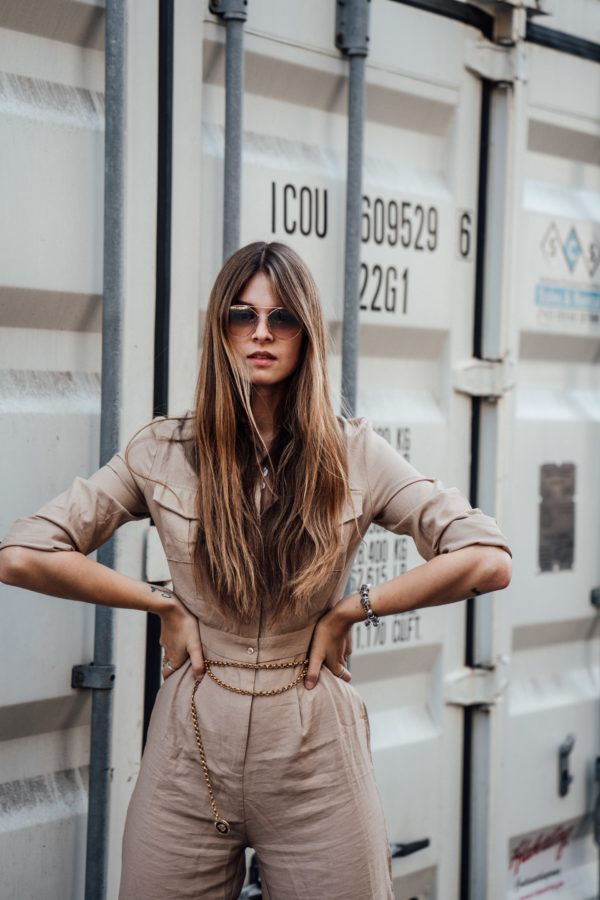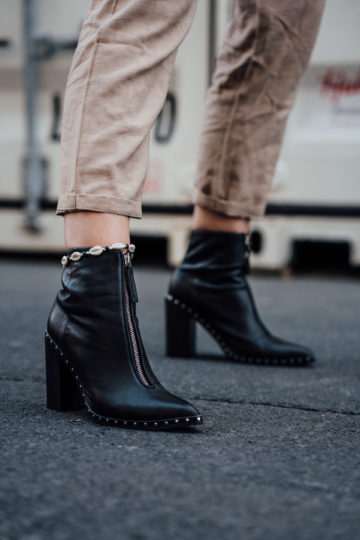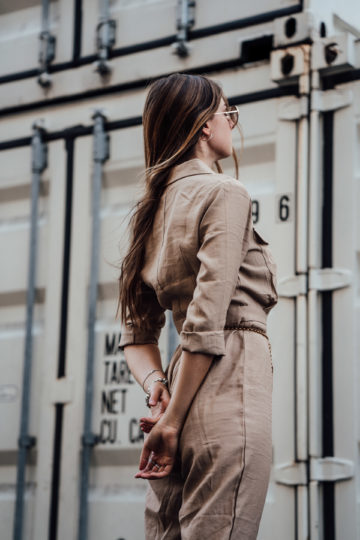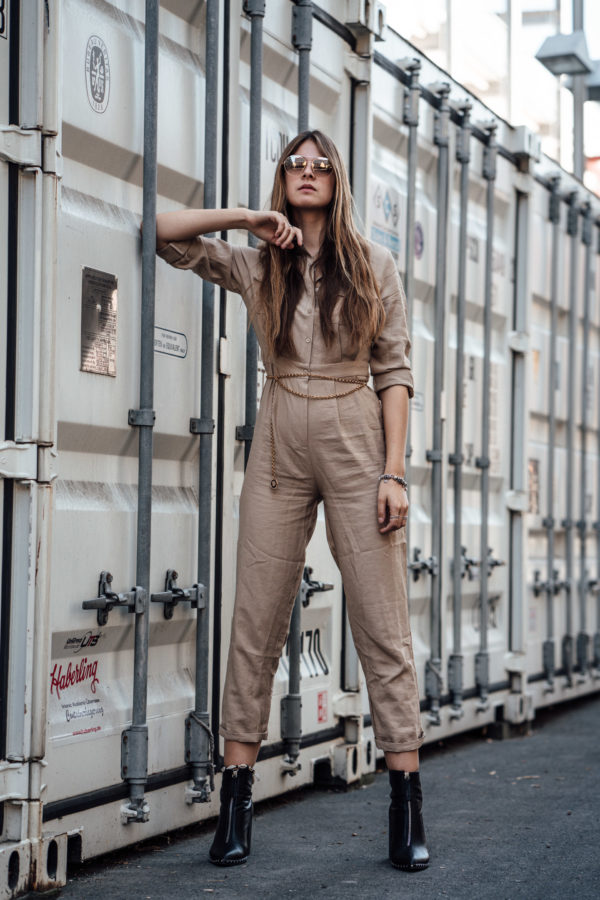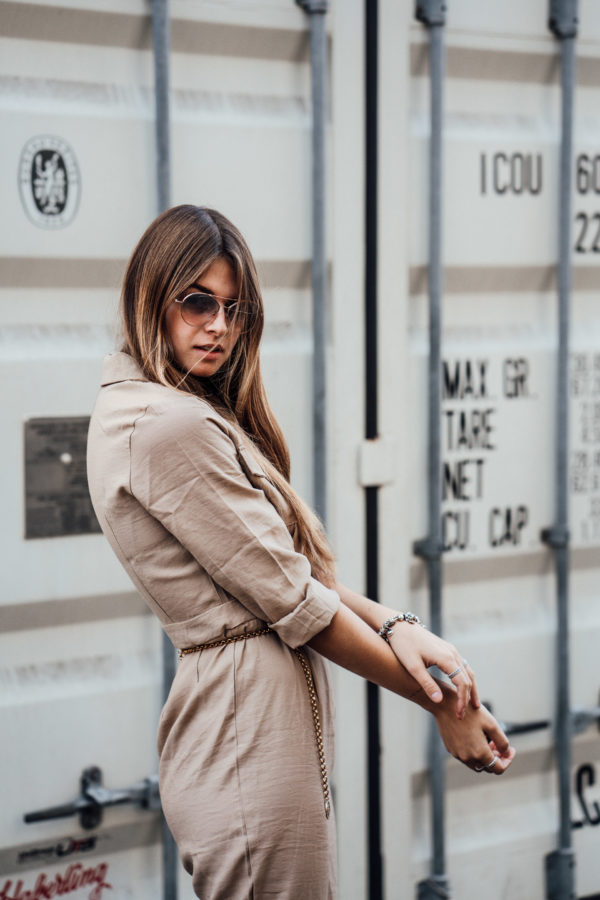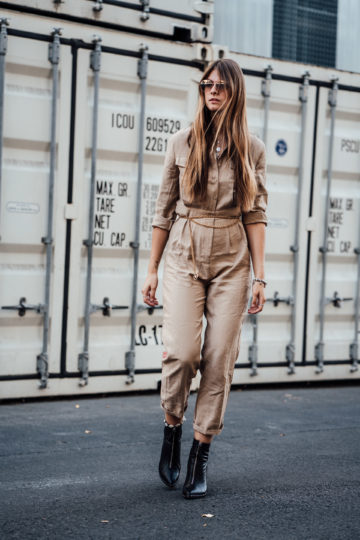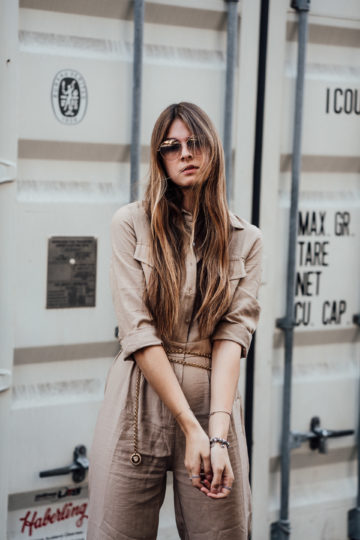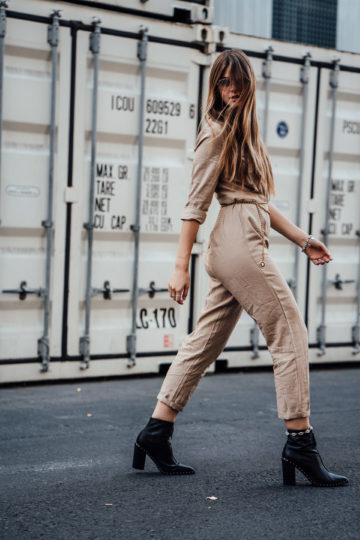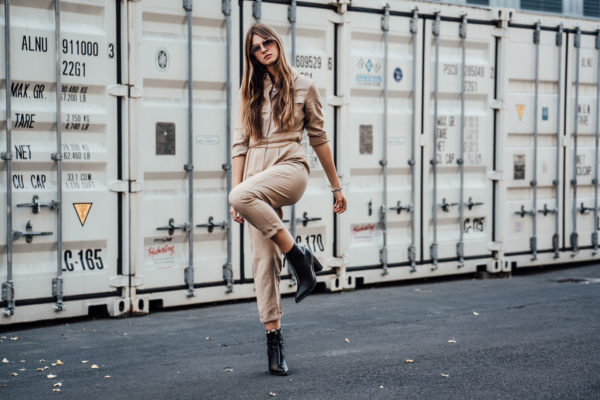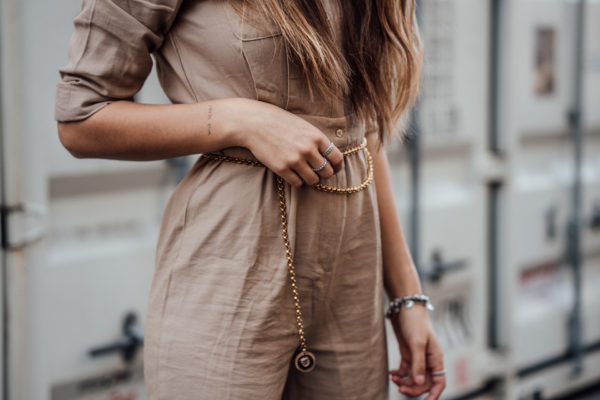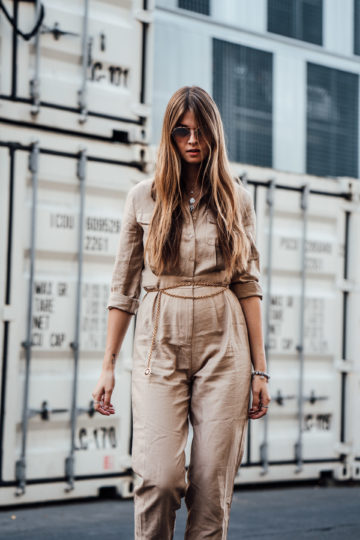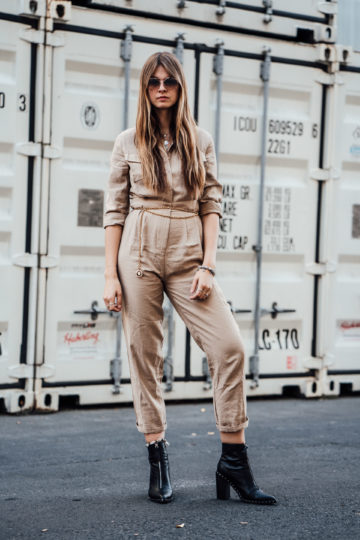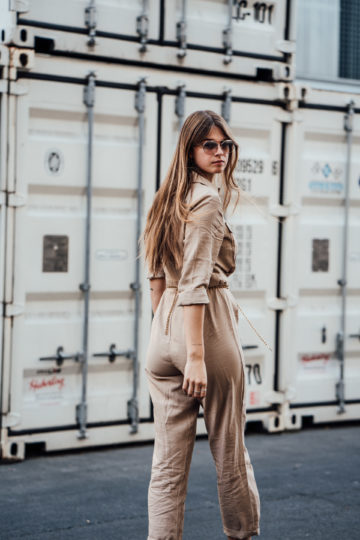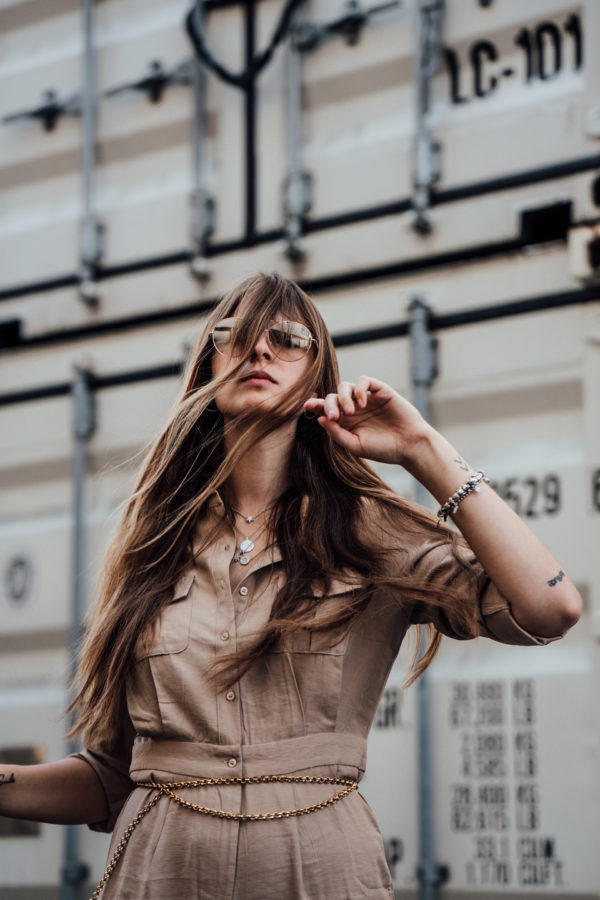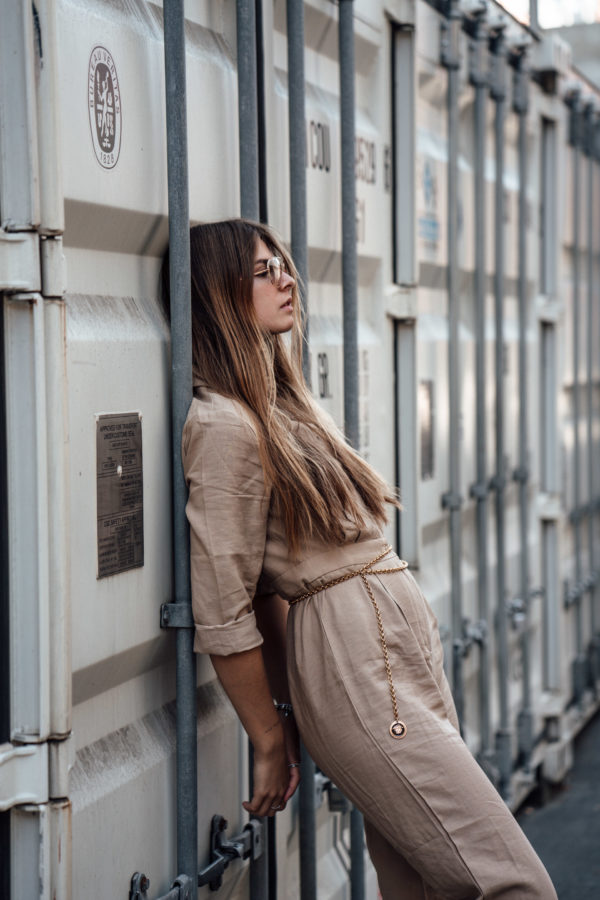 *Ad, brands named – Loavies Overall || Sol Sana Boots || Prada Sunglasses || Deluxe Choker Chain Belt