Hello and greetings from Portugal! While you're reading this, I'm probably sitting by the pool, exploring Lisbon or enjoying some quality time at the beach… whatever I'm doing; I am doing it in Portugal. But while I'm writing this, I am still sitting at the office in Berlin. As I mentioned last week, I prepared the posts for this week, because I didn't want to bring that much work with me to Portugal. Therefore I can't tell you anything about this trip so far, but I will share some first pictures on Sunday. For now, you can have a closer look at the pictures of an outfit I was wearing last week. It was supposed to be the most beautiful day of the week in Berlin, but the day before was actually nicer x) Anyways, it wasn't raining, and the sun was shining a lot that day. Unfortunately, it was just a little bit chilly due to the wind, so I had to wear a jacket on top. Of course, I took it off when we were taking the pictures – as always. I really like this outfit, and I hope you will too. Here are all the details:
Fishnet Socks and Ruffle Shirt
This outfit subsists on all the details. It's actually a pretty simple black and white look, but due to the fishnet socks and the ruffle shirt, it is everything but boring. Imagine this outfit without the socks and with a simple white shirt with no details on it. Wouldn't it look super boring? Of course, it would be a classy look, but it would look boring.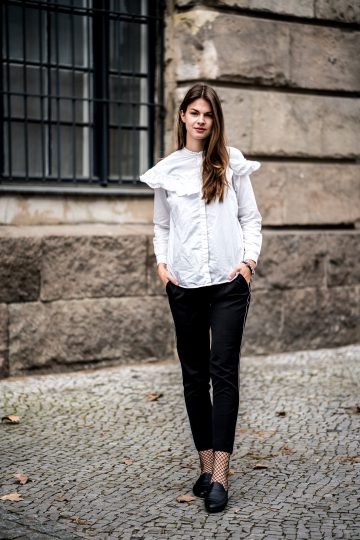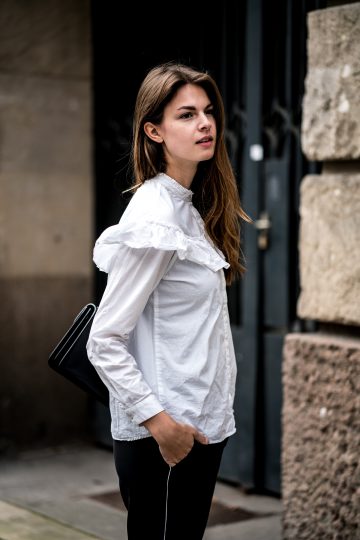 Once again I have to say, that I like the fishnet trend a lot. I haven't been wearing the socks for quite a while and shared only one outfit wearing them before, but I think I should wear them more often! They work perfectly with shoes like the ones I was wearing that day, don't they? It's quite hard to put on fishnet tights underneath a pair of skinny jeans, but the socks would work perfectly.. I should try that soon. 🙂 Fishnet socks and tights simply top off every outfit you wear. So whenever you think the outfit looks boring, try to add fishnet, no matter if you wear fishnet socks, tights or maybe even a longsleeve underneath a t-shirt. I saw someone dressed in a fishnet longsleeve underneath a t-shirt the other day and actually like this combination a lot. Now I just need to find a longsleeve like that. Any ideas where to look? 🙂
The other detail I want to mention are the ruffles on the shirt. I absolutely love this detail; it's the reason why I like the shirt that much. I was wearing it quite often lately, so another outfit with it was published last week. The last time I was wearing it underneath a jacket, but this time I wanted full focus on the shirt. When I planned the outfit, I opted for a chic yet casual outfit combination, that's why chose this pair of black pants. It's super comfortable yet chic and a little bit sporty due to the white stripe on the side of the legs. I like the contrast between all the pieces: the chic shirt, the sporty-ish pants, the fishnet socks and the chic slippers. What do you think?