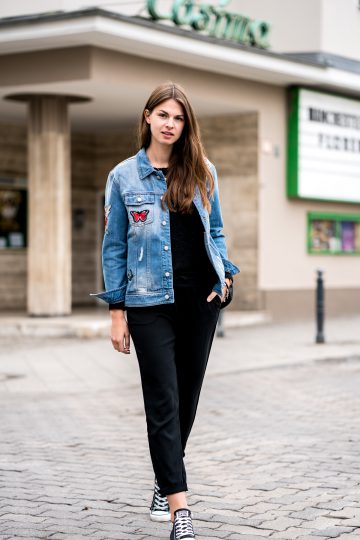 I'm so happy it's finally getting warmer even though it's still not as warm as I wish it were. It's mid month already, and spring is just around the corner, but some days it's still super cold, especially when the wind is blowing here in Berlin. I just hope it's much warmer when we come back from our five days in Portugal, so I don't have to dress for more cold days. Did I mention how much I hate it? I LOVE spring, and I love to dress up for sunny days with temperatures between 15 and 25°C, to me that's the perfect weather condition. Of course, I also like summer a lot, but dressing up for spring weather is much more fun than dressing up for summer weather, isn't it? 🙂 In summer we usually don't wear more than a dress or the combination of a skirt or pair of shorts and a t-shirt. Summer outfits are quite boring, especially when it's super hot outside. Anyways, I don't want to talk about summer outfits today. Today I want to share another outfit with you I was wearing in Berlin the other day. It wasn't a very sunny, but at least not so cold day, so I could wear this outfit without freezing.
Personalised Denim Jacket
The highlight of this outfit? My personalised denim jacket I got from Pimkie the other day. It was love at first sight because on the one hand I really like denim jackets – especially when they're oversized – and on the other hand, I LOVE personalised clothes! 🙂 And even though I first wasn't sure about that, I like the patches on this denim jacket as well. Due to the patches, this denim jacket is the perfect spring piece, isn't it?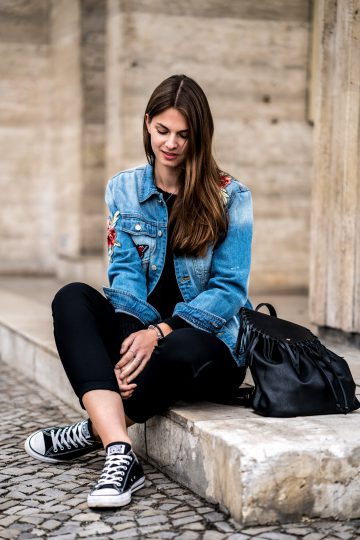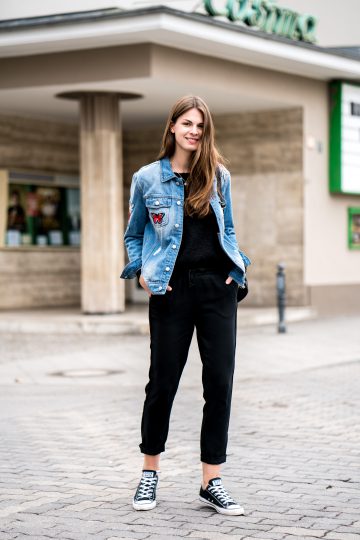 I combined my new denim jacket with an all black look – once again. I was wearing a pair of black pants, a black sweater and my black Converse shoes. Since this outfit is a very casual one I opted for a bag, that gives me a little bit more comfort as well. I didn't wear one of my cross-body bags I've been wearing quite often during the last weeks. I was wearing one of my black backpacks instead. I can't remember the last time I was wearing a backpack, but it worked very well in combination with this outfit. During the last weeks, I was usually wearing a little bag, because I didn't want to carry that much stuff around. Whenever I'm wearing a bigger bag, I put too many things I don't need inside, and the bag gets quite heavy. I guess that's the reason why I wasn't wearing backpacks either. But that day I carried only the things I really needed that day, and it wasn't heavy at all. Do you do the same? Do you pack too many things you don't need in bigger bags?
What else could I say about this outfit? I think it pretty much speaks for itself. Once again it's a super casual and simple outfit, but I think you guys might like it because it's perfect for a busy day or just a relaxed day. Let me know what you think about it. I'm looking forward to reading your comments. xx