What is new in 2020?
Every year it's a real highlight when the new fashion trends are announced. With the Fashion Weeks happening twice a year, we get to see what will be in fashion next year. And the couturiers of the fashion world are always reinventing themselves. No two fashion styles are the same; the fashion designers often outdo themselves. It's fun to follow the trends every year and try them out for yourself. The best is that the latest trends are not only available at high-class designers but also H&M, Zara, and Co.
The fashion trends for summer 2020 are up-and-coming and are reflected in many different facets. Here is an overview of the various trend styles. We start with the trend colors of the year, go over to specially used materials, and end at specific items of clothing and accessories.
Trend Colors 2020
It's getting bright and sunny! This summer, you will find neon colors in all their flashy, colorful versions in stores. Whether neon yellow, neon green, or neon pink – these colors make a real statement and celebrate summer in all its glory. Neon colors reflect the sunlight and make you stand out. It doesn't matter whether you are wearing a top in neon colors, shorts, or just sunglasses. With neon colors, the outfit definitely does one thing: it attracts the attention of others. This color trend is particularly suitable for young people.
Then there is the color yellow. Yellow is available in innumerable shades, and no other color represents summer so convincingly. With a shade of yellow, you can feel the sun on your skin. It will make you shine.
The third color – or better said color range – you can find in the summer 2020 fashion trends is cream. Creme has a lot of different shades and offers variation. These shades work perfectly well in summer outfits, especially in airy ones. Whether nude or darker shade that comes close to brown – there is something for every taste and every occasion.
This summer, everything from soft cream colors to bright neon colors is allowed – summer can come!
Fabric Trends 2020
The materials that are in fashion this summer go very well with the trend colors of the season. One of the trend fabrics is crochet. It gives a pleasant feeling as very delicate and airy. So you are well dressed in this fabric even at warm temperatures. You will mostly find clothes made of crochet fabric in creme colors.
Another trend of fabric is delicate lace. It can be found in a variety of clothing this summer, making them look graceful. Other than that, this season, you will see feathers everywhere – it's a delicate detail you can find either on the hemline, on shoes, or sew on the clothes. Feathers, as well as lace, emphasize every piece of clothing, whether it's a dress, shoes, a bag, or a top.
Last but not least, leather is another fabric used in summer fashion trends. It can be found in many different variations and designs. This noble material can be found in tops, skirts, pants, or even coats. It makes every piece a real eye-catcher that flatters the body.
Must-haves Summer 2020
In addition to the trend colors and materials, you will see everywhere this summer; there are also specific clothing and accessories that you need to know about. These can be new pieces as well as classics with a modern look. In the following, you can find some examples of the must-haves of this summer season.
Bermuda Shorts – a classic
These summer shorts are a must in every closet because they look great in almost any combination. Whether if you need an elegant outfit and style them with a blouse and blazer or for a more casual look with a tunic and flip-flops – Bermuda shorts can be combined with almost anything. This summer, you can find Bermuda shorts in a lot of different colors, such as nude shades, soft pastel colors, or yellow. They also come in smooth leather for an effortlessly chic look.
Hotpants – hot and spicy
Hardly any piece of clothing emphasizes the figure as much as hot pants. It highlights long legs and makes them look endlessly long. The backside is also presented in its best in hotpants. This summer, you can not only wear the denim hotpants we all know; they also come in leather and crochet. Even color-wise, everything is possible from neon pink to a soft nude.
Midi Dresses everywhere
Airy summer dresses guarantee a comfortable fit that also has an elegant appearance when it's hot outside. It's definitely easier for women to get dressed in summer than it is for men. We can throw over an airy midi dress and are good to go. And thanks to its length, which ends between the knee and the anklet, we can even wear them to work.
This summer, you can discover countless trending shapes and colors—noble silk in nude tones with a wide swinging skirt, tightly-fitted and with or without a belt. Colorful floral patterns in many bright colors could also be seen on the catwalks of the fashion designers.
Bra Top or Bralettes
This trend is only something for the fashion-conscious woman of today. Bra tops or bralettes are extremely figure-hugging if they are combined in the right way. This summer, you can find every nuance of the current fashion trend on the bra tops, whether bralettes with lace, feather trimmings, or made of crochet fabric – even completely extravagant made of leather is an option. This versatile piece of clothing comes either very sporty, plain, patterned, or feminine and playful in delicate tones and with refined details.
If you need some outfit ideas for these summer fashion trends 2020 check out our Fashion Looks section or use our outfit search engine.
Oversized Shirts
Oversized shirts are super cool and casual! They are also very comfortable to wear. With the oversized shirts for women, you can please both types of figures – you can emphasize your narrow waist or can cover up what you don't want to show. This garment forgives a lot and emphasizes the body. There are many ways to wear an oversized shirt: you can either tuck it in or hang loosely over the waistband. You can wear them unbuttoned or buttoned up, just the way you like it best.
The fabrics are airy and present themselves in delicate tones or very bright and colorful.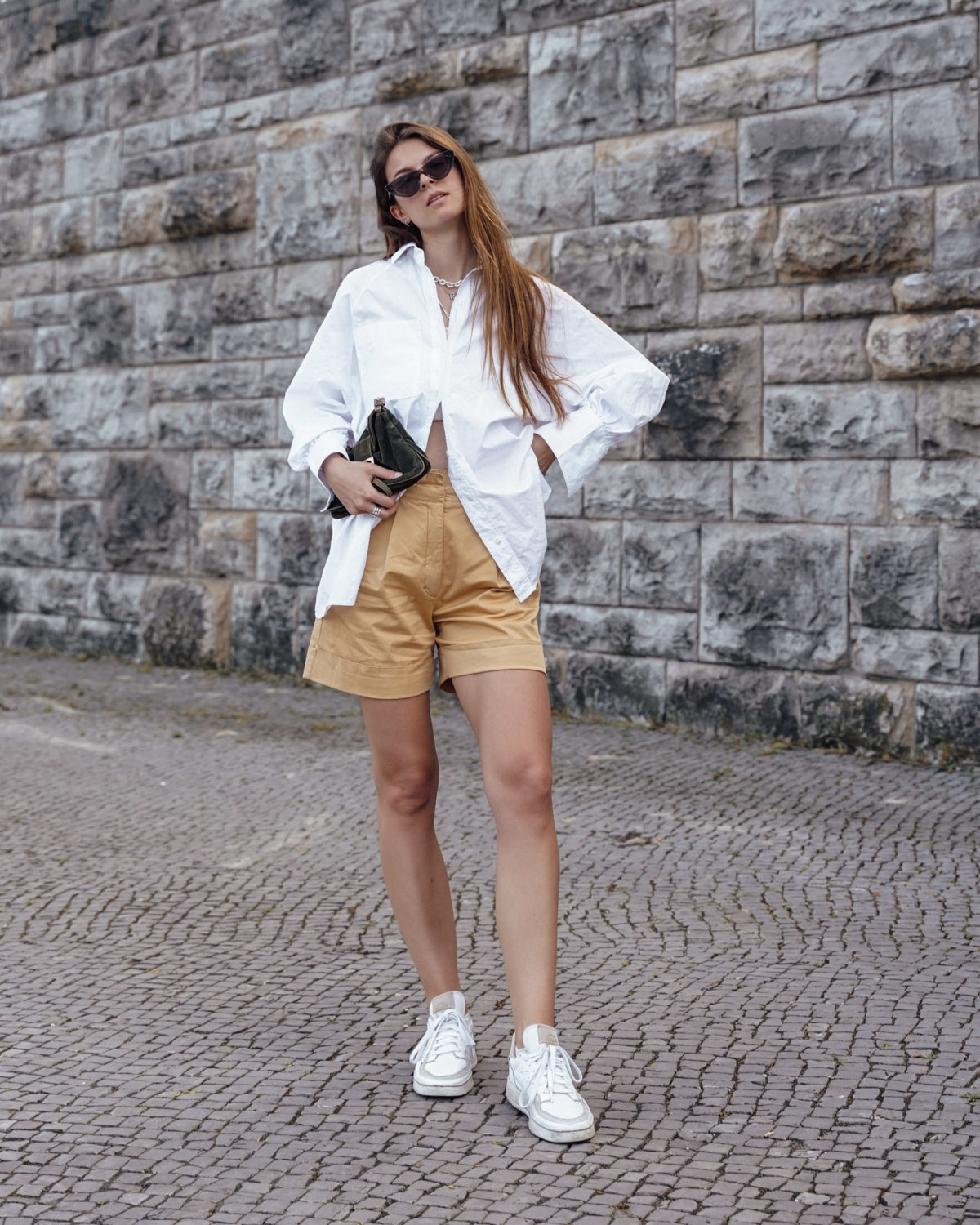 Open-Toe Mules for everyday
Mules are shoes with an open back. With a pair of mules, the foot looks extremely feminine. This season's trend, the open-toe mule, is even more eye-catching than the classic mule. As the name implies, it's open in the front as well what makes the (painted) toenails visible. It's the perfect summer shoe you can find in many different variations in stores. It comes with decorative details such as feathers, in delicate cream colors, or bright tones. No matter what style you go for and if you choose a heeled or flat open-toe mule, you will always look elegant and very dressy.
Loafer – Shoes you can wear from day to night
Loafers are wonderfully comfortable, yet sporty and elegant. They work very well with an elegant business outfit as well as a more casual one, such as the combination of jeans and a blazer. The summer fashion trend 2020 brings these shoes in soft nude tones, in a classic leather look or with buckles in many different looks.
We shared a more details post about the current loafer fashion trend on the blog. Check it out for more info.
Vintage inspired – 90s Flip-Flops
Flip-Flops has always been a favorite of every woman. So it's super exciting that they are back in fashion. This summer, the 90s shoe style comes in a new design. The versatile "toe separator" is a real feast for the eyes in neon colors as well as soft tones, summery shades, or classics such as black. Additionally, it does not only come in the classic shape as we know it. You can find Flip-Flops with straps, a heel, or a toe ring in stores and online. Flip-flops are the right shoe for hot temperatures and a big hit this summer.
It-Bag 2020 – Bags made of natural fabrics
No outfit is complete without the right handbag. The summer fashion trends 2020 include a lot of bags made of natural materials. Bags made of bast, straw, or with details made of bamboo are a must this summer. These bags give your outfit the finishing touch of a summery flair and create a holiday feeling at home. Bags made of natural materials are also the ideal companion for the beach or a trip to the countryside.
For a nice selection of bags that are made of natural materials, check out our shop Onvacay.
The handbag trend 2020 – XXL-Bags
The bigger, the better is the mantra of another summer trend in 2020: XXL handbags. In these handbags, you can literally bring your entire household with you. Something women love to – or that's at least what people like to say. XXL bags come in nude tones, natural materials such as bast or seagrass, or they are made of fine leather. Everything that is needed for a summer day fits into these huge bags. Enjoy the summer!